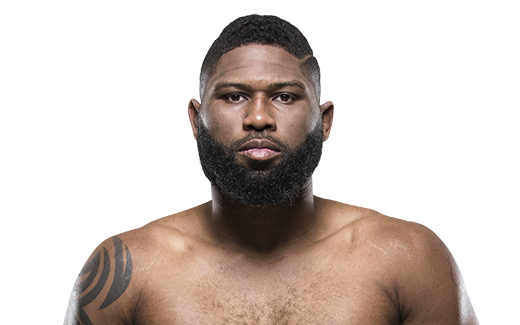 Naam: Curtis Blaydes
Bijnaam: Razor
Record: 10 – 2 – 0 – 1 (UFC 5 – 2 – 0 – 1)
Geboortedatum: 18-02-1991
Geboorteplaats: Chicago, Illinois, USA
Nationaliteit: Amerikaans
Lengte: 1.93m (6ft 4in)
Gewicht: 120kg (265lb)
Divisie: Heavyweight
Vecht uit: Chicago, Illinois, USA
Gym: Elevation Fight Team
Actief: 2014 – heden
Twitter: RazorBlaydes265

Curtis Lionell Blaydes maakte in April 2016 zijn UFC debuut als "late replacement" tegen de Franse Kameroener Francis Ngannou. Het debuut ging niet zoals Blaydes gehoopt had. Na het einde van de tweede ronde was het rechteroog van Blaydes helemaal dicht, waardoor de dokter het genoodzaakt vond om het gevecht te stoppen. Ngannou won dus via TKO. Blaydes pakte zes maanden later zijn revanche in de Octagon. Cody East werd in de tweede ronde via TKO verslagen, waarmee Blaydes zijn eerste overwinning in de Octagon pakte. Hier leek vervolgens een tweede overwinning bij te komen.
Blaydes versloeg via TKO in de tweede ronde Adam Milstead die mede door een knieblessure niet verder kon. Echter werd er na afloop een positieve marihuana test afgeleverd door Blaydes. Hierdoor werd de overwinning tegen Milstead omgezet in een No-Contest. Blaydes vocht vervolgens in Juli 2017 tegen Daniel Omielanczuk. In een ronduit traag en vermoeiend gevecht was het uiteindelijk wel Blaydes die betrekkelijk eenvoudig via Unanimous Decision de overwinning wist binnen te halen. Blaydes keerde vervolgens terug tijdens UFC 217 in New York tegen Alexey Oleynik. Blaydes won het "'vreemde gevecht" via een eveneens vreemde TKO aan het begin van de tweede ronde. Blaydes wist vervolgens tijdens UFC 221 in Perth de Nieuw-Zeelander Mark Hunt te verslaan via Unanimous Decision.
Blaydes keerde vervolgens terug tijdens UFC 225 in Chicago om het op te nemen tegen de Nederlander Alistair Overeem. Blaydes controleerde het gevecht met zijn takedowns en wist laat in de derde ronde Overeem open te halen met zeer harde ellenbogen. Overeem ging KO waardoor Blaydes de grootste overwinning uit zijn carrière pakte. De Amerikaan pakte ook de Performance of the Night bonus. Blaydes kreeg vervolgens in November 2018 de kans om in Beijing zijn enige verliespartij op zijn record te effenen tegen Francis Ngannou. Ngannou had echter andere plannen en won via TKO na 45 seconden.
UFC RECORD
Res.
Tegenstander
Methode
Ronde
Evenement
Datum
Notities
Loss
Francis Ngannou
TKO (Punches)
1 (0:45)
UFC FN 141: Beijing
24 Nov. 2018
Win
Alistair Overeem
KO (Elbows)
3 (2:56)
UFC 225
9 Jun. 2018
Win
Mark Hunt
Decision (Unanimous)
3 (5:00)
UFC 221
10 Feb. 2018
Win
Alexey Oleynik
TKO (Doctor Stoppage)
2 (1:56)
UFC 217
4 Nov. 2017
Win
Daniel Omielanczuk
Decision (Unanimous)
3 (5:00)
UFC 213
8 Jul. 2017
NC
Adam Milstead
TKO (Punches)
2 (0:59)
UFC FN 104: Houston
4 Feb. 2017
Overturned naar No Contest na positieve Marihuana test van Blaydes
Win
Cody East
TKO (Elbows)
2 (2:02)
UFC FN 96: Portland
1 Okt. 2016
Loss
Francis Ngannou
TKO (Doctor Stoppage)
2 (5:00)
UFC FN 86: Zagreb
10 Apr. 2016
UFC Heavyweight Debut