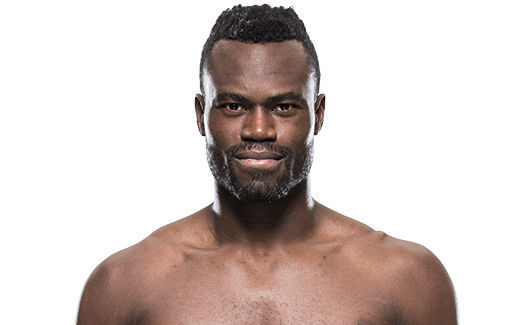 Naam: Uriah Hall
Bijnaam: Primetime
Record: 14 – 9 – 0 (UFC 7 – 7 – 0)
Geboortedatum: 31-07-1984
Geboorteplaats: Spanish Town, Jamaica
Nationaliteit: Jamaicaans
Lengte: 1.83m (6ft 0in)
Gewicht: 84kg (185lb)
Divisie: Middleweight
Vecht uit: New York City, New York, USA
Gym: Xtreme Couture
Actief: 2005 – heden
Twitter: @UriahHallMMA

Uriah Alexander Hall is een tweevoudig Ring of Combat Kampioen die in 2013 furore maakte tijdens het 17de seizoen van The Ultimate Fighter. Hall wist een van de meest brute KO's te leveren via een spinning backkick. Hall zou vervolgens via drie KO overwinningen de finale halen. Daarin was echter Kelvin Gastelum te sterk via Split Decision. Nadat vervolgens ook van John Howard werd verloren via Split Decision leek Hall's UFC verblijf aan een zijden draadje te hangen. Echter pakte Hall vervolgens drie overwinningen tegen achtereenvolgens UFC veteraan Chris Leben, Thiago Santos en late replacement Ron Stallings.
Hierna werd opnieuw via Split Decision verloren, ditmaal tegen de Braziliaanse veteraan Rafael Natal. Hall pakte vervolgens in Augustus 2015 een mooie overwinning tegen de sterke Oluwale Bamgbose. Maar Hall's grootste triomf kwam in September 2015. De Jamaicaan viel in op short notice voor Roan Carneiro tegen Gegard Mousasi. Mousasi domineerde de volledige eerste ronde, maar liep in de tweede ronde tegen een "Flying Knee" van Hall aan. Hall finishte het gevecht via Ground and Pound. Maar sindsdien is het voor Hall bergafwaarts gegaan. Zo werd verloren via Unanimous Decision van de inmiddels Interim Middleweight Kampioen Robert Whittaker, en werd eveneens verloren van zowel Derek Brunson als in de rematch tegen Gegard Mousasi. Beide keren verloor Hall via TKO in de eerste ronde.
Hall stond dus in September 2017 met zijn rug tegen de muur toen hij het opnam tegen Krzysztof Jotko. Jotko domineerde de eerste ronde, maar Hall wist vervolgens in de tweede ronde het gevecht via KO te winnen. Hall kreeg voor die finish de Performance of the Night bonus. Hall zou in Januari 2018 vechten tegen Vitor Belfort, echter ging Hall "out" achter de schermen vlak voordat hij moest wegen. Hierdoor werd het gevecht gecanceld. Vervolgens werd een gevecht tegen Paulo Costa voor UFC Atlantic City ingepland. Het gevecht werd in verband met een blessure van Costa verplaatst naar UFC 226 in Juli 2018. In een zeer leuk gevecht was uiteindelijk wel de Braziliaan die via TKO in de tweede ronde Hall wist te verslaan.
Hall keerde vervolgens terug in de Octagon tijdens UFC 232 in December 2018. Tegenstander was UFC debutant Bevon Lewis. Hall vocht matig in de eerste twee rondes en keek tegen een achterstand aan. Echter wist hij in de derde ronde Lewis via een keiharde stoot vol te raken. Lewis ging KO waardoor Hall een comeback overwinning kon bijschrijven.
UFC RECORD
Res.
Tegenstander
Methode
Ronde
Evenement
Datum
Notities
NB
Antonio Carlos Junior
NB
– (-:–)
UFC FN 158: Vancouver
14 Sep. 2019
Win
Bevon Lewis
KO (Punch)
3 (1:32)
UFC 232
29 Dec. 2018
Loss
Paulo Costa
TKO (Punches)
2 (2:38)
UFC 226
7 Jul. 2018
Win
Krzysztof Jotko
KO (Punches)
2 (2:25)
UFC FN 116: Pittsburgh
16 Sep. 2017
Loss
Gegard Mousasi
TKO (Punches)
1 (4:37)
UFC FN 99: Belfast
19 Nov. 2016
Loss
Derek Brunson
TKO (Punches)
1 (1:41)
UFC FN 94: Hidalgo
17 Sep. 2016
Loss
Robert Whittaker
Decision (Unanimous)
3 (5:00)
UFC 193
15 Nov. 2015
Win
Gegard Mousasi
TKO (Spinning Backkick, Flying Knee & Punches)
2 (0:25)
UFC FN 75: Saitama
27 Sep. 2015
Win
Oluwale Bamgbose
TKO (Punches)
1 (2:32)
UFC FN 73: Nashville
8 Aug. 2015
Loss
Rafael Natal
Decision (Split)
3 (5:00)
UFC 187
23 Mei. 2015
Win
Ron Stallings
TKO (Doctor Stoppage)
1 (3:37)
UFC FN 59: Boston
18 Jan. 2015
Win
Thiago Santos
Decision (Unanimous)
3 (5:00)
UFC 175
5 Jul. 2014
Win
Chris Leben
TKO (Retirement)
1 (5:00)
UFC 168
28 Dec. 2013
Loss
John Howard
Decision (Split)
3 (5:00)
UFC FN 26: Boston
17 Aug. 2013
Loss
Kelvin Gastelum
Decision (Split)
3 (5:00)
TUF 17 Finale
13 Apr. 2013
TUF 17 Finale/UFC Middleweight Debut