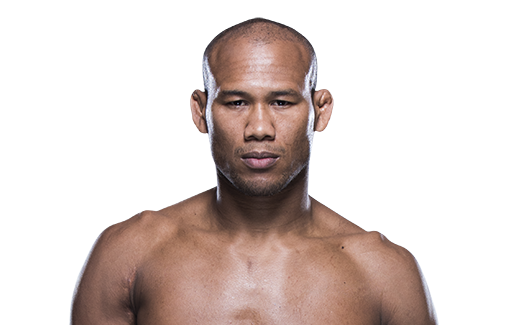 Naam: Ronaldo Souza
Bijnaam: Jacaré
Record: 25 – 6 – 0 – 1 (UFC 8 – 3 – 0 – 0)
Geboortedatum: 07-12-1979
Geboorteplaats: Vila Velha, Espirito Santo, Brazilië
Nationaliteit: Braziliaans
Lengte: 1.85m (6ft 1in)
Gewicht: 84kg (185lb)
Divisie: Middleweight
Vecht uit: Manaus, Amazonas, Brazilië
Gym: X-Gym
Actief: 2003 – heden
Twitter: @JacareMMA

Ronaldo Souza dos Santos is misschien wel de meest gevreesde tegenstander voor iedere Middleweight in de UFC. Het niveau van Jacaré qua BJJ skills is in de huidige Middleweight divisie ongeëvenaard. Daar kunnen Chris Camozzi (2x), Gegard Mousasi en ook Robbie Lawler over meepraten. Jacaré leek op weg naar een titelgevecht tegen de winnaar van Weidman/Rockhold in December 2015. Op dezelfde card vocht de Braziliaan tegen Yoel Romero. Jacaré had echter de eerste twee rondes nauwelijks vat op Romero. Uiteindelijk won Romero een Split Decision waardoor de titelaspiraties van Jacaré voorlopig de ijskast in konden.
In Mei 2016 wist Jacaré zonder al teveel moeite voormalig UFC Light-Heavyweight Kampioen Vitor Belfort te neutraliseren en te finishen in de eerste ronde. Daarna was Tim Boetsch zijn volgende slachtoffer. Jacare sleepte binnen 4 minuten via een Kimura Submission de overwinning binnen. In April 2017 vocht Jacaré tegen Robert Whittaker. Whittaker wist de groundgame van Jacaré te neutraliseren en besliste het gevecht via TKO in de tweede ronde. Hierdoor was Jacaré opnieuw genoodzaakt om zijn weg naar boven te vechten. Dat deed de Braziliaan tijdens UFC Charlotte in Januari 2018 tegen Derek Brunson. Jacaré won het gevecht via TKO in de eerste ronde.
Jacaré werd vervolgens gematcht tegen Kelvin Gastelum tijdens het Co-Main Event van UFC 224 in Rio de Janeiro. Jacaré verloor het gevecht via een zeer close Split Decision. Beide vechters kregen voor het spectaculaire gevecht de Fight of the Night bonus.
UFC RECORD
Res.
Tegenstander
Methode
Ronde
Evenement
Datum
Notities
Loss
Kelvin Gastelum
Decision (Split)
3 (5:00)
UFC 224
12 Mei. 2018
Win
Derek Brunson
TKO (Headkick & Punches)
1 (3:50)
UFC on FOX 27: Charlotte
27 Jan. 2018
Loss
Robert Whittaker
TKO (Headkick & Punches)
2 (3:28)
UFC on FOX 24: Kansas City
15 Apr. 2017
Win
Tim Boetsch
Submission (Kimura)
1 (3:41)
UFC 208
11 Feb. 2017
Win
Vitor Belfort
TKO (Punches)
1 (4:38)
UFC 194
14 Mei. 2016
Loss
Yoel Romero
Decision (Split)
3 (5:00)
UFC 194
12 Dec. 2015
Win
Chris Camozzi
Submission (Armbar)
1 (2:33)
UFC on FOX 15: Newark
18 Apr. 2015
Win
Gegard Mousasi
Submission (Guillotine Choke)
3 (4:30)
UFC FN 50: Mashantucket
5 Sep. 2014
Win
Francis Carmont
Decision (Unanimous)
3 (5:00)
UFC FN 36: Jaraguá do Sul
15 Feb. 2014
Win
Yushin Okami
TKO (Punches)
1 (2:47)
UFC FN 28: Belo Horizonte
4 Sep. 2013
Win
Chris Camozzi
Technical Submission (Arm-Triangle Choke)
1 (3:37)
UFC on FX 8: Jaraguá do Sul
18 Mei. 2013
UFC Middleweight Debut