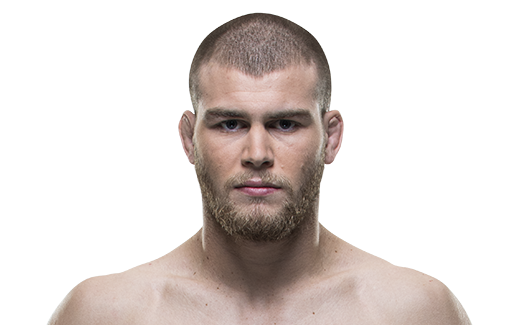 Naam: Jake Matthews
Bijnaam: The Celtic Kid
Record: 17 – 5 – 0 (UFC 10 – 5 – 0)
Geboortedatum: 19-08-1994
Geboorteplaats: Melbourne, Victoria, Australië
Nationaliteit: Australisch
Lengte: 1.80m (5ft 11in)
Gewicht: 77kg (170lb)
Divisie: Welterweight
Vecht uit: Epping, Victoria, Australië
Gym: XLR8 Training Centre
Actief: 2012 – heden
Twitter: @JakeMatthewsUFC

Jake Aaron Matthews deed als 19-Jarige mee aan TUF Nations. Matthews werd in de eerste ronde uitgeschakeld door de latere finalist Olivier Aubin-Mercier. Van zijn vier overwinningen in de UFC, won Matthews er drie via Submission en een via TKO en slechts eenmaal moesten de judges eraan te pas komen. Zijn meest indrukwekkende overwinning kwam in Maart 2016 toen hij laat in de derde ronde Johnny Case wist te finishen via Rear Naked Choke Submission. Het gevecht werd verkozen tot Fight of the Night. In zijn eerste gevecht voor de UFC in de Verenigde Staten ging het mis, Kevin Lee won via TKO in de eerste ronde. Matthews keerde vervolgens terug in Melbourne tijdens het Co-Main Event van UFC Fight Night 101. In November 2016 was Andrew Holbrook de tegenstander. Matthews was favoriet bij het ingaan van het gevecht, maar kon dit niet waarmaken. De Amerikaan Holbrook was via Split Decision te sterk waardoor Matthews een losing streak van twee zal moest doorbreken in zijn gevecht tegen Bojan Velickovic in November 2017. Matthews won via Split Decision, al was de uitslag zéér controversieel. Echter pakte Matthews tijdens UFC 221 in Perth een zeer goede overwinning. Via een vrij dominante performance werd de Chinees Li Jingliang via Unanimous Decision verslagen. Beide mannen wonnen de Fight of the Night bonus voor dit gevecht.
Matthews keerde vervolgens terug tijdens UFC Singapore in Juni 2018 tegen de Japanner Shinsho Anzai. Matthews had weinig moeite met Anzai en won het gevecht in de eerste ronde via een Rear Naked Choke Submission. Anzai tikte niet af waardoor hij buiten westen raakte. Matthews maakte vervolgens zijn opwachting tijdens UFC Adelaide in December 2018 tegen Anthony Rocco Martin. Na de eerste twee rondes gewonnen te hebben kwam Matthews vast te zitten in een Anaconda Choke Submission. Matthews tikte niet af en ging daardoor "out". Martin brak hiermee de winstreak van drie gevechten van Matthews. Matthews wist vervolgens de draad weer op te pakken voor eigen publiek tijdens UFC 243 in Melbourne. Matthews won via Unanimous Decision van Rostem Akman. Matthews wist die overwinning in Februari 2020 een goed vervolg te geven. Tijdens UFC Auckland werd gewonnen via Unanimous Decision van Emil Meek. Matthews bouwde vervolgens in September 2020 zijn winstreak uit naar drie gevechten. De Australiër versloeg Diego Sanchez via Unanimous Decision. Matthews kon die winstreak van drie partijen een half jaar later niet uitbreiden. Via Arm-Triangle Choke Submission werd verloren in de derde ronde van Sean Brady.
UFC RECORD
Res.
Tegenstander
Methode
Ronde
Evenement
Datum
Notities
Loss
Sean Brady
Submission (Arm-Triangle Choke)
3 (3:28)
UFC 259
6 Mar. 2021
Win
Diego Sanchez
Decision (Unanimous)
3 (5:00)
UFC 253
26 Sep. 2020
Win
Emil Meek
Decision (Unanimous)
3 (5:00)
UFC FN 168: Auckland
22 Feb. 2020
Win
Rostem Akman
Decision (Unanimous)
3 (5:00)
UFC 243
5 Okt. 2019
Loss
Anthony Rocco Martin
Tech.Submission (Anaconda Choke)
3 (1:19)
UFC FN 142: Adelaide
1 Dec. 2018
Win
Shinsho Anzai
Tech.Submission (RNC)
1 (3:44)
UFC FN 132: Singapore
23 Jun. 2018
Win
Li Jingliang
Decision (Unanimous)
3 (5:00)
UFC 221
11 Feb. 2018
Win
Bojan Veličković
Decision (Split)
3 (5:00)
UFC FN 121: Sydney
19 Nov. 2017
UFC Welterweight Debut
Loss
Andrew Holbrook
Decision (Split)
3 (5:00)
UFC FN 101: Melbourne
27 Nov. 2016
Loss
Kevin Lee
TKO (Punches)
1 (4:06)
TUF 26 Finale
9 Jul. 2016
Win
Johnny Case
Submission (RNC)
3 (4:45)
UFC FN 85: Brisbane
20 Mar. 2016
Win
Akbarh Arreola
TKO (Doctor Stoppage)
2 (5:00)
UFC 193
15 Nov. 2015
Loss
James Vick
Submission (Guillotine Choke)
1 (4:53)
UFC FN 65: Adelaide
10 Mei. 2015
Win
Vagner Rocha
Tech.Submission (RNC)
2 (1:52)
UFC FN 55: Sydney
8 Nov. 2014
Win
Dashon Johnson
Submission (Triangle Choke)
3 (3:16)
UFC FN 43: Auckland
28 Jun. 2014
UFC Lightweight Debut