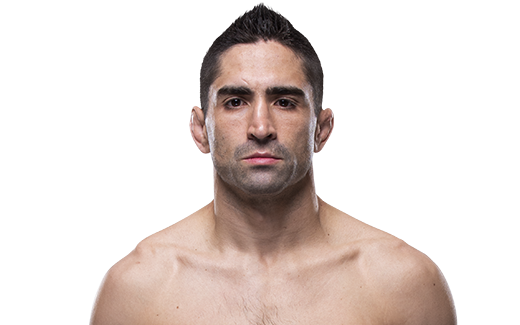 Naam: Ricardo Lamas
Bijnaam: The Bully
Record: 19 – 7 – 0 (UFC 10 – 5 – 0)
Geboortedatum: 21-05-1982
Geboorteplaats: Chicago, Illinois, USA
Nationaliteit: Amerikaans
Lengte: 1.73m (5ft 8in)
Gewicht: 66kg (145lb)
Divisie: Featherweight
Vecht uit: Miami, Florida, USA
Gym: MMA Masters
Actief: 2008 – heden
Twitter: @RicardoLamasMMA

Ricardo Alejandro Lamas zit sinds de overname van de WEC door de UFC bij de organisatie. Lamas won zijn eerste vier gevechten binnen de organisatie tegen onder meer Cub Swanson en Erik Koch. Dit leverde hem in Februari 2014 een titelgevecht op met kampioen José Aldo. Lamas verloor via Unanimous Decision. Vervolgens wist Lamas van Hacran Dias en op zeer imponerende wijze van Dennis Bermudez te winnen. Echter ging het tegen Chad Mendes vervolgens mis. Lamas verloor via TKO vroeg in de eerste ronde. Vervolgens won hij in November 2015 van Diego Sanchez, waarna hij het opnam tegen Max Holloway. Holloway was over drie rondes te sterk voor Lamas. Vervolgens zou Lamas op het Main Event van de UFC in de Filipijnen het opnemen tegen MMA legende BJ Penn. Penn raakte echter geblesseerd, waarna de UFC het hele evenement cancelde.
Lamas werd vervolgens in November 2016 ingepland tegen de Braziliaan Charles Oliveira. De Brazilaanse BJJ specialist kwam maar liefst 10 lbs te zwaar aan tijdens de weging. Lamas had geen zin op een nieuw gecanceld gevecht en accepteerde het gevecht. Lamas liet zien zeer gemotiveerd te zijn en finishte Oliveira via Guillotine Choke Submission in de tweede ronde. Dit leverde Lamas de Performance of the Night bonus op. Vervolgens keerde Lamas terug in Juli 2017. In eerste instantie zou hij het opnemen tegen de Zuid-Koreaan Chan Sung Jung. Echter raakte Jung geblesseerd en werd vervangen door Jason Knight. In een zeer attractief gevecht was het uiteindelijk Lamas die via TKO in de eerste ronde het gevecht naar zich toe trok. Lamas zou het vervolgens tegen José Aldo opnemen tijdens UFC on FOX 26 in Winnipeg. Echter werd Aldo overgeheveld naar een titelgevecht tegen Max Holloway en stond Lamas tegenover Josh Emmett. Emmett wist Lamas in de eerste ronde zwaar KO te slaan en zeer verrassend de overwinning te pakken.
Lamas keerde vervolgens terug in zijn Chicago tijdens UFC 225 tegen Mirsad Bektic. Lamas verloor het gevecht via Split Decision. Uiteindelijk wist Lamas tijdens UFC Buenos Aires in November 2018 zijn losing streak van twee gevechten te doorbreken. De altijd taaie Darren Elkins werd via TKO aan het einde van de derde ronde gefinisht.
UFC RECORD
Res.
Tegenstander
Methode
Ronde
Evenement
Datum
Notities
NB
Calvin Kattar
NB
– (-:–)
UFC 238
8 Jun. 2019
Win
Darren Elkins
TKO (Punches)
3 (4:09)
UFC FN 140: Buenos Aires
17 Nov. 2018
Loss
Mirsad Bektic
Decision (Split)
3 (5:00)
UFC 225
9 Jun. 2018
Loss
Josh Emmett
KO (Punch)
1 (4:33)
UFC on FOX 26: Winnipeg
16 Dec. 2017
Catchweight Fight (148.5 lbs)
Win
Jason Knight
TKO (Punches)
1 (4:34)
UFC 214
29 Jul. 2017
Win
Charles Oliveira
Submission (Guillotine Choke)
2 (2:13)
UFC FN 98: Mexico City
5 Nov. 2016
Catchweight Fight (155 lbs)
Loss
Max Holloway
Decision (Unanimous)
3 (5:00)
UFC 199
4 Jun. 2016
Win
Diego Sanchez
Decision (Unanimous)
3 (5:00)
UFC FN 78: Monterrey
21 Nov. 2015
Loss
Chad Mendes
TKO (Punches)
1 (2:45)
UFC FN 63: Fairfax
4 Apr. 2015
Win
Dennis Bermudez
Submission (Guillotine Choke)
1 (3:18)
UFC 180
15 Nov. 2014
Win
Hacran Dias
Decision (Unanimous)
3 (5:00)
UFC FN 44: San Antonio
28 Jun. 2014
Loss
Jose Aldo
Decision (Unanimous)
5 (5:00)
UFC 169
1 Feb. 2014
UFC Featherweight Titlefight
Win
Erik Koch
TKO (Elbows)
2 (2:32)
UFC on FOX 6: Chicago
26 Jan. 2013
Win
Hatsu Hioki
Decision (Unanimous)
3 (5:00)
UFC on FX 4: Atlantic City
22 Jun. 2012
Win
Cub Swanson
Submission (Arm-Triangle Choke)
2 (2:16)
UFC on FOX 1: Anaheim
12 Nov. 2011
Win
Matt Grice
TKO (Headkick & Punches)
1 (4:41)
UFC Live 4: Pittsburgh
26 Jun. 2011
UFC Featherweight Debut