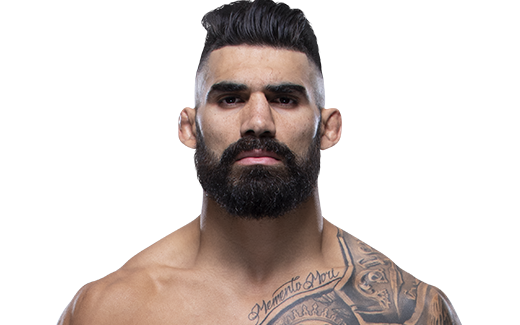 Naam: Lyman Good
Bijnaam: Cyborg
Record: 20 – 4 – 0 – 1 (UFC 2 – 1 – 0 – 0)
Geboortedatum: 26-05-1985
Geboorteplaats: Harlem, New York, USA
Nationaliteit: Amerikaans
Lengte: 1.83m (6ft 0in)
Gewicht: 77kg (170lb)
Divisie: Welterweight
Vecht uit: Manhattan, New York, USA
Gym: Tiger Schulmann's MMA
Actief: 2005 – heden
Twitter: @lymangoodmma

Lyman Good is een voormalig Bellator MMA Kampioen. Good probeerde via TUF 19 de UFC binnen te komen, maar faalde in die opzet. In 2015 lukte het dan toch. De UFC had een "late replacement" nodig om tegen Andrew Craig te vechten. Good die op dat moment de CFFC Kampioen was kreeg het belletje en viel in, met succes. Good won in de tweede ronde via KO, en kon dus spreken over een zeer goed UFC debuut. Good stond in December 2015 gepland tegen Omari Akhmedov, maar moest afzeggen vanwege een blessure. Good werd vervolgens ingepland voor de UFC 205 card in New York tegen Belal Muhammad.
Helaas voor Good pakte een USADA test positief uit. Good werd een half jaar geschorst en van het gevecht gehaald. Inmiddels is bewezen dat Good geen blaam trof en is hij bezig met een rechtszaak tegen het gecertificeerde bedrijf die hem het product had geleverd waardoor de test positief uitviel. Good keerde vervolgens terug in de Octagon tijdens UFC Long Island in Juli 2017 tegen Elizeu Zaleski dos Santos. In een zeer sterk gevecht van beide kanten won uiteindelijk Zaleski dos Santos via een controversiële Split Decision. Beide vechters kregen de Fight of the Night bonus voor het gevecht.
Good zou vervolgens pas in November 2018 terugkeren in de Octagon. Good werd gematcht tegen Sultan Aliev. Echter raakte Aliev geblesseerd waardoor Good moest vechten tegen Ben Saunders. Good wist Saunders vroeg in de eerste via KO te stoppen.
UFC RECORD
Res.
Tegenstander
Methode
Ronde
Evenement
Datum
Notities
NB
Demian Maia
NB
– (-:–)
UFC FN 144/UFC on ESPN+ 2: Fortaleza
2 Feb. 2019
Win
Ben Saunders
KO (Punches)
1 (1:32)
UFC 230
3 Nov. 2018
Loss
Elizeu Zaleski dos Santos
Decision (Split)
3 (5:00)
UFC on FOX 25: Long Island
22 Jul. 2017
Win
Andrew Craig
KO (Punches)
2 (3:37)
UFC FN 71: San Diego
15 Jul. 2015
UFC Welterweight Debut