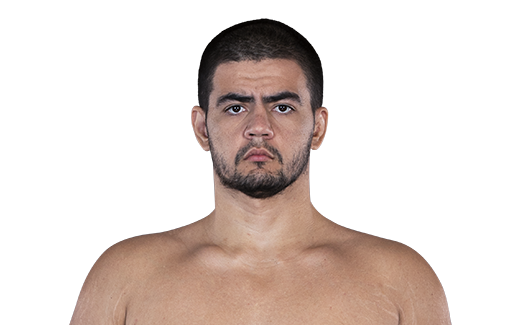 Naam: Junior Albini
Bijnaam: Baby
Record: 14 – 4 – 0 (UFC 1 – 2 – 0)
Geboortedatum: 15-03-1991
Geboorteplaats: Paranagua, Parana, Brazilië
Nationaliteit: Braziliaans
Lengte: 1.91m (6ft 3in)
Gewicht: 120kg (265lb)
Divisie: Heavyweight
Vecht uit: Paranagua, Parana, Brazilië
Gym: Astra Fight Team
Actief: 2009 – heden
Twitter: @junioralbini

Junior Albini maakte in Juli 2017 zijn UFC debuut. De Braziliaan nam het tijdens UFC Long Island op tegen Timothy Johnson. Albini wist Johnson in de eerste ronde KO te slaan en verdiende daarmee ook de Performance of the Night bonus. Albini traint bij Astra Fight Team in Brazilië. Hij staat bekend om zijn allround MMA game en staat zowel staand als op de grond zijn mannetje. Albini vocht vooral voor de Aspera FC organisatie waar hij zijn vijf partijen allemaal wist te winnen. In Mei 2016 vocht Albini voor de Aspera FC Heavyweight titel. Deze werd via TKO in de derde ronde gewonnen tegen de ongeslagen Tiago Cardoso.
Drie maanden later verdedigde Albini met succes zijn belt tegen Jose Rodrigo Guelke. Het gevecht eindigde in een Unanimous Decision overwinning voor Albini. Albini die nadat hij van Timothy Johnson won een winstreak had van tien partijen, moest het opnemen tijdens UFC Norfolk in Oktober 2017 tegen Andrei Arlovski. Albini verloor het gevecht van de MMA veteraan via Unanimous Decision. Een gevecht waar nog lang over werd nagesproken. Niet zozeer over het gevecht zelf, als wel over het broekje van Albini dat er uitzag als een luier.
Albini kon ook in zijn daarop volgende gevecht niet overtuigen. Tijdens UFC 224 in Mei 2018 verloor Albini van de Russische Submission wizard Alexey Oleynik via Ezekiel Choke Submission in de eerste ronde.
UFC RECORD
Res.
Tegenstander
Methode
Ronde
Evenement
Datum
Notities
NB
Dmitry Sosnovskiy
NB
– (-:–)
UFC FN 144/UFC on ESPN+ 2: Fortaleza
2 Feb. 2019
Loss
Alexey Oleynik
Submission (Ezekiel Choke)
1 (1:45)
UFC 224
12 Mei. 2018
Loss
Andrei Arlovski
Decision (Unanimous)
3 (5:00)
UFC FN 120: Norfolk
11 Nov. 2017
Win
Timothy Johnson
TKO (Punches)
1 (2:51)
UFC on FOX 25: Long Island
22 Jul. 2017
UFC Heavyweight Debut