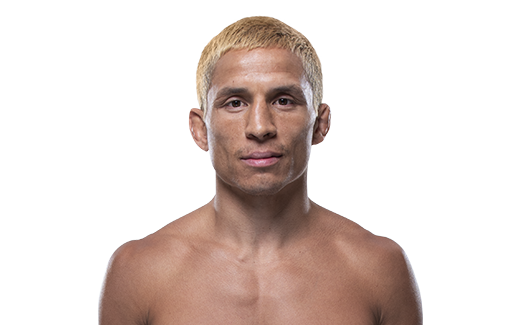 Naam: Joseph Benavidez
Bijnaam: The Beefcake, Joe B Wan Kenobi, Joe-Jitsu, Rocky Baljoa
Record: 26 – 5 – 0 (UFC 13 – 3 – 0)
Geboortedatum: 31-07-1984
Geboorteplaats: San Antonio, Texas, USA
Nationaliteit: Amerikaans
Lengte: 1.63m (5ft 4in)
Gewicht: 57kg (125lb)
Divisie: Flyweight
Vecht uit: Las Cruces, New Mexico, USA
Gym: Xtreme Couture & UFC Performance Institute
Actief: 2006 – heden
Twitter: @JoeJitsu

Joseph Rolando Benavidez kwam na de fusie van de WEC met de UFC de organisatie binnen. Benavidez vocht destijds nog op Bantamweight aangezien de Flyweight divisie in de UFC nog niet bestond. Na twee overwinningen op Ian Loveland en Eddie Wineland stapte Benavidez over naar de Flyweight divisie. De UFC had een "4-men tournament" opgezet. De winnaar zou zich de UFC Flyweight Kampioen mogen noemen. Benavidez versloeg in de halve finale de Japanner Yasuhiro Urushitani via TKO in de tweede ronde. Dit leverde Benavidez een titelgevecht op tegen de winnaar van de andere halve finale : Demetrious Johnson. In een zeer competitief gevecht gaven twee judges uiteindelijk het gevecht aan Johnson die na vijf rondes via Split Decision won en dus Kampioen werd.
Benavidez kwam sterk terug en versloeg Ian McCall, Darren Uyenoyama en topcontender Jussier Formiga in Brazilië via TKO in de eerste ronde. De UFC plande een tweede gevecht in tussen Benavidez en Johnson. Ditmaal wist Johnson vroeg in de eerste ronde Benavidez via een spectaculaire KO te verslaan. Dit was in 2013. Sindsdien is Benavidez ongeslagen in de UFC en heeft hij een winstreak van zes gevechten. Benavidez versloeg onder meer Tim Elliott, John Moraga, Dustin Ortiz, Ali Bagautinov en in December 2016 Henry Cejudo via Split Decision. Echter weigert UFC President Dana White een derde gevecht tussen Johnson en Benavidez in te plannen. Hierdoor is Benavidez duidelijk de een na beste van de divisie, maar zal hij zo lang Johnson Kampioen is geen titelgevecht krijgen (althans zo lijkt het). Benavidez zou terugkeren begin 2017 tegen Ben Nguyen, maar raakte geblesseerd.
Benavidez keerde pas in Juni 2018 terug tijdens UFC 225 tegen Sergio Pettis. Na een matig begin leek Benavidez in de tweede en derde ronde beter voor de dag te komen. Echter verloor de voormalig titeluitdager via een controversiële Split Decision. Benavidez werd vervolgens ingepland tijdens UFC Denver in November 2018 tegen Ray Borg. Echter werd het gevecht enkele dagen van te voren gecanceld omdat Borg niet door de medische keuring kwam. Benavidez werd vervolgens drie weken later ingepland tijdens de TUF 28 Finale tegen Alex Perez. Benavidez won het gevecht via TKO in de eerste ronde en verdiende daarmee ook de Performance of the Night bonus.
UFC RECORD
Res.
Tegenstander
Methode
Ronde
Evenement
Datum
Notities
NB
Deiveson Alcantara Figueiredo
NB
– (-:–)
UFC FN 143/UFC on ESPN+ 1: Brooklyn
19 Jan. 2019
Win
Alex Perez
TKO (Punches)
1 (4:19)
TUF 28 Finale
30 Nov. 2018
Loss
Sergio Pettis
Decision (Split)
3 (5:00)
UFC 225
9 Jun. 2018
Win
Henry Cejudo
Decision (Split)
3 (5:00)
TUF 24 Finale
3 Dec. 2016
Win
Zach Makovsky
Decision (Unanimous)
3 (5:00)
UFC FN 82: Las Vegas
6 Feb. 2016
Win
Ali Bagautinov
Decision (Unanimous)
3 (5:00)
UFC 192
3 Okt. 2015
Win
John Moraga
Decision (Unanimous)
3 (5:00)
UFC 187
23 Mei. 2015
Win
Dustin Ortiz
Decision (Unanimous)
3 (5:00)
UFC FN 57: Austin
22 Nov. 2014
Win
Timothy Elliott
Submission (Guillotine Choke)
1 (4:08)
UFC 172
26 Apr. 2014
Loss
Demetrious Johnson
KO (Punch)
1 (2:08)
UFC on FOX 9: Sacramento
14 Dec. 2013
UFC Flyweight Titlefight
Win
Jussier Formiga
TKO (Knee to the Body & Punches)
1 (3:07)
UFC FN 28: Belo Horizonte
4 Sep. 2013
Win
Darren Uyenoyama
TKO (Body Punch)
2 (4:50)
UFC on FOX 7: San Jose
20 Apr. 2013
Win
Ian McCall
Decision (Unanimous)
3 (5:00)
UFC 156
2 Feb. 2013
Loss
Demetrious Johnson
Decision (Split)
5 (5:00)
UFC 152
22 Sep. 2012
UFC Flyweight Titlefight
Win
Yasuhiro Urushitani
TKO (Punches)
2 (0:11)
UFC on FX 2: Sydney
3 Mar. 2012
UFC Flyweight Debut/Halve Finale Flyweight Toernooi
Win
Eddie Wineland
Decision (Unanimous)
3 (5:00)
UFC Live 5: Milwaukee
14 Aug. 2011
Win
Ian Loveland
Decision (Unanimous)
3 (5:00)
UFC 128
19 Mar. 2011
UFC Bantamweight Debut