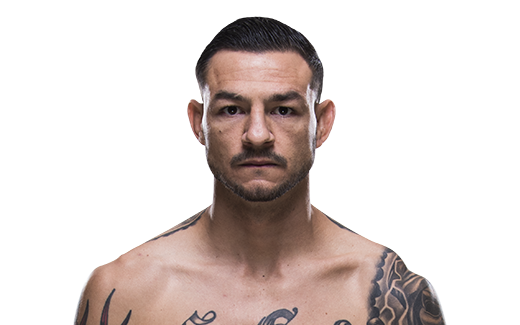 Naam: Cub Swanson
Bijnaam: Killercub
Record: 25 – 10 – 0 (UFC 10 – 6 – 0)
Geboortedatum: 02-11-1983
Geboorteplaats: Palm Springs, Californië, USA
Nationaliteit: Amerikaans
Lengte: 1.70m (5ft 7in)
Gewicht: 66kg (145lb)
Divisie: Featherweight
Vecht uit: Palm Springs, Californië, USA
Gym: JacksonWink MMA
Actief: 2004 – heden
Twitter: @CubSwanson

Kevin Luke Swanson is een echte veteraan van de sport. De voormalig King of the Cage en WEC vechter kwam in 2011 de UFC binnen. Hij maakte zijn debuut tijdens het eerste UFC evenement op FOX tegen Ricardo Lamas. Lamas op dat moment nog niet gerekend tot de top van de divisie verraste destijds door Swanson in de tweede ronde via een Arm-Triangle Choke Submission te stoppen. Swanson wist na het verlies maar liefst zes gevechten achter elkaar te winnen, tegen onder meer Jeremy Stephens, Dustin Poirier en Charles Oliveira. De man uit Palm Springs, Californië werd meerdere keren een titelgevecht beloofd door de organisatie tegen José Aldo (dit zou een rematch zijn). Echter was voor de UFC het financiële aspect weer eens belangrijker dan het sportieve en werd Conor McGregor vrijwel uit het niets naar voren geschoven. Swanson moest het doen met een gevecht tegen Frankie Edgar. Edgar domineerde Swanson het hele gevecht en won uiteindelijk zeer laat in de vijfde ronde via een Neck Crank Submission.
Swanson verloor vervolgens opnieuw, ditmaal van de inmiddels Kampioen Max Holloway. Vervolgens werkte Swanson zich weer naar boven door zowel Hacran Dias als Tatsuya Kawajiri via Unanimous Decision te verslaan. Eind 2016 stond Swanson tegenover het Zuid-Koreaanse wonderkind Doo Ho Choi. In een absoluut magistraal gevecht wist Swanson via Unanimous Decision uiteindelijk de buit mee naar huis te nemen. Vele mediaoutlets bestempelde dit gevecht als het beste gevecht van 2016. Vervolgens vocht Swanson in April dit jaar een zeer opmerkelijk gevecht. De niet gerankte Artem Lobov werd door de UFC naar voren geschoven om het op te nemen tijdens het Main Event van UFC Nashville tegen Swanson. Swanson had geen enkele moeite over vijf rondes met de Rus en versloeg hem via Unanimous Decision. Swanson nam vervolgens een paar maanden vrij aangezien hij voor het eerst vader werd. Vlak voor het einde van 2017 keerde Swanson terug in de Octagon tegen de ongeslagen Brian Ortega. Swanson kwam vast te zitten in een Guillotine Choke in de tweede ronde, en moest aftikken.
Vervolgens mocht Swanson zich proberen te revancheren tegen Frankie Edgar. Beide mannen troffen elkaar vier jaar eerder. Destijds was Edgar te sterk. Ook ditmaal was Edgar te sterk. Tijdens UFC Atlantic City in April 2018 won Edgar via Unanimous Decision. Swanson wist vervolgens ook in Augustus 2018 het tij niet te keren. Via Rear Naked Choke Submission in de eerste ronde werd verloren van Renato Moicano.
UFC RECORD
Res.
Tegenstander
Methode
Ronde
Evenement
Datum
Notities
NB
Jose Aldo
NB
– (-:–)
UFC 233
26 Jan. 2019
Loss
Renato Moicano
Submission (RNC)
1 (4:15)
UFC 227
4 Aug. 2018
Loss
Frankie Edgar
Decision (Unanimous)
3 (5:00)
UFC FN 128: Atlantic City
21 Apr. 2018
Loss
Brian Ortega
Submission (Guillotine Choke)
2 (3:22)
UFC FN 123: Fresno
9 Dec. 2017
Win
Artem Lobov
Decision (Unanimous)
5 (5:00)
UFC FN 108: Nashville
22 Apr. 2017
Win
Doo Ho Choi
Decision (Unanimous)
3 (5:00)
UFC 206
10 Dec. 2016
Win
Tatsuya Kawajiri
Decision (Unanimous)
3 (5:00)
UFC FN 92: Salt Lake City
6 Aug. 2016
Win
Hacran Dias
Decision (Unanimous)
3 (5:00)
UFC on FOX 19: Tampa
16 Apr. 2016
Loss
Max Holloway
Submission (Guillotine Choke)
3 (3:58)
UFC on FOX 15: Newark
18 Apr. 2015
Loss
Frankie Edgar
Submission (Neck Crank)
5 (4:56)
UFC FN 57: Austin
22 Nov. 2014
Win
Jeremy Stephens
Decision (Unanimous)
5 (5:00)
UFC FN 44: San Antonio
28 Jun. 2014
Win
Dennis Siver
KO (Punches)
3 (2:24)
UFC 162
6 Jul. 2013
Win
Dustin Poirier
Decision (Unanimous)
3 (5:00)
UFC on Fuel TV 7: London
16 Feb. 2013
Win
Charles Oliveira
KO (Punch)
1 (2:40)
UFC 152
22 Sep. 2012
Win
Ross Pearson
TKO (Punches)
2 (4:14)
UFC on FX 4: Atlantic City
22 Jun. 2012
Win
George Roop
TKO (Punches)
2 (2:22)
UFC on Fox 2: Chicago
28 Jan. 2012
Loss
Ricardo Lamas
Submission (Arm-Triangle Choke)
2 (2:16)
UFC on FOX 1: Anaheim
12 Nov. 2011
UFC Featherweight Debut