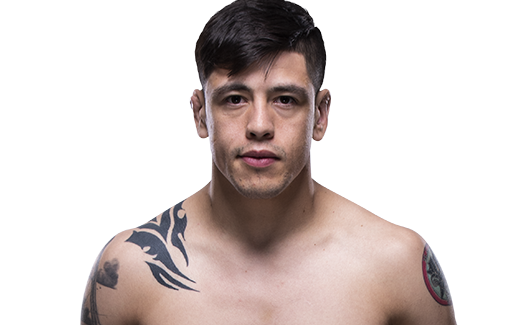 Naam: Brandon Moreno
Bijnaam: The Assassin Baby
Record: 14 – 4 – 0 (UFC 3 – 1 – 0)
Geboortedatum: 17-12-1993
Geboorteplaats: Tijuana, Baja California, Mexico
Nationaliteit: Mexicaans
Lengte: 1.70m (5ft 7in)
Gewicht: 57kg (125lb)
Divisie: Flyweight
Vecht uit: Tijuana, Baja California, Mexico
Gym: Entram Gym
Actief: 2011 – heden
Twitter: @theassassinbaby

Brandon Moreno zagen we voor het eerst tijdens TUF 24. Hij verloor zijn eerste gevecht van Alexandre Pantoja. Moreno kreeg echter een belletje van de UFC om in te vallen voor Sergio Pettis tegen Louis Smolka. Moreno nam het gevecht aan en ging als zware underdog het gevecht in. Moreno verbaasde vriend en vijand door Smolka in de eerste ronde via Guillotine Choke Submission te finishen. Vervolgens mocht Moreno het tijdens de TUF 24 Finale opnemen tegen Ryan Benoit. Moreno won het gevecht via Split Decision.
Vervolgens mocht Moreno het in April 2017 in Nashville, Tennessee opnemen tegen Dustin Ortiz. Moreno vocht sterk, en wist Ortiz via een headkick in de tweede ronde aan te slaan. Moreno finishte het gevecht een minuut later via een Rear Naked Choke Submission. Dit leverde Moreno de Performance of the Night bonus op plus een behoorlijke opmars in de rankings. Moreno kreeg vervolgens van de UFC het Main Event tijdens UFC Mexico City aangeboden in Augustus 2017. Zijn tegenstander was de eveneens talentvolle Sergio Pettis. Pettis wist uiteindelijk via zijn stand-up indruk te maken en Moreno zijn eerste verliespartij via Unanimous Decision in de UFC toe te brengen.
UFC RECORD
Res.
Tegenstander
Methode
Ronde
Evenement
Datum
Notities
NB
Ray Borg
NB
– (-:–)
UFC 223
7 Apr. 2018
Loss
Sergio Pettis
Decision (Unanimous)
5 (5:00)
UFC FN 114: Mexico City
5 Aug 2017
Win
Dustin Ortiz
Tech.Submission (RNC)
2 (4:06)
UFC FN 108: Nashville
22 Apr. 2017
Win
Ryan Benoit
Decision (Split)
3 (5:00)
TUF 24 Finale
3 Dec. 2016
Win
Louis Smolka
Submission (Guillotine Choke)
1 (2:23)
UFC FN 96: Portland
1 Okt. 2016
UFC Flyweight Debut