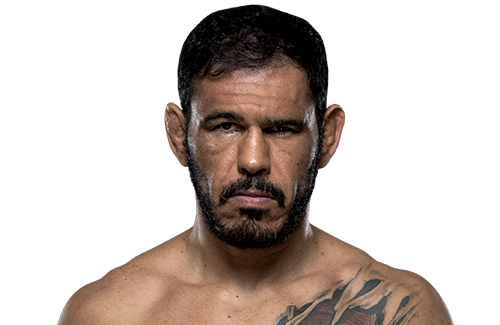 Naam: Antonio Rogerio Nogueira
Bijnaam: Minotouro
Record: 22 – 8 – 0 (UFC 5 – 5 – 0)
Geboortedatum: 02-06-1976
Geboorteplaats: Vitória da Conquista, Bahia, Brazilië
Nationaliteit: Braziliaans
Lengte: 1.88m (6ft 2in)
Gewicht: 93kg (205lb)
Divisie: Light-Heavyweight
Vecht uit: Gardena, Californië, USA
Gym: Team Nogueira
Actief: 2000 – heden
Twitter: @Minotouromma

Antonio Rogerio Nogueira is een 41-jarige veteraan die sinds 2000 meedraait in het professionele MMA. Nadat hij onder anderen voor PRIDE FC en Affliction had gevochten debuteerde Nogueira in 2009 tijdens UFC 106 voor de UFC. Hij nam het op tegen Luiz Cane en versloeg hem via een KO in de eerste ronde. Zijn tweede partij wist Nogueira ook te winnen tegen Jason Brilz via een Split Decision. Daarna begon een wisselvallige periode met niet heel veel gevechten voor Nogueira. Zo verloor hij van Ryan Bader, Phil Davis, won hij van Tito Ortiz en Rashad Evans en verloor vervolgens weer tegen Anthony Johnson en Mauricio "Shogun" Rua.
Het gevecht tegen "Shogun" leverde beide mannen de Fight of the Night bonus op. Vervolgens nam Nogueira het voor eigen publiek op tegen Patrick Cummins. Nogueira wist Cummins te verslaan via TKO in de eerste ronde. Echter kon hij die mooie overwinning geen vervolg geven. Tijdens het Main Event in Sao Paulo zes maanden later tegen Ryan Bader werd wederom van Amerikaan verloren, ditmaal via TKO in de derde ronde. Nogueira zou vervolgens terugkeren tijdens UFC Nashville in April 2017 tegen Ilir Latifi, echter gooide een blessure roet in het eten. Nogueira werd vervolgens gematcht tegen Jared Cannonier. Echter werd Nogueira van het gevecht gehaald in verband met een potentiële USADA overtreding. Hierdoor is Nogueira op voorhand geschorst.
UFC RECORD
Res.
Tegenstander
Methode
Ronde
Evenement
Datum
Notities
Loss
Ryan Bader
TKO (Punches)
3 (3:51)
UFC FN 100: São Paulo
19 Nov. 2016
Win
Patrick Cummins
TKO (Punches)
1 (4:52)
UFC 198
14 Mei 2016
Loss
Mauricio "Shogun" Rua
Decision (Unanimous)
3 (5:00)
UFC 190
1 Aug. 2015
Loss
Anthony Johnson
KO (Punches)
1 (0:44)
UFC on FOX 12: San Jose
26 Jul. 2014
Win
Rashad Evans
Decision (Unanimous)
3 (5:00)
UFC 156
2 Feb. 2013
Win
Tito Ortiz
TKO (Elbow & Body Punches)
1 (3:15)
UFC 140
10 Dec. 2011
Loss
Phil Davis
Decision (Unanimous)
3 (5:00)
UFC FN 24: Seattle
26 Mar. 2011
Loss
Ryan Bader
Decision (Unanimous)
3 (5:00)
UFC 119
25 Sep. 2010
Win
Jason Brilz
Decision (Split)
3 (5:00)
UFC 114
29 Mei 2010
Win
Luiz Cane
KO (Punches)
1 (1:56)
UFC 106
21 Nov. 2009
UFC Light-Heavyweight Debut