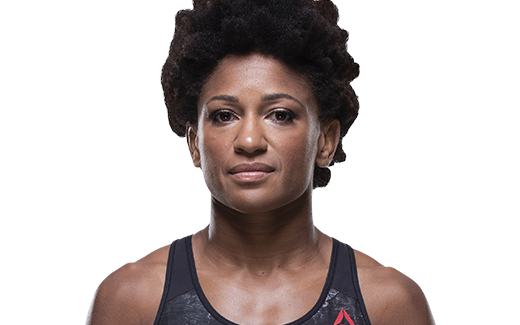 Naam: Angela Hill
Bijnaam: Overkill
Record: 8 – 5 – 0 (UFC 3 – 5 – 0)
Geboortedatum: 10-12-1986
Geboorteplaats: Clinton, Maryland, USA
Nationaliteit: Amerikaans
Lengte: 1.60m (5ft 3in)
Gewicht: 52kg (115lb)
Divisie: Strawweight
Vecht uit: San Diego, Californië, USA
Gym: Alliance MMA
Actief: 2014 – heden
Twitter: @AngieOverkill

Angela Hill kwam voor het eerst in beeld tijdens het twintigste seizoen van TUF. Hill destijds met een 1-0 record in MMA werd als #16 gerankt door de UFC, en moest het daardoor opnemen tegen de #1 gerankte Carla Esparza. Hill was kansloos en verloor vroeg in de eerste ronde. Haar UFC "journey" was ook niet succesvol. Emily Kagan werd verslagen, maar Hill verloor van Rose Namajunas en Tecia Torres waarna haar contract niet werd verlengt. Hill werd opgepikt door Invicta FC, en na KO overwinningen tegen Alida Gray en Stephanie Eggink mocht Hill in Mei 2016 het opnemen tegen de Braziliaanse Kampioene Livia Renata Souza. Na vijf rondes scoorden twee judges in het voordeel van Hill waardoor Hill zich de Invicta FC Strawweight Kampioene mocht noemen. Hill maakte vervolgens haar eerste titelverdediging tegen Kaline Medeiros. Met succes werd de titel behouden.
De UFC bleek toch onder de indruk van Hill en haalde haar terug. Hill nam het in Februari 2017 op tegen de Braziliaanse topcontender Jessica Andrade. In een gevecht dat werd beloond met de Fight of the Night bonus was Hill op een competitieve manier wel duidelijk de mindere waardoor ze verloor via Unanimous Decision. Hill keerde tijdens International Fight Week 2017 terug in de Octagon tegen Ashley Yoder. Ditmaal was Hill wel de betere en won ze via Unanimous Decision. Deze overwinning kon Hill tijdens UFC Norfolk in Oktober 2017 echter geen goed vervolg geven. Via Unanimous Decision werd van Nina Ansaroff verloren waardoor het gevecht tegen Moroz wederom een "do or die" partij zou worden. Het werd uiteindelijk een positieve partij voor Hill. Hill won via Unanimous Decision. Hill werd daarna ingepland tijdens UFC Lincoln tegen Alexa Grasso, maar door een blessure van Grasso werd Cortney Casey als tegenstandster aangewezen. In een gelijkwaardige partij verloor Hill via Split Decision.
UFC RECORD
Res.
Tegenstander
Methode
Ronde
Evenement
Datum
Notities
Loss
Cortney Casey Sanchez
Decision (Split)
3 (5:00)
UFC FN 135: Lincoln
25 Aug. 2018
Win
Maryna Moroz
Decision (Unanimous)
3 (5:00)
UFC on FOX 28: Orlando
24 Feb. 2018
Loss
Nina Ansaroff
Decision (Unanimous)
3 (5:00)
UFC FN 120: Norfolk
11 Nov. 2017
Win
Ashley Yoder
Decision (Unanimous)
3 (5:00)
TUF 25 Finale
7 Jul. 2017
Loss
Jessica Andrade
Decision (Unanimous)
3 (5:00)
UFC FN 104: Houston
4 Feb. 2017
UFC Comeback Fight
Loss
Rose Namajunas
Tech.Submission (RNC)
1 (2:47)
UFC 192
3 Okt. 2015
Loss
Tecia Torres
Decision (Unanimous)
3 (5:00)
UFC 188
12 Jun. 2015
Win
Emily Peters-Kagan
Decision (Unanimous)
3 (5:00)
TUF 20 Finale
12 Dec. 2014
UFC Strawweight Debut