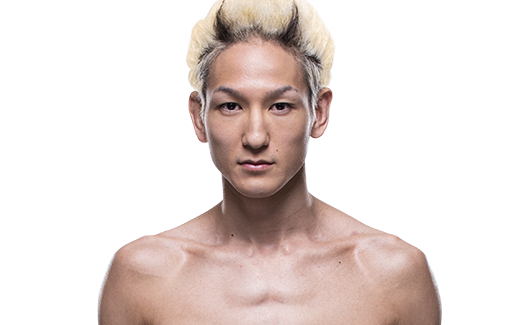 Naam: Yuta Sasaki
Bijnaam: Ulka
Record: 21 – 6 – 2 (UFC 4 – 5 – 0)
Geboortedatum: 07-10-1989
Geboorteplaats: Numazu, Shizuoka, Japan
Nationaliteit: Japans
Lengte: 1.78m (5ft 10in)
Gewicht: 57kg (125lb)
Divisie: Flyweight
Vecht uit: Numazu, Shizuoka, Japan
Gym: Wajutsu Keishukai Suruga & Serra-Longo Fight Team
Actief: 2010 – heden
Twitter: @ulkasasaki

Ulka Sasaki debuteerde in 2014 voor de UFC. Nadat Sasaki twee van zijn eerste drie partijen op Bantamweight verloor stapte hij in Mei 2016 in Rotterdam voor het eerst als Flyweight de Octagon in. Sasaki wist deze partij te winnen tegen Willie Gates via een Submission (Rear Naked Choke). In eerste instantie zou Sasaki op 19 November 2016 tijdens UFC Fight Night 100 vechten tegen Matheus Nicolau. Dit ging echter niet door vanwege een potentiële doping overtreding van Nicolau. Sasaki kreeg begin 2017 een matchup tegen de hooggerankte Braziliaan Wilson Reis. Sasaki wist nauwelijks in zijn spel te komen, wat Reis in de kaart speelde. Reis won het gevecht via Unanimous Decision en mocht vervolgens voor de titel vechten.
Sasaki nam het in Juni 2017 vervolgens op tegen de Amerikaan Justin Scoggins. Na meerder malen knockdown te zijn gegaan in de eerste ronde, wist Sasaki dankbaar gebruik te maken van een foutje van Scoggins en wist hij de Amerikaan te finishen via Rear Naked Choke Submission in de tweede ronde. Sasaki kreeg hiervoor de Performance of the Night bonus. Vervolgens kreeg Sasaki een behoorlijke stap omhoog in competitie. De Japanner mocht voor eigen publiek in September 2017 vechten tegen de hooggerankte Jussier Formiga. Formiga bleek inderdaad een klasse te goed voor Sasaki en won via Rear Naked Choke Submission in de eerste ronde. Sasaki zou vervolgens terugkeren tijdens UFC Atlantic City in April 2018 tegen Magomed Bibulatov. Echter raakte Bibulatov een dag van te voren geblesseerd waardoor de partij kwam te vervallen.
In Juni 2018 pakte Sasaki een short notice partij aan tegen Jenel Lausa tijdens UFC Singapore. Sasaki was veel sterker en won via Rear Naked Choke Submission. Sasaki kon deze lijn in November 2018 niet doortrekken. Tijdens UFC Buenos Aires werd in de eerste ronde via Rear Naked Choke Submission verloren van de Braziliaan Alexandre Pantoja.
UFC RECORD
Res.
Tegenstander
Methode
Ronde
Evenement
Datum
Notities
Loss
Alexandre Pantoja
Submission (RNC)
1 (2:18)
UFC FN 140: Buenos Aires
17 Nov. 2018
Win
Jenel Lausa
Submission (RNC)
2 (4:04)
UFC FN 132: Singapore
23 Jun. 2018
Loss
Jussier Formiga
Submission (RNC)
1 (4:30)
UFC FN 117: Saitama
23 Sep. 2017
Win
Justin Scoggins
Submission (RNC)
2 (3:19)
UFC FN 111: Singapore
17 Jun. 2017
Loss
Wilson Reis
Decision (Unanimous)
3 (5:00)
UFC 208
11 Feb. 2017
Win
Willie Gates
Submission (RNC)
2 (2:30)
UFC FN 87: Rotterdam
8 Mei. 2016
UFC Flyweight Debut
Loss
Taylor Lapilus
TKO (Punches)
2 (1:26)
UFC FN 69: Berlin
20 Jun. 2015
Loss
Leandro Silva
Submission (Neck Crank)
2 (4:13)
UFC FN 58: Barueri
20 Dec. 2014
Win
Roland Delorme
Submission (RNC)
1 (1:06)
UFC FN 48: Macau
23 Aug. 2014
UFC Bantamweight Debut