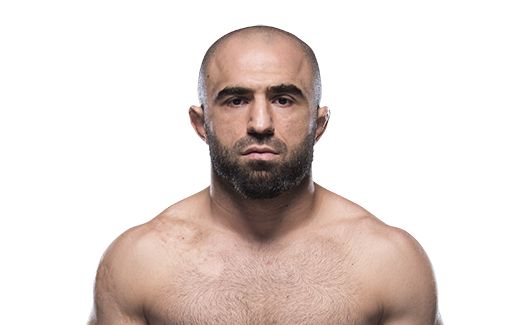 Naam: Omari Akhmedov
Bijnaam: Wolverine
Record: 21 – 5 – 1 (UFC 9 – 4 – 1)
Geboortedatum: 12-10-1987
Geboorteplaats: Kizlyar, Dagestan ASSR, Russian SFSR, Sovjet-Unie
Nationaliteit: Russisch
Lengte: 1.83m (6ft 0in)
Gewicht: 84kg (185lb)
Divisie: Middleweight
Vecht uit: Makhachkala, Dagestan, Rusland
Gym: American Top Team
Actief: 2010 – heden
Twitter: @Omari_Akhmedov

Omari Sirazhudinovich Akhmedov kwam in 2013 met een 12-1 record de UFC binnen. In zijn debuut had hij meteen succes. Hij versloeg de Braziliaan Hernani Perpetuo via KO in de eerste ronde. Beide mannen waren al een paar keer knockdown gegaan. Het spektakelstuk kreeg Fight of the Night toegewezen. Vervolgens werd Akhmedov gematcht tegen Gunnar Nelson. Nelson bleek een maatje te groot en finishte de Dagestani in de eerste ronde via Submission. Vervolgens wist Akhmedov zowel Mats Nilsson als Brian Ebersole te verslaan. Daarna volgde een mindere periode voor Akhmedov. Zowel Sergio Moraes als Elizeu Zaleski Dos Santos finishten de Rus in de derde ronde via TKO. Het gevecht tegen Dos Santos leverde Akhmedov wel nog een Fight of the Night bonus op. Daarna kwam Akhmedov tegen voormalig teamgenoot Kyle Noke zeer goed voor de dag en won in November 2016 via Unanimous Decision van de Australiër in Melbourne. Vervolgens nam Akhmedov het op tegen Abdul Razak Alhassan. Akhmedov wist de partij naar zich toe te trekken via een Split Decision. De Dagestani keerde vervolgens terug tijdens UFC 219 in December 2017 tegen de Italiaan Marvin Vettori. In een gelijkwaardig gevecht kwam er uiteindelijk ook geen winnaar.
De partij eindigde in een Majority Draw. Akhmedov zou vervolgens in September 2018 vechten in Moskou tegen CB Dollaway. Helaas gooide een blessure roet in het eten voor de Dagestani. Hierdoor keerde Akhmedov pas terug in Maart 2019. Tijdens UFC Wichita werd via een duidelijke Unanimous Decision gewonnen van Tim Boetsch. Akhmedov werd vervolgens tijdens UFC 242 in Abu Dhabi gekoppeld aan Zak Cummings. Na een moeilijke eerste ronde wist Akhmedov orde op zaken te stellen en won hij via Unanimous Decision. De Dagestani wist vervolgens in December 2019 zijn ongeslagen streak binnen de UFC naar zes partijen te brengen. Tijdens UFC 245 werd via Unanimous Decision gewonnen van Ian Heinisch. Vervolgens nam Akhmedov het in Augustus 2020 op tegen voormalig Middleweight kampioen Chris Weidman. Akhmedov verloor voor het eerst in ruim vier jaar tijd via Unanimous Decision. Akhmedov zou het vervolgens in December 2020 opnemen tegen Marvin Vettori, maar trok zich terug uit deze partij. Een maand later maakte hij wél zijn opwachting tegen Tom Breese. Akhmedov won de partij via Arm-Triangle Choke Submission in de tweede ronde.
UFC RECORD
Res.
Tegenstander
Methode
Ronde
Evenement
Datum
Notities
NB
Brad Tavares
NB
– (-:–)
UFC 264
10 Jul. 2021
Win
Tom Breese
Submission (Arm-Triangle Choke)
2 (1:41)
UFC on ESPN 20: Abu Dhabi
20 Jan. 2021
Loss
Chris Weidman
Decision (Unanimous)
3 (5:00)
UFC FN 174: Las Vegas
8 Aug. 2020
Win
Ian Heinisch
Decision (Unanimous)
3 (5:00)
UFC 245
14 Dec. 2019
Win
Zak Cummings
Decision (Unanimous)
3 (5:00)
UFC 242
7 Sep. 2019
Win
Tim Boetsch
Decision (Unanimous)
3 (5:00)
UFC FN 146: Wichita
9 Mar. 2019
Draw
Marvin Vettori
Draw (Majority)
3 (5:00)
UFC 219
30 Dec. 2017
Comeback in Middleweight divisie
Win
Abdul Razak Alhassan
Decision (Split)
3 (5:00)
UFC FN 109: Stockholm
28 Mei. 2017
Win
Kyle Noke
Decision (Unanimous)
3 (5:00)
UFC FN 101: Melbourne
27 Nov. 2016
Loss
Elizeu Zaleski Dos Santos
TKO (Knees & Punches)
3 (3:03)
UFC on FOX 19: Tampa
16 Apr. 2016
Loss
Sergio Moraes
TKO (Punches)
3 (2:18)
UFC FN 80: Las Vegas
10 Dec. 2015
Win
Brian Ebersole
TKO (Knee Injury)
1 (5:00)
UFC FN 68: New Orleans
6 Jun. 2015
Win
Mats Nilsson
Decision (Unanimous)
3 (5:00)
UFC 182
3 Jan. 2015
Loss
Gunnar Nelson
Submission (Guillotine Choke)
1 (4:36)
UFC FN 37: London
8 Mar. 2014
UFC Welterweight Debut
Win
Hernani Perpetuo
KO (Punches)
1 (3:31)
UFC FN 32: Goiânia
9 Nov. 2013
UFC Middleweight Debut