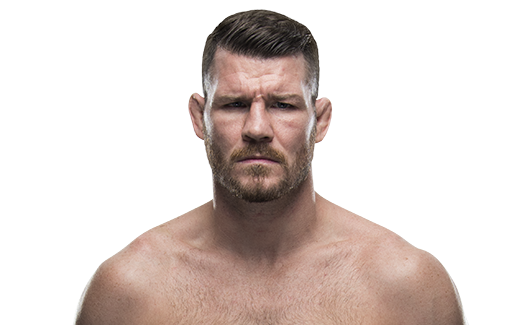 Naam: Michael Bisping
Bijnaam: The Count
Record: 30 – 9 – 0 (UFC 20 – 9 – 0)
Geboortedatum: 28-02-1979
Geboorteplaats: Nicosia, Cyprus
Nationaliteit: Engels
Lengte: 1.85m (6ft 1in)
Gewicht: 84kg (185lb)
Divisie: Middleweight
Vecht uit: Manchester, Engeland, Verenigd Koninkrijk
Gym: RVCA Training Center
Actief: 2004 – 2017
Twitter: @bisping

Michael Bisping is een van de meest bekend gezichten binnen de UFC. In 2006 kwam hij de UFC binnen via The Ultimate Fighter Finale. Hierin vocht hij tegen Josh Haynes en won via een TKO in de tweede ronde. Daarna vocht Bisping liefst 24 partijen voordat hij voor de titel mocht vechten. Tweemaal vocht Bisping een title eliminator die hij verloor tegen respectievelijk Dan Henderson via KO tijdens UFC 100 en tegen Chael Sonnen via een Unanimous Decision. Tijdens UFC 199 was het zover. Luke Rockhold kwam zonder tegenstander te zitten nadat Chris Weidman geblesseerd afhaakte.
Bisping haakte in en accepteerde het gevecht twee weken voor aanvang. Niemand gaf een stuiver voor zijn kansen maar Bisping verraste de wereld en sloeg Rockhold KO in de eerste ronde. Tijdens UFC 204 verdedigde Bisping voor het eerst zijn titel tegen Dan Henderson. In een gevecht waar Bisping twee keer knockdown ging wist hij toch aan het langste eind te trekken. Zijn gedoodverfde volgende tegenstander zou Yoel Romero zijn maar de organisatie heeft besloot om Georges St.Pierre zijn terugkomst met een titelgevecht te belonen. Tijdens UFC 217 in New York stonden beiden mannen tegenover elkaar. St.Pierre wist Bisping in de derde ronde uiteindelijk via Rear Naked Choke Submission te finishen en de belt te claimen. Bisping keerde vervolgens een paar weken later alweer terug tegen Kelvin Gastelum tijdens UFC Shanghai. Een controversieel besluit en dat bleek achteraf. Bisping ging in de eerste ronde zwaar KO.
UFC RECORD
Res.
Tegenstander
Methode
Ronde
Evenement
Datum
Notities
Loss
Kelvin Gastelum
KO (Punch)
1 (2:30)
UFC FN 122: Shanghai
25 Nov. 2017
Loss
Georges St.Pierre
Tech.Submission (RNC)
3 (4:23)
UFC 217
4 Nov. 2017
UFC Middleweight Titlefight
Win
Dan Henderson
Decision (Unanimous)
5 (5:00)
UFC 204
8 Okt. 2016
UFC Middleweight Titlefight
Win
Luke Rockhold
KO (Punches)
1 (3:36)
UFC 199
4 Jun. 2016
UFC Middleweight Titlefight
Win
Anderson Silva
Decision (Unanimous)
5 (5:00)
UFC FN 84: Londen
27 Feb. 2016
Win
Thales Leites
Decision (Split)
3 (5:00)
UFC FN 72: Glasgow
18 Jul. 2015
Win
C.B. Dollaway
Decision (Unanimous)
3 (5:00)
UFC 186
25 Apr. 2015
Loss
Luke Rockhold
Submission (Mounted Guillotine Choke)
2 (0:57)
UFC FN 55: Sydney
7 Nov. 2014
Win
Cung Le
TKO (Knees & Punches)
4 (0:57)
UFC FN 48: Macau
23 Aug. 2014
Loss
Tim Kennedy
Decision (Unanimous)
5 (5:00)
TUF Nations Finale
16 Apr. 2014
Win
Alan Belcher
Technical Decision (Unanimous)
3 (4:29)
UFC 159
27 Apr. 2013
Loss
Vitor Belfort
TKO (Headkick & Punches)
2 (1:27)
UFC on FX 7: São Paulo
19 Jan. 2013
Win
Brian Stann
Decision (Unanimous)
3 (5:00)
UFC 152
22 Sep. 2012
Loss
Chael Sonnen
Decision (Unanimous)
3 (5:00)
UFC on FOX 2: Chicago
28 Jan. 2012
Win
Jason "Mayhem" Miller
TKO (Knees to the Body & Punches)
3 (3:34)
TUF Finale 14
3 Dec. 2011
Win
Jorge Rivera
TKO (Punches)
2 (1:54)
UFC 127
27 Feb. 2011
Win
Yoshihiro Akiyama
Decision (Unanimous)
3 (5:00)
UFC 120
16 Okt. 2010
Win
Dan Miller
Decision (Unanimous)
3 (5:00)
UFC 114
29 Mei. 2010
Loss
Wanderlei Silva
Decision (Unanimous)
3 (5:00)
UFC 110
20 Feb. 2010
Win
Denis Kang
TKO (Knees to the Body & Punches)
2 (4:24)
UFC 105
14 Nov. 2009
Loss
Dan Henderson
KO (Punch)
2 (3:20)
UFC 100
11 Jul. 2009
Win
Chris Leben
Decision (Unanimous)
3 (5:00)
UFC 89
18 Okt. 2008
Win
Jason Day
TKO (Punches)
1 (3:42)
UFC 85
7 Jun. 2008
Win
Charles McCarthy
TKO (Arm Injury)
1 (5:00)
UFC 83
19 Apr. 2008
UFC Middleweight Debut
Loss
Rashad Evans
Decision (Split)
3 (5:00)
UFC 78
17 Nov. 2007
Win
Matt Hamill
Decision (Split)
3 (5:00)
UFC 75
8 Sep. 2007
Win
Elvis Sinosic
TKO (Punches)
2 (1:40)
UFC 70
21 Apr. 2007
Win
Eric Schafer
TKO (Punches)
1 (4:24)
UFC 66
30 Dec. 2006
Win
Josh Haynes
TKO (Punches)
2 (4:14)
TUF Finale 3
24 Jun. 2006
TUF 3 Finale/UFC Light-Heavyweight Debut