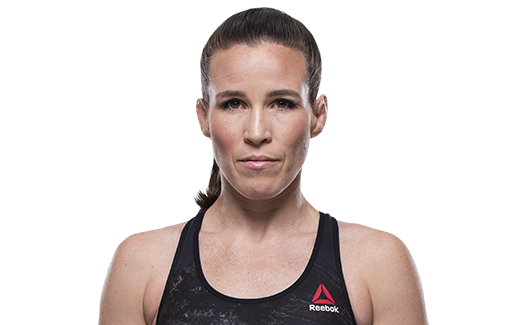 Naam: Leslie Smith
Bijnaam: The Peacemaker
Record: 10 – 7 – 1 (UFC 4 – 3 – 0)
Geboortedatum: 17-08-1982
Geboorteplaats: Santa Ana, Californië, USA
Nationaliteit: Amerikaans
Lengte: 1.75m (5ft 9in)
Gewicht: 61kg (135lb)
Divisie: Bantamweight
Vecht uit: Pleasant Hill, Californië, USA
Gym: El Niño Training Center
Actief: 2008 – heden
Twitter: @LeslieSmith_GF

Leslie Smith vecht sinds 2014 voor de UFC. Smith kwam over van Invicta FC waar ze onder meer overwinningen behaalde tegen Raquel Pennington, Kaitlin Young en de huidige Invicta FC Flyweight Kampioene Jennifer Maia. In de UFC wisselt Smith goede prestaties af met mindere. Jessamyn Duke en Rin Nakai werden verslagen. Verloren werd er tegen Sarah Kaufman, Jessica Eye en Cris Cyborg. De partijen tegen Jessica Eye en Cris Cyborg zullen de meeste fans nog het meest op het netvlies staan. Eye versloeg Smith via TKO (Doctor Stoppage) in de tweede ronde. Het oor van Smith bungelde los van haar hoofd.
Smith was wel de eerste (en op dat moment) enige vrouw die het aandurfde met Cris Cyborg op Catchweight (140 lbs) de Octagon in te stappen. Cyborg won via TKO in de eerste ronde. Smith nam het vervolgens eind 2016 op tegen de Mexicaanse debutante Irene Aldana. Aldana wordt samen met Alexa Grasso gezien als de toekomst van het vrouwen MMA in Mexico. Smith en Aldana vochten een vrij rommelig maar competitief gevecht. Smith won uiteindelijk via Unanimous Decision. De UFC beloonde beide vrouwen met de Fight of the Night bonus. Smith keerde vervolgens terug tijdens UFC Glasgow tegen de Braziliaanse debutante Amanda Lemos. Na een moeilijk begin wist Smith in de tweede ronde de partij via TKO naar zich toe te trekken.
UFC RECORD
Res.
Tegenstander
Methode
Ronde
Evenement
Datum
Notities
Win
Amanda Lemos
TKO (Punches & Elbows)
2 (2:53)
UFC FN 113: Glasgow
16 Jul. 2017
Win
Irene Aldana
Decision (Unanimous)
3 (5:00)
UFC on FOX 22: Sacramento
17 Dec. 2016
Loss
Cris Cyborg
TKO (Punches)
1 (1:21)
UFC 198
14 Mei. 2016
Catchweight Fight (140 lbs)
Win
Rin Nakai
Decision (Unanimous)
3 (5:00)
UFC FN 85: Brisbane
20 Mar. 2016
Loss
Jessica Eye
TKO (Doctor Stoppage)
2 (1:30)
UFC 180
15 Nov. 2014
Win
Jessamyn Duke
TKO (Punches)
1 (2:24)
UFC FN 45: Atlantic City
16 Jul. 2014
Loss
Sarah Kaufman
Decision (Unnimous)
3 (5:00)
TUF Nations Finale
16 Apr. 2014
UFC Bantamweight Debut