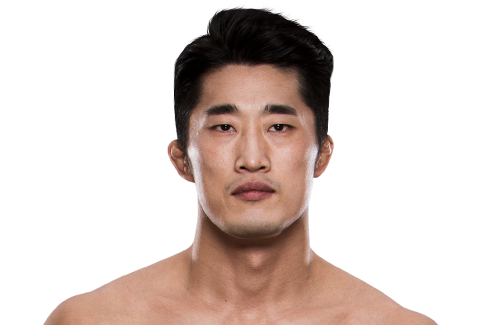 Naam: Dong Hyun Kim
Bijnaam: Stun Gun
Record: 22 – 4 – 1 – 1 (UFC 13 – 4 – 0 – 1)
Geboortedatum: 17-11-1981
Geboorteplaats: Busan, Zuid-Korea
Nationaliteit: Zuid-Koreaans
Lengte: 1.85m (6ft 1in)
Gewicht: 77kg (170lb)
Divisie: Welterweight
Vecht uit: Busan, Zuid-Korea
Gym: Busan Team MAD
Actief: 2004 – heden
Twitter: –

Dong Hyun Kim is een van de succesvollere Aziaten in de UFC. Kim kwam in 2008 als ongeslagen vechter de UFC binnen. Tijdens zijn eerste zes gevechten voor de organisatie bleef Kim ongeslagen. De Zuid-Koreaan won onder meer van TJ Grant, Matt Brown en Nate Diaz. Karo Parisyan won weliswaar van Kim, maar de uitkomst van dit gevecht werd omgezet in een No-Contest nadat Parisyan verboden pijnstillers had gebruikt. In de zomer van 2011 mocht Kim het in een contendergevecht opnemen tegen Carlos Condit. Condit was te sterk en finishte Kim via een Flying Knee KO in de eerste ronde. De daarop volgende zes gevechten verliepen voor Kim vrij goed. Zo werd er alleen verloren van Demian Maia. Dit kwam in verband met een blessure van Kim.
Kim won wel van de Nederlandse Afghaan Siyar Bahadurzada, en wist twee performances of the night bonussen binnen te slepen door zowel Erick Silva als John Hathaway via KO te verslaan. Vervolgens ging het in 2014 in China mis tegen de huidige UFC Welterweight Kampioen Tyron Woodley. Woodley sloeg Kim KO vroeg in de eerste ronde. Sindsdien heeft Kim nog driemaal gevochten voor de UFC en ook driemaal gewonnen. Zo gingen gevechten tegen Josh Burkman en Dominic Waters relatief eenvoudig naar de Zuid-Koreaan. Tijdens UFC 207 in December 2016 vocht Kim tegen de Belg Tarec Saffiedine. Kim won het gevecht uiteindelijk via een controversiële Split Decision. Kim keerde vervolgens terug in Juni 2017 in Singapore tegen Colby Covington. Covington versloeg Kim via Unanimous Decision.
UFC RECORD
Res.
Tegenstander
Methode
Ronde
Evenement
Datum
Notities
Loss
Colby Covington
Decision (Unanimous)
3 (5:00)
UFC FN 111: Kallang
17 Jun. 2017
Win
Tarec Saffiedine
Decision (Split)
3 (5:00)
UFC 207
30 Dec. 2016
Win
Dominic Waters
TKO (Punches)
1 (3:11)
UFC FN 79: Seoul
28 Nov. 2015
Win
Joshua Burkman
Submission (Arm-Triangle Choke)
3 (2:13)
UFC 187
23 Mei. 2015
Loss
Tyron Woodley
TKO (Punches)
1 (1:01)
UFC FN 48: Macau
23 Aug. 2014
Win
John Hathaway
KO (Spinning Back Elbow)
3 (1:02)
TUF China Finale: Macau
1 Mar. 2014
Win
Erick Silva
KO (Punch)
2 (3:01)
UFC FN 29: Barueri
9 Okt. 2013
Win
Siyar Bahadurzada
Decision (Unanimous)
3 (5:00)
UFC on Fuel TV 8: Saitama
3 Mar. 2013
Win
Paulo Thiago
Decision (Unanimous)
3 (5:00)
UFC on Fuel TV 6: Macau
10 Nov. 2012
Loss
Demian Maia
TKO (Muscle Spasm)
1 (0:47)
UFC 148
7 Jul. 2012
Win
Sean Pierson
Decision (Unanimous)
3 (5:00)
UFC 141
20 Dec. 2011
Loss
Carlos Condit
KO (Flying Knee & Punches)
1 (2:58)
UFC 132
2 Jul. 2011
Win
Nate Diaz
Decision (Unanimous)
3 (5:00)
UFC 125
1 Jan. 2011
Win
Amir Sadollah
Decision (Unanimous)
3 (5:00)
UFC 114
29 Mei. 2010
Win
TJ Grant
Decision (Unanimous)
3 (5:00)
UFC 100
11 Jul. 2009
NC
Karo Parisyan
Decision (Split)
3 (5:00)
UFC 94
31 Jan. 2009
Overturned naar No Contest ivm positieve test Parisyan
Win
Matt Brown
Decision (Split)
3 (5:00)
UFC 88
6 Sep. 2008
Win
Jason Tan
TKO (Elbows)
3 (0:25)
UFC 84
24 Mei. 2008
UFC Welterweight Debut