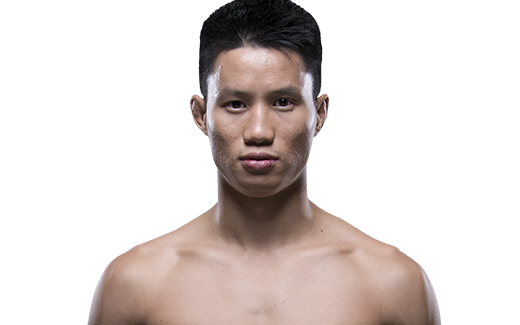 Naam: Ben Nguyen
Bijnaam: 10
Record: 17 – 8 – 0 (UFC 4 – 3 – 0)
Geboortedatum: 03-08-1988
Geboorteplaats: Sioux Falls, South Dakota, USA
Nationaliteit: Amerikaans
Lengte: 1.65m (5ft 5in)
Gewicht: 57kg (125lb)
Divisie: Flyweight
Vecht uit: Brisbane, Australië
Gym: Integrated MMA
Actief: 2006 – heden
Twitter: @Ben10MMA

Ben Nguyen was groot nieuws op internet omdat hij Julian Wallace vroeg in de eerste ronde tijdens een evenement in Australië KO sloeg. Wallace had tijdens de weging zeer provocerend een vuist in het gezicht van Nguyen geduwd. Nguyen reageerde niet en bleef uiterst professioneel. Echter maakte hij dus korte metten met Wallace. Dit filmpje is miljoenen keren op internet bekeken geworden. Een gevecht later werd Nguyen gecontracteerd door de UFC, en maakte hij in 2015 zijn debuut voor de organisatie. Hij versloeg Alptekin Ozkilic via KO in de eerste ronde. Vervolgens won de Amerikaan die woonachtig is in Australië ook zijn tweede wedstrijd. Ditmaal versloeg hij in de eerste ronde Ryan Benoit via Submission (RNC).
In Juli 2016 stond Nguyen gematcht tegen Louis Smolka. Smolka bleek te sterk en versloeg "Ben 10" via TKO in de tweede ronde. Echter kwam Nguyen in November 2016 goed terug. Hij versloeg op dominante wijze Geane Herrera via Unanimous Decision. Nguyen zou het vervolgens tegen Joseph Benavidez opnemen, maar die haakte geblesseerd af. Timothy Elliott nam het gevecht aan op short notice. Nguyen maakte korte metten met de TUF 24 winnaar en versloeg hem via Rear Naked Choke Submission binnen een minuut. Nguyen kreeg hier de Performance of the Night bonus voor. Nguyen kreeg vervolgens de kans om de Top 5 van de ranking in te schieten toen hij het in Februari 2018 moest opnemen tegen Jussier Formiga in Perth. Formiga was echter te sterk en versloeg Nguyen via Rear Naked Choke Submission in de derde ronde.
Nguyen kon de negatieve spiraal ook tijdens UFC Adelaide niet doorbreken. Via een zeer eenzijdige Unanimous Decision werd verloren van de Braziliaan Wilson Reis.
UFC RECORD
Res.
Tegenstander
Methode
Ronde
Evenement
Datum
Notities
Loss
Wilson Reis
Decision (Unanimous)
3 (5:00)
UFC FN 142: Adelaide
1 Dec. 2018
Loss
Jussier Formiga
Tech.Submission (RNC)
3 (1:43)
UFC 221
11 Feb. 2018
Win
Timothy Elliott
Submission (RNC)
1 (0:49)
UFC FN 110: Auckland
11 Jun. 2017
Win
Geane Herrera
Decision (Unanimous)
3 (5:00)
UFC FN 101: Melbourne
27 Nov. 2016
Loss
Louis Smolka
TKO (Punches & Elbows)
2 (4:41)
UFC FN 91: Sioux Falls
13 Jul. 2016
Win
Ryan Benoit
Submission (RNC)
1 (2:35)
UFC 193
15 Nov. 2015
Win
Alptekin Özkilic
TKO (Punches)
1 (4:59)
UFC FN 65: Adelaide
10 Mei 2015
UFC Flyweight Debut