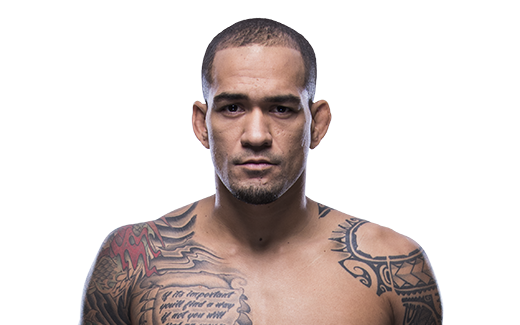 Naam: Yancy Medeiros
Bijnaam: The Kid
Record: 15 – 5 – 0 – 1 (UFC 6 – 5 – 0 – 1)
Geboortedatum: 07-09-1987
Geboorteplaats: Wai'anae, Hawaii, USA
Nationaliteit: Amerikaans
Lengte: 1.78m (5ft 10in)
Gewicht: 77kg (170lb)
Divisie: Welterweight
Vecht uit: Wai'anae, Hawaii, USA
Gym: RVCA Sport
Actief: 2006 – heden
Twitter: @ymedeiros

Yancy Medeiros Jr. kwam in 2013, na bijna drie jaar niet gevochten te hebben de UFC binnen. De op dat moment ongeslagen Medeiros kreeg in Rustam Khabilov meteen een zeer sterke tegenstander voor zijn neus. Vroeg in de eerste ronde kon Medeiros niet verder na een blessure aan zijn duim. Dit betekende een verlies via TKO, en ook het eerste professionele MMA verlies voor de Hawaiïaan. Vervolgens won Medeiros weliswaar via KO in de eerste ronde van veteraan Yves Edwards, maar een positieve test voor Marihuana zorgde ervoor dat het resultaat werd omgezet in een No-Contest. Na dit gevecht kreeg Medeiros opnieuw een verlies te verduren, ditmaal tegen BJJ Black Belt Jim Miller. Miller finishte Medeiros vroeg in de eerste ronde via Guillotine Choke Submission. Medeiros weigerde af te tikken en werd dus in slaap gechoked.
De Hawaiïaan revancheerde zich echter nog in 2014 door twee Performance of the Night bonussen te winnen. Zo werden Damon Jackson en Joe Proctor respectievelijk via Reverse Bulldog Choke Submission en Guillotine Choke Submission gefinisht. In de zomer van 2015 kreeg Medeiros de opgeleefde Dustin Poirier voor zijn neus. In een geweldige eerste ronde gingen beide mannen voor de KO. Poirier's precisie was echter te goed en daarom won de American Top Team vechter ook via TKO. Tijdens UFC 194 eind 2015 wist Medeiros zijn negatieve record binnen de UFC weer te effenen. De Canadees John Makdessi werd in een zeer attractieve pot verslagen via Split Decision. In 2016 wist Medeiros opnieuw twee bonussen binnen te halen. Allereerst werd er weliswaar verloren van Francisco Trinaldo, maar het gevecht was zo intens en attractief dat de UFC beide vechters beloonde met de Fight of the Night bonus. Tijdens zijn partij in Cleveland, Ohio maakte Medeiros zijn Welterweight debuut in de UFC. Met succes werd in de tweede ronde Sean Spencer knockdown geslagen en vervolgens gefinisht via Rear Naked Choke Submission. En ook hiervoor kreeg de altijd attractief vechtende Medeiros een Performance of the Night bonus.
Medeiros zou vervolgens begin 2017 terugkeren om het op te nemen tegen de Chinees Li Jingliang, echter raakte Medeiros geblesseerd en moest verstek laten gaan. Hierdoor vocht Medeiros pas weer in Juni 2017. Hij nam het op in Brazilië tegen Erick Silva. Medeiros was sterker en versloeg de ooit als zeer groot talent bestempelde Silva via TKO in de tweede ronde. Medeiros nam het vervolgens tijdens UFC 218 in Detroit op tegen de Braziliaan Alex Oliveira. In een fan-tas-ti-sche partij van beide kanten was het uiteindelijk Medeiros die het gevecht via TKO in de derde ronde besliste. Beide mannen kregen dan ook meer dan verdiend de Fight of the Night bonus. De UFC beloonde Medeiros vervolgens met een Main Event gevecht tijdens UFC Austin in Februari 2018 tegen Donald Cerrone. Medeiros kwam echter te kort en verloor via TKO laat in de eerste ronde. Medeiros zou vervolgens in Juli 2018 vechten tegen Mike Perry tijdens UFC 226. Echter raakte Medeiros geblesseerd waardoor hij verstek moest laten gaan.
UFC RECORD
Res.
Tegenstander
Methode
Ronde
Evenement
Datum
Notities
Loss
Donald Cerrone
TKO (Punches)
1 (4:58)
UFC FN 126: Austin
18 Feb. 2018
Win
Alex Oliveira
TKO (Punches)
3 (2:02)
UFC 218
2 Dec. 2017
Win
Erick Silva
TKO (Punches)
2 (2:01)
UFC 212
3 Jun. 2017
Win
Sean Spencer
Submission (RNC)
2 (0:49)
UFC 203
10 Sep. 2016
Welterweight Debut
Loss
Francisco Trinaldo
Decision (Unanimous)
3 (5:00)
UFC 198
14 Mei. 2016
Win
John Makdessi
Decision (Split)
3 (5:00)
UFC 194
12 Dec. 2015
Loss
Dustin Poirier
TKO (Bodykick & Punches)
1 (2:38)
UFC FN 68: New Orleans
6 Jun. 2015
Catchweight Fight (159.5 lbs)
Win
Joe Proctor
Submission (Guillotine Choke)
1 (4:37)
TUF 20 Finale
12 Dec. 2014
Loss
Jim Miller
Tech.Submission (Guillotine Choke)
1 (3:18)
UFC 172
26 Apr. 2014
NC
Yves Edwards
KO (Punches)
1 (2:47)
UFC FN 31: Fort Campbell
6 Nov. 2013
Overturned after Medeiros tested positive for Marijuana.
Loss
Rustam Khabilov
TKO (Thumb Injury)
1 (2:32)
UFC 159
27 Apr. 2013
UFC Lightweight Debut