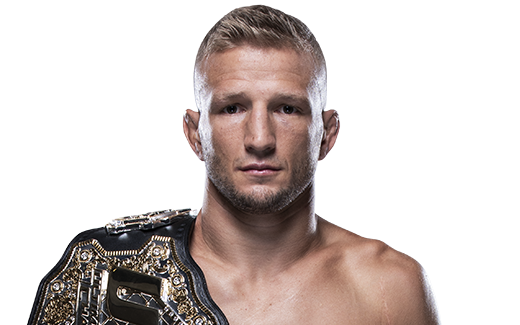 Naam: TJ Dillashaw
Bijnaam: Killashaw
Record: 16 – 3 – 0 (UFC 12 – 3 – 0)
Geboortedatum: 07-02-1986
Geboorteplaats: Sonora, California, USA
Nationaliteit: Amerikaans
Lengte: 1.69m (5ft 6,5in)
Gewicht: 61kg (135lb)
Divisie: Bantamweight
Vecht uit: Denver, Colorado, USA
Gym: Ludwig Martial Arts
Actief: 2010 – heden
Twitter: @TJDillashaw

Tyler Jeffrey Dillashaw kwam via TUF 14 de UFC binnen. Destijds vechtend voor Team Alpha Male verloor Dillashaw de TUF Finale tegen John Dodson via KO in de eerste ronde. Vervolgens wist Dillashaw een winstreak van vier gevechten op te bouwen met onder meer finishes tegen Hugo Viana en Issei Tamura. Eind 2013 liep Dillashaw tegen zijn tweede verliespartij aan. Raphael Assuncao was via een controversiële Split Decision in Brazilië te sterk. Dillashaw versloeg vervolgens Mike Easton en kreeg daarop geheel onverwacht een titelgevecht tegen Kampioen Renan Barão aangeboden.
Barão was torenhoog favoriet, maar wist dit niet waar te maken. Dillashaw wist via een op dat moment "huge upset" de Braziliaan in de vijfde ronde via TKO te verslaan. Dillashaw verdedigde vervolgens zijn titel tegen "late replacement" Joe Soto via KO in de vijfde ronde. Hierna stond de rematch tegen Renan Barão op het programma. Dillashaw was opnieuw superieur ten opzichte van de Braziliaan en wist hem dit keer te verslaan in de vierde ronde via TKO. Begin 2016 keerde "The King of the Bantamweight Division" terug na vele jaren van blessureleed. Dominick Cruz versloeg TJ Dillashaw via Split Decision en pakte zijn titel die hij in de Octagon nooit verloren was terug. Dillashaw won in Juli 2016 via Unanimous Decision van Raphael Assuncao en leek hiermee zichzelf te verzekeren van een rematch tegen Kampioen Dominick Cruz.
De UFC ging echter voor "de hype" en besloot Cody Garbrandt, de #6 in de rij voorrang te verlenen. Garbrandt maakte echter zijn "hype" meer dan waar en won de titel. Dillashaw won eerder op datzelfde evenement op vrij eenvoudige wijze van John Lineker via Unanimous Decision. Dillashaw en Garbrandt werden vervolgens aangewezen als coaches voor het 25ste seizoen van TUF. De bedoeling was dat beide mannen tijdens Internationale Fight Week in Juli 2017 tegen elkaar zouden vechten. In verband met een blessure van Garbrandt werd het gevecht pas in November 2017 in New York gevochten. Dillashaw pakte zijn titel terug door Garbrandt in de tweede ronde via TKO te finishen. Ditzelfde kunststukje herhaalde hij in Augustus 2018. Ditmaal werd Garbrandt al in de eerste ronde gefinisht.
UFC RECORD
Res.
Tegenstander
Methode
Ronde
Evenement
Datum
Notities
NB
Henry Cejudo
NB
– (-:–)
UFC FN 143/UFC on ESPN+ 1: Brooklyn
19 Jan. 2019
UFC Flyweight Titlefight
Win
Cody Garbrandt
TKO (Punches)
1 (4:10)
UFC 227
4 Aug. 2018
UFC Bantamweight Titlefight
Win
Cody Garbrandt
TKO (Punches)
2 (2:41)
UFC 217
4 Nov. 2017
UFC Bantamweight Titlefight
Win
John Lineker
Decision (Unanimous)
3 (5:00)
UFC 207
30 Dec. 2016
Win
Raphael Assuncao
Decision (Unanimous)
3 (5:00)
UFC 200
9 Jul. 2016
Loss
Dominick Cruz
Decision (Split)
5 (5:00)
UFC FN 81: Boston
17 Jan. 2016
UFC Bantamweight Titlefight
Win
Renan Barao
TKO (Punches)
4 (0:35)
UFC on FOX 16: Chicago
25 Jul. 2015
UFC Bantamweight Titlefight
Win
Joe Soto
KO (Headkick & Punches)
5 (2:20)
UFC 177
30 Aug. 2014
UFC Bantamweight Titlefight
Win
Renan Barao
TKO (Headkick & Punches)
5 (2:26)
UFC 173
24 Mei. 2014
UFC Bantamweight Titlefight
Win
Mike Easton
Decision (Unanimous)
3 (5:00)
UFC FN 35: Duluth
15 Jan. 2014
Loss
Raphael Assuncao
Decision (Split)
3 (5:00)
UFC FN 29: Barueri
9 Okt. 2013
Win
Hugo Viana
TKO (Punches)
1 (4:22)
UFC on FOX 7: San Jose
20 Apr. 2013
Win
Issei Tamura
KO (Head Kick & Punches)
2 (0:26)
UFC 158
16 Mar. 2013
Win
Vaughan Lee
Submission (Neck Crank)
1 (2:33)
UFC on Fuel TV 4: San Jose
11 Jul. 2012
Win
Walel Watson
Decision (Unanimous)
3 (5:00)
UFC on Fuel TV 1: Omaha
15 Feb. 2012
Loss
John Dodson
TKO (Punches)
1 (1:54)
TUF 14 Finale
3 Dec. 2011
UFC Bantamweight Debut/TUF 14 Finale