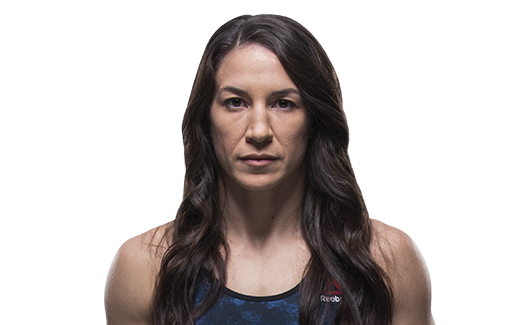 Naam: Sara McMann
Bijnaam: –
Record: 11 – 5 – 0 (UFC 5 – 5 – 0)
Geboortedatum: 24-09-1980
Geboorteplaats: Takoma Park, Maryland, USA
Nationaliteit: Amerikaans
Lengte: 1.68m (5ft 6in)
Gewicht: 61kg (135lb)
Divisie: Bantamweight
Vecht uit: Sacramento, Californië, USA
Gym: Team Alpha Male
Actief: 2011 – heden
Twitter: @Sara_McMann

Sara McMann won in 2004 een Zilveren Olympische Medaille voor de discipline "Freestyle Wrestling". McMann kwam in 2013 de UFC binnen als ongeslagen vechtster met een record van zes overwinningen, en geen verliespartijen. McMann won haar UFC debuut via TKO tegen de Duitse Sheila Gaff in de eerste ronde. Vervolgens mocht McMann meteen voor de titel vechten tegen Ronda Rousey. McMann verloor via TKO in de eerste ronde. Na een zeer controversiële overwinning tegen Lauren Murphy, verloor McMann tweemaal achter elkaar. Miesha Tate (Unanimous Decision) en huidig kampioene Amanda Nunes (Submission 1e ronde) waren te sterk voor McMann. In Mei 2016 domineerde McMann haar voormalig trainingspartner Jessica Eye over drie rondes, en won ze uiteindelijk via Unanimous Decision.
Maar haar meest sterke prestatie kwam in haar gevecht tegen Alexis Davis in December 2016. McMann won het gevecht via een spectaculaire Arm-Triangle Choke Submission in de tweede ronde, en verdiende daarmee de Performance of the Night bonus. McMann zou het vervolgens in Februari 2017 opnemen tegen Liz Carmouche in Canada. Echter raakte Carmouche geblesseerd en werd vervanger door Gina Mazany. Mazany die haar debuut maakte in de UFC kwam duidelijk te kort tegen McMann die het gevecht binnen anderhalve minuut via opnieuw een Arm-Triangle Choke Submission wist te beslissen. In September 2017 vocht McMann tegen de ongeslagen Braziliaanse Ketlen Vieira in Vancouver. Opnieuw werd de partij beslist via een Arm-Triangle Choke Submission, echter zat McMann ditmaal aan de ontvangende kant. Vieira won in de tweede ronde en bracht McMann voor het eerst in ruim twee jaar tijd weer eens een verliespartij toe. McMann keerde vervolgens terug in Februari 2018 tijdens UFC Orlando tegen Marion Reneau. Na een goede eerste ronde kon McMann de lijn in de tweede ronde niet voortzetten en verloor ze via Triangle Choke Submission.
UFC RECORD
Res.
Tegenstander
Methode
Ronde
Evenement
Datum
Notities
NB
Nicco Montaño
NB
– (-:–)
UFC FN 155: Sacramento
13 Jul. 2019
Loss
Marion Reneau
Submission (Triangle Choke)
2 (3:40)
UFC on FOX 28: Orlando
24 Feb. 2018
Loss
Ketlen Vieira
Submission (Arm-Triangle Choke)
2 (4:16)
UFC 215
9 Sep. 2017
Win
Gina Mazany
Submission (Arm-Triangle Choke)
1 (1:14)
UFC FN 105: Halifax
19 Feb. 2017
Catchweight Fight (139.5 lbs)
Win
Alexis Davis
Submission (Arm-Triangle Choke)
2 (2:52)
TUF 24 Finale
3 Dec. 2016
Win
Jessica Eye
Decision (Unanimous)
3 (5:00)
UFC FN 88: Las Vegas
29 Mei. 2016
Loss
Amanda Nunes
Submission (RNC)
1 (2:53)
UFC FN 73: Nashville
8 Aug. 2015
Loss
Miesha Tate
Decision (Majority)
3 (5:00)
UFC 183
31 Jan. 2015
Win
Lauren Murphy
Decision (Split)
3 (5:00)
UFC FN 47: Bangor
16 Aug. 2014
Loss
Ronda Rousey
TKO (Knee to the Body)
1 (1:06)
UFC 170
22 Feb. 2014
UFC Bantamweight Titlefight
Win
Sheila Gaff
TKO (Punches)
1 (4:06)
UFC 159
27 Apr. 2013
UFC Bantamweight Debut