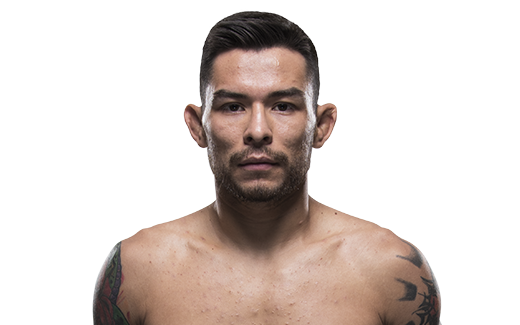 Naam: Ray Borg
Bijnaam: The TazMexican Devil
Record: 11 – 4 – 0 (UFC 5 – 4 – 0)
Geboortedatum: 04-08-1993
Geboorteplaats: Tucson, Arizona, USA
Nationaliteit: Amerikaans
Lengte: 1.63m (5ft 4in)
Gewicht: 57kg (125lb)
Divisie: Flyweight
Vecht uit: Albuquerque, New Mexico, USA
Gym: JacksonWink MMA
Actief: 2012 – heden
Twitter: @tazmexufc

Raymond Anthony Borg is een groot talent in de UFC Flyweight divisie. Borg debuteerde in 2014 voor de organisatie als ongeslagen vechter met een 6-0 record. Borg liep in zijn debuut meteen tegen een verlies aan. Dustin Ortiz wist een controversiële Split Decision mee naar huis te nemen. Borg kwam echter keihard terug en bouwde een winstreak van drie gevechten op tegen mannen als Shane Howell, Chris Kelades en Geane Herrera. Howell en Kelades werden beiden gefinisht via een Submission. Dit leverde Borg beide keren de Performance of the Night bonus op. Begin dit jaar vocht Borg tegen Justin Scoggins. Borg werd drie rondes lang gedomineerd door Scoggins en verloor een vrij duidelijke Unanimous Decision. Mede door ziekte en blessures moest Borg tegen zowel Fredy Serrano als Ian McCall verstek laten gaan. Vlak voor de jaarwisseling tijdens UFC 207 wist Borg zijn grootste overwinning (op dat moment) binnen de UFC te pakken. Louis Smolka werd over drie rondes verslagen via Unanimous Decision. Borg kwam weliswaar te zwaar opdagen, maar wist toch de klus te klaren tegen de hoger gerankte Smolka. Borg is inmiddels overgestapt naar JacksonWink MMA. Tijdens UFC Fortelaza in Maart 2017 nam Borg het op in Brazilië tegen de Braziliaan Jussier Formiga. In een zeer gelijk opgaand gevecht was het toch Borg die net wat meer indruk maakte en er uiteindelijk terecht met de Unanimous Decision overwinning vandoor ging. Hierdoor mocht Borg in Oktober 2017 vechten voor de UFC Flyweight titel tegen Kampioen Demetrious Johnson. Johnson bleek te sterk voor Borg en finishte hem via Armbar Submission in de vijfde ronde.
Borg stond vervolgens driemaal gepland om het op te nemen tegen Brandon Moreno. Driemaal werd het gevecht om uiteenlopende redenen noodgedwongen gecanceld. En ook tegen Joseph Benavidez zou het gevecht niet doorgaan. Tijdens UFC Denver in November 2018 werden beide mannen aan elkaar gekoppeld. Echter kwam Borg niet door de medische keuring. Borg zal nu op Bantamweight vechten. Dit zou in eerste instantie tegen Pingyuan Liu zijn. Helaas voor Liu moest hij zich terugtrekken uit de strijd en werd Kyler Phillips de nieuwe tegenstander. Echter zou ook Kyler Phillips zich moeten terugtrekken om onbekende redenen en werd Casey Kenney de nieuwe tegenstander. Borg en Kenney waren aan elkaar gewaagd. Uiteindelijk won Kenney via een controversiële Unanimous Decision.
UFC RECORD
Res.
Tegenstander
Methode
Ronde
Evenement
Datum
Notities
Loss
Casey Kenney
Decision (Unanimous)
3 (5:00)
UFC on ESPN 2: Philadelphia
30 Mar. 2019
Catchweight Fight (137.25 lbs)
Loss
Demetrious Johnson
Submission (Armbar)
5 (3:15)
UFC 216
7 Okt. 2017
UFC Flyweight Titlefight
Win
Jussier Formiga
Decision (Unanimous)
3 (5:00)
UFC FN 106: Fortaleza
11 Mar. 2017
Win
Louis Smolka
Decision (Unanimous)
3 (5:00)
UFC 207
20 Dec. 2016
Catchweight Fight (129.5 lbs)
Loss
Justin Scoggins
Decision (Unanimous)
3 (5:00)
UFC FN 82: Las Vegas
6 Feb. 2016
Win
Geane Herrera
Decision (Unanimous)
3 (5:00)
UFC FN 73: Nashville
8 Aug. 2015
Catchweight Fight (126.75 lbs)
Win
Chris Kelades
Submission (Kimura)
3 (2:56)
UFC FN 60: Broomfield
14 Feb. 2015
Win
Shane Howell
Tech.Submission (RNC)
1 (2:17)
UFC FN 44: San Antonio
28 Jun. 2014
Loss
Dustin Ortiz
Decision (Split)
3 (5:00)
UFC on FOX 11: Orlando
19 Apr. 2014
UFC Flyweight Debut