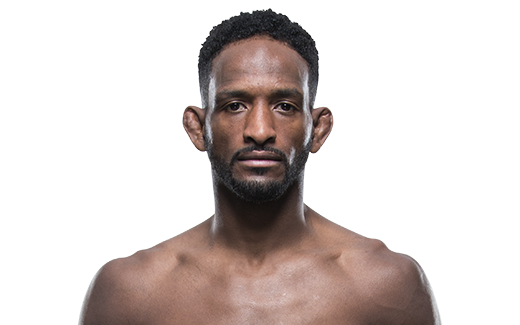 Naam: Neil Magny
Bijnaam: –
Record: 20 – 6 – 0 (UFC 13 – 5 – 0)
Geboortedatum: 03-08-1987
Geboorteplaats: Brooklyn, New York, USA
Nationaliteit: Amerikaans
Lengte: 1.91m (6ft 3in)
Gewicht: 77kg (170lb)
Divisie: Welterweight
Vecht uit: Arvada, Colorado, USA
Gym: Elevation Fight Team
Actief: 2010 – heden
Twitter: @NeilMagny

Aoutneil Magny deed mee aan het zestiende seizoen van The Ultimate Fighter. Magny kwam tot de halve finale, waarin hij via KO werd uitgeschakeld door de latere runner-up Mike Ricci. Magny mocht vervolgens toch zijn officiële debuut maken voor de UFC. Via Unanimous Decision greep Magny de overwinning tegen Jon Manley. Maar vervolgens verloor Magny van zowel Sergio Moraes als van Seth Baczynski waarna zijn UFC verblijf op losse schroeven leek te staan. Niets bleek minder waar. Magny wist in een tijdsbestek van nog geen twee jaar zeven maal achter elkaar de overwinning te pakken. Onder meer mannen als Tim Means, Alex Garcia en Hyun-Gyu Lim werden verslagen.
Magny had echter geen antwoord op het sublieme BJJ werk van Demian Maia, waardoor hij in Augustus 2015 weer eens een verliespartij moest slikken. Echter spoelde Magny die verliespartij als 22 dagen later weg door op short notice Erick Silva via Split Decision te verslaan. Dit leverde Magny drie maanden later zijn eerste Main Event binnen de UFC op in Mexico City tegen Kelvin Gastelum. In een gevecht met twee gezichten was het uiteindelijk Neil Magny die opnieuw de overwinning pakte via Split Decision. Het gevecht werd door de UFC beloond met de Fight of the Night bonus. Begin 2016 had Neil Magny ongelooflijk veel moeite met de Cubaan Hector Lombard, dat wil zeggen in het begin van het gevecht. Magny ging zwaar knockdown, maar herstelde wonderbaarlijk om vervolgens in de tweede ronde Lombard totaal te domineren. Uiteindelijk maakte Magny het gevecht begin derde ronde af via TKO. De inmiddels naar Bellator verhuisde Lorenz Larkin is de laatste man die Magny heeft weten te verslaan. In Augustus 2016 wist Larkin via TKO in de eerste ronde een zeer knappe overwinning te pakken.
Magny revancheerde zich eind December 2016. De Team Elevation vechter versloeg oud Welterweight Kampioen Johny Hendricks via Unanimous Decision. Echter kon Magny geen goed vervolg geven in zijn daarop volgende gevecht. Tijdens UFC 215 in Edmonton werd in de eerste ronde verloren via Rear Naked Choke Submission van voormalig UFC Lightweight Kampioen Rafael Dos Anjos. Echter wist Magny zichzelf te revancheren in December 2017 tegen Carlos Condit. Magny won van de voormalig Interim Welterweight Kampioen via Unanimous Decision.
UFC RECORD
Res.
Tegenstander
Methode
Ronde
Evenement
Datum
Notities
Win
Carlos Condit
Decision (Unanimous)
3 (5:00)
UFC 219
30 Dec. 2017
Loss
Rafael Dos Anjos
Submission (Arm-Triangle Choke)
1 (3:43)
UFC 215
9 Sept. 2017
Win
Johny Hendricks
Decision (Unanimous)
3 (5:00)
UFC 207
30 Dec. 2016
Loss
Lorenz Larkin
TKO (Elbows)
1 (4:08)
UFC 202
20 Aug 2016
Win
Hector Lombard
TKO (Punches)
3 (0:46)
UFC FN 85: Brisbane
20 Mar. 2016
Win
Kelvin Gastelum
Decision (Split)
5 (5:00)
UFC FN 78: Monterrey
21 Nov. 2015
Win
Erick Silva
Decision (Split)
3 (5:00)
UFC FN 74: Saskatoon
23 Aug. 2015
Loss
Demian Maia
Submission (RNC)
2 (2:52)
UFC 190
1 Aug. 2015
Win
Hyun Gyu Lim
TKO (Punches)
2 (1:24)
UFC FN 66: Passay
16 Mei 2015
Win
Kiichi Kunimoto
Submission (RNC)
3 (1:22)
UFC FN 60: Broomfield
14 Feb. 2015
Win
William Macário
TKO (Punches)
3 (2:40)
UFC 179
25 Okt. 2014
Win
Alex Garcia
Decision (Unanimous)
3 (5:00)
UFC FN 49: Tulsa
28 Jun. 2014
Win
Rodrigo de Lima
KO (Punches)
2 (2:32)
UFC FN 43: Auckland
28 Jun 2014
Win
Tim Means
Decision (Unanimous)
3 (5:00)
UFC FN 40: Cincinnati
10 Mei 2014
Win
Gasan Umalatov
Decision (Unanimous)
3 (5:00)
UFC 169
1 Feb. 2014
Loss
Seth Baczynski
Decision (Unanimous)
3 (5:00)
UFC FN 31: Fort Campbell
6 Nov. 2013
Loss
Sérgio Moraes
Submission (Triangle Choke)
1 (3:13)
UFC 163
3 Aug. 2013
Win
Jon Manley
Decision (Unanimous)
3 (5:00)
UFC 157
23 Feb. 2013
UFC Welterweight Debut