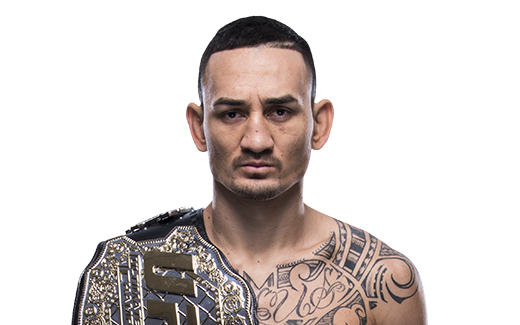 Naam: Max Holloway
Bijnaam: Blessed
Record: 20 – 3 – 0 (UFC 16 – 3 – 0)
Geboortedatum: 04-12-1991
Geboorteplaats: Waianae, Hawaii, USA
Nationaliteit: Amerikaans
Lengte: 1.80m (5ft 11in)
Gewicht: 66kg (145lb)
Divisie: Featherweight
Vecht uit: Waianae, Hawaii, USA
Gym: Gracie Technics
Actief: 2010 – heden
Twitter: @BlessedMMA

Jerome-Max Kelii Holloway is een MMA vechter uit Hawaiï die al op zijn 20ste zijn debuut maakte voor de UFC. Holloway debuteerde op short notice tegen Dustin Poirier. Poirier bleek echter nog een maatje te groot op dat moment voor Holloway, waardoor Holloway via Mounted Triangle Armbar Submission voor de eerste keer verloor in zijn Pro-MMA carrière. In datzelfde jaar (2012) wist Holloway zijn daarop volgende drie gevechten wel in winst om te zetten. Onder meer MMA veteraan Leonard Garcia werd verslagen. Vervolgens had Holloway in 2013 een minder jaar. Zo werd nipt verloren van Dennis Bermudez, en werd ook verloren via Unanimous Decision van Conor McGregor. Echter heeft Holloway sindsdien niet meer verloren. De Hawaiïaan lijkt niet te stoppen. In een tijdsbestek van twee jaar wist Holloway een winstreak van acht gevechten neer te zetten, en werden namen als Charles Oliveira, Andre Fili, Cub Swanson en Jeremy Stephens verslagen. Nadat ook Ricardo Lamas opzij werd gezet via Unanimous Decision, mocht Holloway voor de Interim Titel vechten eind 2016 tegen Anthony Pettis. Holloway was de allereerste (en tot nu toe enige) persoon ooit die Anthony Pettis wist te finishen. Holloway pakte de Interim titel via TKO in de derde ronde.
Vervolgens was in Juni 2017 het gevecht om de "echte" titel tegen UFC Featherweight Kampioen Jose Aldo. Holloway had het moeilijk in het begin van het gevecht, maar wist het tij te keren en versloeg de Braziliaanse legende via TKO in de derde ronde en eiste op die manier de titel op. Holloway zou vervolgens in December 2017 zijn titel verdedigen tegen Frankie Edgar. Echter liep Edgar een blessure op waardoor Holloway opnieuw werd gematcht tegen Jose Aldo. Ook ditmaal wist Holloway het gevecht via TKO in de derde ronde te beslissen. Holloway zou vervolgens gaan vechten voor de Lightweight titel. Tony Ferguson was namelijk geblesseerd geraakt waardoor Holloway de kans kreeg om tegen Khabib Nurmagomedov te vechten. Echter mocht Holloway van de UFC doktoren niet meer verder zijn gewicht omlaag halen en werd hij van het gevecht gehaald. Holloway zou vervolgens tijdens UFC 226 in Juli 2018 zijn titel verdedigen tegen Brian Ortega. Echter voelde Holloway zich niet goed en dit werd bevestigd door de doktoren. Hierdoor ging het gevecht niet door. Het gevecht tegen Ortega zou uiteindelijk plaatsvinden in December 2018 tijdens UFC 231 in Toronto. In een fantastisch titelgevecht wist Holloway uiteindelijk via TKO te winnen na afloop van de vierde ronde nadat de dokter het gevecht stopte omdat Ortega niet meer kon zien door zijn linkeroog. Holloway pakte zowel de Fight of the Night als de Performance of the Night bonus.
UFC RECORD
Res.
Tegenstander
Methode
Ronde
Evenement
Datum
Notities
Win
Brian Ortega
TKO (Doctor Stoppage)
4 (5:00)
UFC 231
8 Dec. 2018
UFC Featherweight Titlefight
Win
Jose Aldo
TKO (Punches)
3 (4:51)
UFC 218
2 Dec. 2017
UFC Featherweight Titlefight
Win
Jose Aldo
TKO (Punches)
3 (4:13)
UFC 212
3 Jun. 2017
UFC Featherweight Titlefight
Win
Anthony Pettis
TKO (Body Kick & Punches)
3 (4:50)
UFC 206
10 Dec. 2016
Interim UFC Featherweight Titlefight
Win
Ricardo Lamas
Decision (Unanimous)
3 (5:00)
UFC 199
4 Jun. 2016
Win
Jeremy Stephens
Decision (Unanimous)
3 (5:00)
UFC 194
12 Dec. 2015
Win
Charles Oliveira
TKO (Neck Injury)
1 (1:39)
UFC FN 74: Saskatoon
23 Aug. 2015
Win
Cub Swanson
Sumission (Guillotine Choke)
3 (3:58)
UFC on FOX 15: Newark
18 Apr. 2015
Win
Cole Miller
Decision (Unanimous)
3 (5:00)
UFC FN 60: Broomfield
14 Feb. 2015
Win
Akira Corassani
KO (Punches)
1 (3:11)
UFC FN 53: Stockholm
4 Okt. 2014
Win
Clay Collard
TKO (Punches)
3 (3:47)
UFC FN 49: Tulsa
23 Aug. 2014
Catchweight (149 lbs)
Win
Andre Fili
Submission (Guillotine Choke)
3 (3:39)
UFC 172
26 Apr. 2014
Win
Will Chope
TKO (Punches)
2 (2:27)
UFC Fight Night 34
4 Jan. 2014
Loss
Conor McGregor
Decision (Unanimous)
3 (5:00)
UFC Fight Night 26
17 Aug. 2013
Loss
Dennis Bermudez
Decision (Split)
3 (5:00)
UFC 160
25 Mei. 2013
Win
Leonard Garcia
Decision (Split)
3 (5:00)
UFC 155
29 Dec. 2012
Win
Justin Lawrence
TKO (Punches)
2 (4:49)
UFC 150
11 Aug. 2012
Win
Pat Schilling
Decision (Unanimous)
3 (5:00)
TUF 15 Finale
1 Jun. 2012
Loss
Dustin Poirier
Submission (Mounted Triangle Armbar)
1 (2:23)
UFC 143
4 Feb. 2012
UFC Featherweight Debut