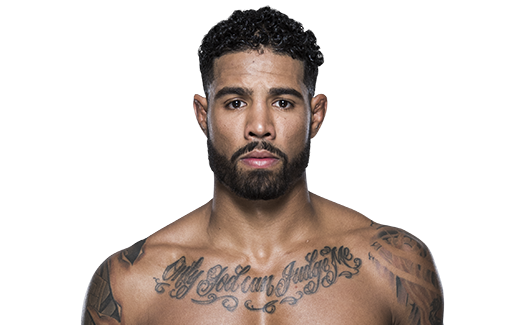 Naam: Max Griffin
Bijnaam: Pain
Record: 14 – 5 – 0 (UFC 2 – 3 – 0)
Geboortedatum: 29-11-1985
Geboorteplaats: Santa Barbara, Californië, USA
Nationaliteit: Amerikaans
Lengte: 1.83m (6ft 0in)
Gewicht: 77kg (170lb)
Divisie: Welterweight
Vecht uit: Sacramento, Californië, USA
Gym: MMA Gold Fight Team
Actief: 2009 – heden
Twitter: @maxPAINmma

Max Griffin debuteerde in Augustus 2016 voor de UFC. Hij moest het opnemen tegen de sterke Colby Covington. Griffin verloor in de derde ronde via TKO. Een paar jaar eerder had Griffin via TUF 16 geprobeerd de UFC binnen te komen, maar hij verloor zijn eliminatie gevecht waardoor hij niet de UFC binnen kwam. Hierna won Griffin acht van zijn negen gevechten inclusief drie titels bij andere organisaties. De UFC bood hem alsnog de kans dus tegen Covington. In November 2016 in Mexico rekende Griffin af met TUF Latin America 3 winnaar Erick Montano. De Mexicaan werd binnen een minuut via TKO gefinisht.
Griffin zou het vervolgens begin 2017 tijdens UFC Fortaleza opnemen tegen de Braziliaan Sergio Moraes. Griffin raakte echter geblesseerd en moest verstek laten gaan. Tijdens de UFC Fight Night 119 card in Oktober 2017 keerde Griffin terug tegen Elizeu Zaleski Dos Santos. Na een spectaculair, maar slopend gevecht won Zaleski Dos Santos via Unanimous Decision. Beide mannen kregen wel de Fight of the Night bonus. Griffin kreeg vervolgens in Februari 2018 de kans om het op te nemen tegen KO specialist Mike Perry. Griffin vocht erg sterk in de eerste twee rondes en won uiteindelijk verdient via Unanimous Decision.
Griffin kon deze prestatie in Juli 2018 geen goed vervolg geven. Tijdens UFC 226 werd verloren via Unanimous Decision tegen Curtis Millender.
UFC RECORD
Res.
Tegenstander
Methode
Ronde
Evenement
Datum
Notities
NB
Thiago Alves
NB
– (-:–)
UFC FN 144/UFC on ESPN+ 2: Fortaleza
2 Feb. 2019
Loss
Curtis Millender
Decision (Unanimous)
3 (5:00)
UFC 226
7 Jul. 2018
Win
Mike Perry
Decision (Unanimous)
3 (5:00)
UFC on FOX 28: Orlando
24 Feb. 2018
Loss
Elizeu Zaleski dos Santos
Decision (Unanimous)
3 (5:00)
UFC FN 119: São Paulo
28 Okt. 2017
Win
Erick Montaño
TKO (Punches)
1 (0:54)
UFC FN 98: Mexico City
5 Nov. 2016
Loss
Colby Covington
TKO (Punches)
3 (2:18)
UFC 202
20 Aug. 2016
UFC Welterweight Debut