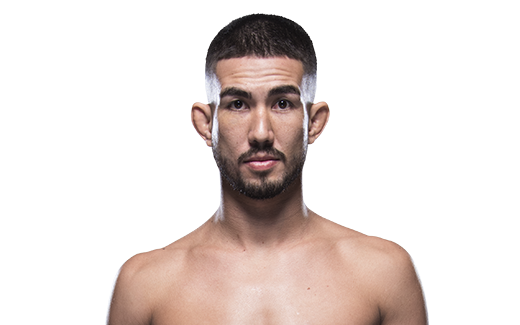 Naam: Louis Smolka
Bijnaam: Da Last Samurai
Record: 15 – 6 – 0 (UFC 6 – 6 – 0)
Geboortedatum: 16-07-1991
Geboorteplaats: Kapolei, Hawaii, USA
Nationaliteit: Amerikaans
Lengte: 1.75m (5ft 9in)
Gewicht: 61kg (135lb)
Divisie: Bantamweight
Vecht uit: Kapolei, Hawaii, USA
Gym: Hawaii Elite MMA
Actief: 2010 – heden
Twitter: @LASTSAMURAIUFC

Louis Smolka debuteerde in de UFC in 2014. Hij won zijn partij tegen Alptekin Ozkilic via Unanimous Decision. Na een kleine setback (Split Decision verlies tegen Chris Cariaso) datzelfde jaar kwam Smolka ijzersterk terug. Zo wist hij Richie Vaculik, Neil Seery, Paddy Holohan en Ben Nguyen achter elkaar te verslaan waardoor hij een winstreak had van vier gevechten. Wat nog meer imponeerde was dat hij zowel Vaculik, Holohan en Nguyen alledrie voor hun eigen thuispubliek wist te finishen. Smolka zou vervolgens vechten tegen Pettis, maar een blessure van Pettis gooide roet in het eten. Brandon Moreno die via TUF 24 de UFC binnenkwam nam het gevecht aan op short notice. Moreno verbaasde vriend en vijand door de hooggerankte Smolka via Guillotine Choke Submission in de eerste ronde te finishen. Smolka nam het vervolgens op tegen de sterke Ray Borg. Smolka werd drie rondes lang "outworked" op de grond en verloor via Unanimous Decision.
Voor Smolka het tweede verlies op rij in korte tijd. Smolka die werd gezien als een directe bedreiging voor de Top 5 moest tegen Tim Elliott winnen om zijn Top 10 ranking te behouden. Dit ging echter opnieuw mis. Elliott en Smolka maakte er dan weliswaar een zeer spectaculair gevecht van dat door de UFC werd beloond met de Fight of the Night bonus, maar helaas voor Smolka was Elliott de dominante partij waardoor Smolka voor de derde keer op rij verloor. Smolka moest vervolgens winnen van Matheus Nicolau om zijn Top 15 ranking te houden. Dit mislukte, Nicolau won via een dominante Unanimous Decision waardoor Smolka zijn ranking kwijtraakte en door de UFC van zijn contract werd ontheven. Echter wist Smolka bij andere organisaties zijn drie daarop volgende gevechten te winnen. Dit heeft de UFC doen besluiten de Hawaiiaan een nieuw contract te geven. Echter ditmaal wel in de Bantamweight divisie.
Smolka maakte tijdens UFC Beijing in November 2018 een succesvolle terugkeer in de Octagon. Smolka versloeg de Tibetaan Su Mudaerji via Armbar Submission in de tweede ronde. Vervolgens werd Smolka tijdens UFC Wichita in Maart 2019 gematcht tegen Matt Schnell. Schnell imponeerde met een Triangle Choke Submission overwinning in de eerste ronde.
UFC RECORD
Res.
Tegenstander
Methode
Ronde
Evenement
Datum
Notities
Loss
Matt Schnell
Submission (Triangle Choke)
1 (3:18)
UFC FN 146: Wichita
9 Mar. 2019
Win
Su Mudaerji
Submission (Armbar)
2 (2:07)
UFC FN 141: Beijing
24 Nov. 2018
Comeback in de UFC/UFC Bantamweight Debut
Loss
Matheus Nicolau
Decision (Unanimous)
3 (5:00)
UFC 219
20 Dec. 2017
Loss
Timothy Elliott
Decision (Unanimous)
3 (5:00)
UFC on FOX 24: Kansas City
15 Apr. 2017
Loss
Ray Borg
Decision (Unanimous)
3 (5:00)
UFC 207
30 Dec. 2016
Catchweight Fight (129.5 lbs)
Loss
Brandon Moreno
Submission (Guillotine Choke)
1 (2:23)
UFC FN 96: Portland
1 Okt. 2016
Win
Ben Nguyen
TKO (Punches & Elbows)
2 (4:41)
UFC FN 91: Sioux Falls
13 Jul. 2016
Win
Paddy Holohan
Submission (RNC)
2 (4:09)
UFC FN 76: Dublin
24 okt. 2015
Win
Neil Seery
Decision (Unanimous)
3 (5:00)
UFC 189
11 Jul. 2015
Win
Richie Vaculik
KO (Side Kick & Punches)
3 (0:18)
UFC FN 55: Sydney
8 Nov. 2014
Loss
Chris Cariaso
Decision (Split)
3 (5:00)
UFC FN 40: Cincinnati
10 Mei 2014
Win
Alptekin Özkilic
Decision (Unanimous)
3 (5:00)
UFC FN 35: Duluth
15 Jan. 2014
UFC Flyweight Debut