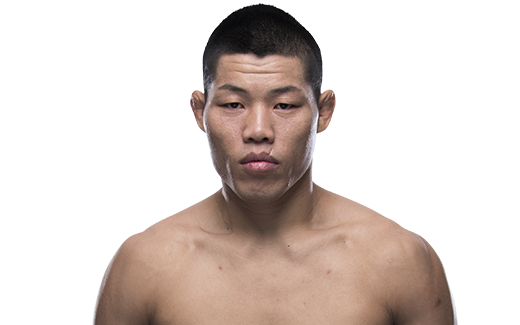 Naam: Li Jingliang
Bijnaam: The Leech
Record: 16 – 5 – 0 (UFC 8 – 3 – 0)
Geboortedatum: 20-03-1988
Geboorteplaats: Tacheng, Xinjiang, China
Nationaliteit: Chinees
Lengte: 1.83m (6ft 0in)
Gewicht: 77kg (170lb)
Divisie: Welterweight
Vecht uit: Beijing, China
Gym: China Top Team
Actief: 2007 – heden
Twitter: @UfcJingliang

Li Jingliang werd als de Legend FC kampioen door de UFC in 2013 gecontracteerd. Het duurde echter ruim een jaar voordat we Li Jingliang ook daadwerkelijk in de UFC zagen. Jingliang won via Split Decision in zijn UFC debuut van David Michaud. Jingliang heeft weliswaar twee partijen verloren binnen de UFC, maar dat waren partijen met een verhaal. Zo werd tegen Nordine Taleb verloren via Split Decision. In Canada tegen de Frans-Canadees, het was in ieder geval controversieel. Ook verloor Jingliang in de derde ronde via Submission van Keita Nakamura. Jingliang had de twee rondes daarvoor gedomineerd. Tegen Dhiego Lima en Anton Zafir boekte de Chinees KO overwinningen, beide in de eerste ronde.
Jingliang zou het vervolgens begin 2017 opnemen tegen Yancy Medeiros, echter raakte Medeiros geblesseerd en werd vervangen door nieuwkomer Bobby Nash. In een zeer vermakelijk gevecht wist Li Jingliang uiteindelijk het gevecht in de tweede ronde via KO te beslissen in zijn voordeel. Jingliang's contract liep vervolgens af, en tot verbazing van veel mensen leek de UFC geen haast te hebben om de Chinees een nieuw contract aan te bieden. Dit gebeurde uiteindelijk alsnog. Jingliang moest het vervolgens opnemen tegen Frank Camacho die inviel voor de geblesseerde Jonathan Meunier. In een gevecht dat door de UFC werd beloond met de Fight of the Night bonus won Jingliang via Unanimous Decision.
De UFC zou vervolgens in November 2017 voor het eerst naar Shanghai, China gaan voor een evenement. Li Jingliang vocht tijdens het Co-Main Event tegen Zak Ottow. Jingliang besliste het gevecht vroeg in de eerste ronde via TKO en kreeg daarvoor de Performance of the Night bonus. In Februari 2018 won Jingliang de Fight of the Night bonus tegen Jake Matthews tijdens UFC 221 in Perth. Echter werd het gevecht wel verloren via Unanimous Decision. Jingliang revancheerde zich voor zijn verlies vier maanden later tijdens UFC Singapore. Via Unanimous Decision werd gewonnen van de Japanner Daichi Abe. Vervolgens werd Jingliang gematcht tegen Elizeu Zaleski dos Santos tijdens UFC Beijing. Echter raakte de Braziliaan geblesseerd waarna David Zawada de tegenstander werd.
Zawada vocht sterk en wist Jingliang zelfs in de eerste ronde knockdown te slaan. Echter liet Jingliang zien dat hij sterk kon terugkomen. De Chinees versloeg Zawada vlak voor het einde van het gevecht via TKO.
UFC RECORD
Res.
Tegenstander
Methode
Ronde
Evenement
Datum
Notities
Win
David Zawada
TKO (Bodykick & Punches)
3 (4:07)
UFC FN 141: Beijing
24 Nov. 2018
Win
Daichi Abe
Decision (Unanimous)
3 (5:00)
UFC FN 132: Singapore
23 Jun. 2018
Loss
Jake Matthews
Decision (Unanimous)
3 (5:00)
UFC 221
11 Feb. 2018
Win
Zak Ottow
TKO (Punches)
1 (2:57)
UFC FN 122: Shanghai
25 Nov. 2017
Win
Frank Camacho
Decision (Unanimous)
3 (5:00)
UFC FN 111: Kallang
17 Jun. 2017
Win
Bobby Nash
KO (Punches)
2 (4:45)
UFC on FOX 23: Denver
28 Jan. 2017
Win
Anton Zafir
KO (Punches)
1 (2:46)
TUF 23 Finale
8 Jul. 2016
Loss
Keita Nakamura
Tech.Submission (Standing RNC)
3 (2:17)
UFC FN 75: Saitama
27 Sep. 2015
Win
David Michaud
KO (Punches)
1 (1:25)
UFC FN 66: Pasay City
16 Mei 2015
Loss
Nordine Taleb
Decision (Split)
3 (5:00)
UFC FN 54: Halifax
4 Okt. 2014
Win
David Michaud
Decision (Split)
3 (5:00)
UFC 173
24 Mei. 2014
UFC Welterweight Debut