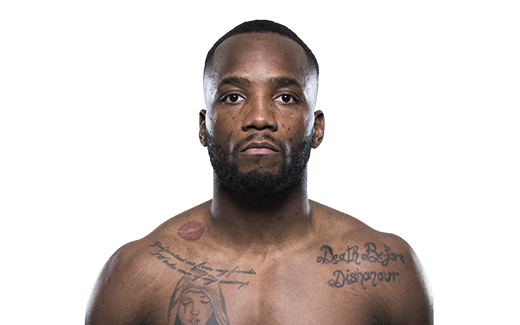 Naam: Leon Edwards
Bijnaam: Rocky
Record: 17 – 3 – 0 (UFC 9 – 2 – 0)
Geboortedatum: 25-08-1991
Geboorteplaats: Kingston, Jamaica
Nationaliteit: Engels, Jamaicaans
Lengte: 1.83m (6ft 0in)
Gewicht: 77kg (170lb)
Divisie: Welterweight
Vecht uit: Birmingham, Engeland, Verenigd Koninkrijk
Gym: Ultimate Training Centre
Actief: 2010 – heden
Twitter: @Leon_edwardsmma

Leon Edwards is de voormalig Lonsdale BAMMA Welterweight Kampioen. Mede hierdoor tekende hij in 2014 een contract voor de UFC. Edwards verloor tot dusverre van Claudio Silva en Kamaru Usman, maar won van Seth Baczynski, Pawel Pawlak en in Rotterdam van Dominic Waters. Edwards staat bekend om zijn zeer agressieve stand-up game, en dat spreidde hij tentoon tegen Seth Baczynski. Een KO binnen 8 seconden wat hem de Performance of the Night bonus opleverde. Edwards heeft ook tevens een sterke groundgame, maar vecht bij voorkeur staand. Ondanks dit gegeven wist hij de Rus Albert Tumenov in Oktober 2016 in Manchester via een Rear Naked Choke Submission in de derde ronde te finishen. Door deze overwinning leek Edwards kortbij een Top 15 klassering te zitten. Dit kwam er echter niet van. Begin 2017 maakte Edwards opnieuw zijn opwachting in Engeland, ditmaal vocht hij in Londen tegen de Braziliaanse Amerikaan Vicente Luque.
In een zeer gelijkwaardig gevecht won Edwards uiteindelijk via Unanimous Decision. Daarna wist hij wederom te winnen in Rotterdam. Hij deed dit tegen Bryan Barbarena. Edwards was qua worstelen beter en won via Unanimous Decision. De Engelsman keerde vervolgens terug in de Octagon in Maart 2018 tijdens UFC Londen. De Poolse Duitser Peter Sobotta was de tegenstander. In een zeer over en weer gaand gevecht was het uiteindelijk Edwards die één seconde voor het einde van het gevecht via TKO de overwinning wist te pakken. Vervolgens mocht Edwards zijn eerste Main Event gevecht voor de UFC gaan vechten. In Singapore stond de Engelsman tegenover Donald Cerrone. Edwards won de eerste drie rondes en pakte uiteindelijk via Unanimous Decision de overwinning. Edwards maakte vervolgens pas in Maart 2019 weer zijn opwachting in de Octagon. Tijdens UFC Londen versloeg Edwards de IJslander Gunnar Nelson via Split Decision.
UFC RECORD
Res.
Tegenstander
Methode
Ronde
Evenement
Datum
Notities
Win
Gunnar Nelson
Decision (Split)
3 (5:00)
UFC FN 147: London
16 Mar. 2019
Win
Donald Cerrone
Decision (Unanimous)
5 (5:00)
UFC FN 132: Singapore
23 Jun. 2018
Win
Peter Sobotta
TKO (Punches)
3 (4:59)
UFC FN 127: London
17 Mar. 2018
Win
Bryan Barberena
Decision (Unanimous)
3 (5:00)
UFC FN 115: Rotterdam
2 Sep. 2017
Win
Vicente Luque
Decision (Unanimous)
3 (5:00)
UFC FN 107: London
18 Mar. 2017
Win
Albert Tumenov
Submission (RNC)
3 (3:01)
UFC 204
8 Okt. 2016
Win
Dominic Waters
Decision (Unanimous)
3 (5:00)
UFC FN 87: Rotterdam
8 Mei. 2016
Loss
Kamaru Usman
Decision (Unanimous)
3 (5:00)
UFC on FOX 17: Orlando
19 Dec. 2015
Win
Pawel Pawlak
Decision (Unanimous)
3 (5:00)
UFC FN 72: Glasgow
18 Jul. 2015
Win
Seth Baczynski
KO (Punches)
1 (0:08)
UFC FN 64: Krakow
11 Apr. 2015
Loss
Claudio Silva
Decision (Split)
3 (5:00)
UFC FN 56: Uberlândia
8 Nov. 2014
UFC Welterweight Debut