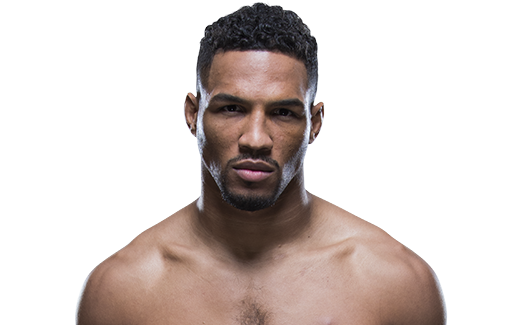 Naam: Kevin Lee
Bijnaam: The Motown Phenom
Record: 16 – 3 – 0 (UFC 9 – 3 – 0)
Geboortedatum: 04-09-1992
Geboorteplaats: Grand Rapids, Michigan, USA
Nationaliteit: Amerikaans
Lengte: 1.75m (5ft 9in)
Gewicht: 70kg (155lb)
Divisie: Lightweight
Vecht uit: Las Vegas, Nevada, USA
Gym: Xtreme Couture
Actief: 2012 – heden
Twitter: @MoTownPhenom

Kevin Jesse Lee Jr. kwam begin 2014 als ongeslagen vechter de UFC binnen. "The MoTown Phenom" staat bekend als iemand die zijn mening niet onder stoelen of banken schuift en meestal ook de daad bij het woord weet te voegen. Tijdens zijn UFC debuut werd Lee meteen gekoppeld aan Al Iaquinta. Iaquinta zou in een competitief gevecht uiteindelijk winnen via Unanimous Decision. Lee, een hele sterke worstelaar won vervolgens vier partijen op rij waaronder overwinningen tegen de sterke Michel Prazeres en James Moontasri. Eind 2015 verslikte Lee zich in de TUF Brazil 2 winnaar Leonardo Santos. Santos won via TKO in de eerste ronde.
In 2016 wist Lee zich echter te revancheren voor zijn verlies tegen Santos. Eerst werd TUF 8 winnaar Efraín Escudero via Unanimous Decision verslagen. Vervolgens versloeg Lee het Australische wonderkind Jake Matthews via TKO in de eerste ronde. Lee daagde alle worstelaars uit in de divisie. Magomed Mustafaev was een van de weinigen die erop reageerde. Beide mannen vochten tegen elkaar in November 2016 tijdens UFC Belfast. Lee wist uiteindelijk de Rus te finishen via Rear Naked Choke Submission in de tweede ronde. Mustafaev weigerde af te tikken waardoor hij "out" ging. In Maart 2017 vocht Lee in Fortaleza, Brazilië tegen Francisco Trinaldo. Na een matige eerste ronde wist Lee in de tweede ronde het tij volledig te keren. Een rake highkick zorgde ervoor dat Trinaldo begon te wankelen. Lee maakte er meteen gebruik van en haalde de Braziliaan naar de grond. Daar wist hij via Rear Naked Choke Submission het gevecht te beslissen.
Daarna was het de beurt aan Michael Chiesa om het tegen Lee op te nemen. Via een Rear-Naked Choke in de eerste ronde won Lee zijn partij. Echter ontstond er wat commotie omdat bleek dat Michael Chiesa niet "out" was en scheidsrechter Mario Yamasaki de partij te vroeg gestopt had. Ondanks dit gegeven plande de UFC Lee in voor een Interim titelgevecht tegen Tony Ferguson. Lee was in de eerste ronde de bovenliggende partij, maar zou uiteindelijk in de derde ronde verliezen via Triangle Choke Submission.
UFC RECORD
Res.
Tegenstander
Methode
Ronde
Evenement
Datum
Notities
NB
Edson Barboza
NB
– (-:–)
UFC FN 128: Atlantic City
21 Apr. 2018
Loss
Tony Ferguson
Submission (Triangle Choke)
3 (4:02)
UFC 216
7 Okt. 2017
UFC Interim Lightweight Titlefight
Win
Michael Chiesa
Tech.Submission (RNC)
1 (4:37)
UFC FN 112: Oklahoma City
25 Jun. 2017
Win
Francisco Trinaldo
Submission (RNC)
2 (3:12)
UFC FN 106: Fortaleza
11 Mar. 2017
Win
Magomed Mustafaev
Tech.Submission (RNC)
2 (4:31)
UFC FN 99: Belfast
19 Nov. 2016
Win
Jake Matthews
TKO (Punches)
1 (4:06)
TUF 24 Finale
8 Jul. 2016
Win
Efraín Escudero
Decision (Unanimous)
3 (5:00)
UFC 197
23 Apr. 2016
Loss
Leonardo Santos
TKO (Punches)
1 (3:26)
UFC 194
12 Dec. 2015
Win
James Moontasri
Submission (RNC)
1 (2:56)
UFC FN 71: San Diego
15 Jul. 2015
Win
Michel Prazeres
Decision (Unanimous)
3 (5:00)
UFC FN 60: Broomfield
14 Feb. 2015
Win
Jon Tuck
Decision (Unanimous)
3 (5:00)
UFC 178
27 Sep. 2014
Win
Jesse Ronson
Decision (Split)
3 (5:00)
TUF 19 Finale
6 Jul. 2014
Loss
Al Iaquinta
Decision (Unanimous)
3 (5:00)
UFC 169
1 Feb. 2014