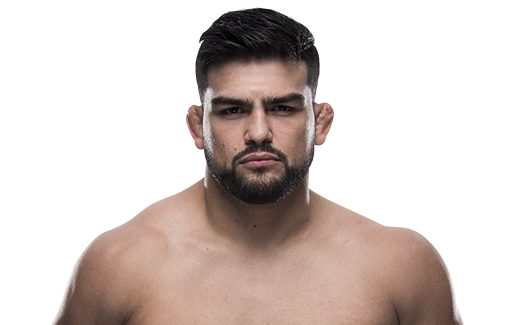 Naam: Kelvin Gastelum
Bijnaam: –
Record: 16 – 3 – 0 – 1 (UFC 10 – 3 – 0 – 1)
Geboortedatum: 24-10-1991
Geboorteplaats: San Jose, Californië, USA
Nationaliteit: Amerikaans
Lengte: 1.75m (5ft 9in)
Gewicht: 84kg (185lb)
Divisie: Middleweight
Vecht uit: Yuma, Arizona, USA
Gym: Kings MMA
Actief: 2010 – heden
Twitter: @KelvinGastelum

Kelvin Gastelum kwam de UFC binnen via TUF 17. Gastelum won het toernooi door in de finale Uriah Hall te verslaan. Vervolgens wist Gastelum er nog vier achter elkaar te winnen in de UFC, waaronder tegen Jake Ellenberger en Rick Story. Zijn eerste setback kwam in Januari 2015, huidig UFC Welterweight Kampioen Tyron Woodley was toen via Split Decision te sterk. Vervolgens wist Gastelum zich te revancheren via TKO tegen Nate Marquardt, maar verloor hij in Mexico tegen Neil Magny (opnieuw via een Split Decision). In Juli 2016 behaalde Gastelum zijn grootste overwinning in de UFC tot nog toe. Voormalig Welterweight Kampioen Johny Hendricks werd verslagen, waarna Gastelum de Top 5 van de divisie betrad. Echter kreeg Gastelum steeds meer moeite om zijn gewicht te halen en faalde hier zelfs een aantal keer in. Dit zorgde ervoor dat hij noodgedwongen een gewichtsklasse hoger moest vechten.
Gastelum deed dit tijdens UFC 206 in Toronto, Canada. Hij nam het hierin op tegen Tim Kennedy en versloeg hem via een TKO in de derde ronde. Gastelum werd vervolgens opnieuw in de Middleweight divisie ingepland. Ditmaal moest Gastelum het opnemen tegen MMA legende Vitor Belfort tijdens het Main Event van UFC Fight Night 106 in Fortaleza, Cearà, Brazilië. Gastelum versloeg de thuisfavoriet via KO in de eerste ronde en zette zijn goede streak dus door. Echter werd Gastelum betrapt op het gebruik van Marihuana. Hierdoor is het gevecht tegen Belfort omgezet in een No-Contest en werd het geplande gevecht tegen Anderson Silva begin Juni 2017 geannuleerd. Gastelum zou vervolgens in Juli 2017 terugkeren in de Octagon tijdens het Main Event van UFC Long Island tegen voormalig UFC Middleweight Kampioen Chris Weidman. Gastelum verloor dit gevecht uiteindelijk in de derde ronde via een Arm-Triangle Choke Submission.
Gastelum werd vervolgens opnieuw tegen Anderson Silva gematcht tijdens UFC Shanghai. Echter werd Silva van de card gehaald in verband met een potentiële USADA overtreding en werd vervangen door Michael Bisping. Gastelum maakte korte metten met de Engelsman en sloeg hem zwaar KO in de eerste ronde. Vervolgens mocht Gastelum het opnemen tegen de Braziliaan Ronaldo "Jacaré" Souza. In een zeer close gevecht dat door de UFC werd beloond met de Fight of the Night bonus won Gastelum via Split Decision.
UFC RECORD
Res.
Tegenstander
Methode
Ronde
Evenement
Datum
Notities
NB
Robert Whittaker
NB
– (-:–)
UFC 234
9 Feb. 2019
UFC Middleweight Titlefight
Win
Ronaldo "Jacaré" Souza
Decision (Split)
3 (5:00)
UFC 224
12 Mei. 2018
Win
Michael Bisping
KO (Punch)
1 (2:30)
UFC FN 122: Shanghai
25 Nov. 2017
Loss
Chris Weidman
Submission (Arm-Triangle Choke)
3 (3:45)
UFC on FOX 25: Long Island
22 Jul. 2017
NC
Vitor Belfort
TKO (Punches)
1 (3:52)
UFC FN 106: Fortaleza
11 Mar. 2017
Overturned na positieve USADA test van Gastelum
Win
Tim Kennedy
TKO (Punches)
3 (5:00)
UFC 206
10 Dec. 2016
Return to Middleweight
Win
Johny Hendricks
Decision (Unanimous)
3 (5:00)
UFC 200
9 Jul. 2016
Catchweight Fight (171.25 lbs)
Loss
Neil Magny
Decision (Split)
5 (5:00)
UFC FN 78: Monterrey
21 Nov. 2015
Win
Nate Marquardt
TKO (Corner Stoppage)
2 (5:00)
UFC 188
13 Jun. 2015
Middleweight Fight
Loss
Tyron Woodley
Decision (Split)
3 (5:00)
UFC 183
31 Jan. 2015
Catchweight Fight (180 lbs)
Win
Jake Ellenberger
Submission (Rear-Naked Choke)
1 (4:46)
UFC 180
15 Nov. 2014
Win
Nico Musoke
Decision (Unanimous)
3 (5:00)
UFC FN 44: San Antonio
28 Jun. 2014
Catchweight Fight (172.75 lbs)
Win
Rick Story
Decision (Split)
3 (5:00)
UFC 177
15 Mar. 2014
Win
Brian Melancon
Submission (Rear-Naked Choke)
1 (2:26)
UFC FN 27: Indianapolis
28 Aug. 2013
UFC Welterweight Debut
Win
Uriah Hall
Decision (Split)
3 (5:00)
TUF 17 Finale
13 Apr. 2013
TUF 17 Finale/UFC Middleweight Debut