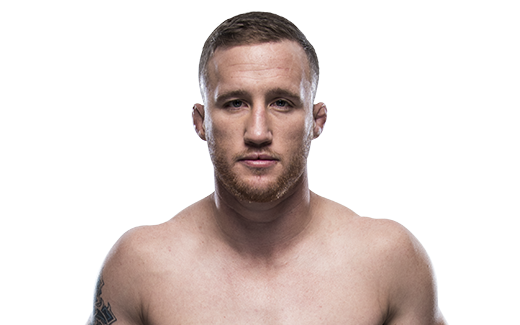 Naam: Justin Gaethje
Bijnaam: The Highlight
Record: 19 – 2 – 0 (UFC 2 – 2 – 0)
Geboortedatum: 14-11-1988
Geboorteplaats: Safford, Arizona, USA
Nationaliteit: Amerikaans
Lengte: 1.80m (5ft 11in)
Gewicht: 70kg (155lb)
Divisie: Lightweight
Vecht uit: Arvada, Colorado, USA
Gym: Genesis Training Center
Actief: 2008 – heden
Twitter: @Justin_Gaethje

Justin Ray Gaethje wordt gezien als een van de beste Lightweights in het professionele MMA. Gaethje maakte vooral furore bij WSOF waar hij in 2014 de titel won. Daarna verdedigde hij deze titel vijf keer succesvol. Het zat er al een lange tijd aan te komen dat Gaethje naar de UFC zou komen. Gaethje wordt gezien als een echte hardhitter in zijn gewichtsklasse. Zo wist hij maar liefst 15 van zijn 18 overwinningen te winnen via een KO/TKO. Gaethje aan dat hij graag tegen een topcontender zijn debuut wilde maken om te laten zien dat hij iemand is om rekening mee te houden.
Gaethje kreeg deze topcontender, namelijk Michael Johnson was zijn tegenstander tijdens de TUF 25 Finale in Juli 2017. In een werkelijk fantastisch gevecht waar de vonken vanaf spatten wist Gaethje in de tweede ronde Johnson via TKO te finishen en zo een glorieus debuut te beleven binnen de UFC. Gaethje werd vervolgens gekoppeld aan Eddie Alvarez. De mannen werden eerst de coaches van het 26ste seizoen van TUF. Vervolgens vochten ze tijdens UFC 218 tegen elkaar. Alvarez wist Gaethje via KO in de derde ronde te stoppen, en bracht Gaethje het eerste verlies toe van zijn MMA carrière. Beide mannen kregen meer dan verdiend de Fight of the Night bonus.
Gaethje keerde vervolgens terug tijdens het Main Event van UFC Glendale in April 2018 tegen Dustin Poirier. In een spectaculair gevecht dat door de UFC werd beloond met de Fight of the Night bonus verloor Gaethje uiteindelijk via TKO vroeg in de vierde ronde. Gaethje maakte vervolgens zijn opwachting tijdens het Main Event van UFC Lincoln tegen James Vick. Gaethje wist Vick in de eerste ronde zwaar KO te slaan.
UFC RECORD
Res.
Tegenstander
Methode
Ronde
Evenement
Datum
Notities
Win
James Vick
KO (Punch)
1 (1:27)
UFC FN 135: Lincoln
25 Aug. 2018
Loss
Dustin Poirier
TKO (Punches)
4 (0:33)
UFC on FOX 29: Glendale
14 Apr. 2018
Loss
Eddie Alvarez
KO (Knee)
3 (3:59)
UFC 218
2 Dec. 2017
Win
Michael Johnson
TKO (Punches & Knees)
2 (4:48)
TUF 25 Finale
7 Jul. 2017
UFC Lightweight Debut