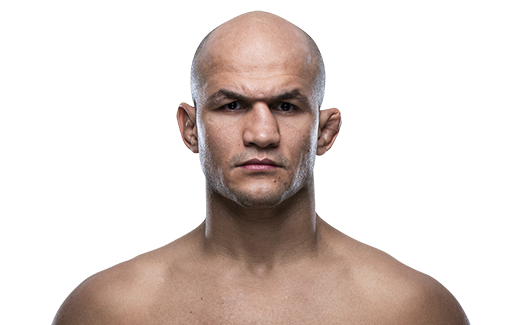 Naam: Junior Dos Santos
Bijnaam: Cigano
Record: 21 – 5 – 0 (UFC 15 – 4 – 0)
Geboortedatum: 30-01-1984
Geboorteplaats: Caçador, Santa Catarina, Brazilië
Nationaliteit: Braziliaans
Lengte: 1.91m (6ft 3in)
Gewicht: 120kg (265lb)
Divisie: Heavyweight
Vecht uit: Salvador, Bahia, Brazilië
Gym: American Top Team
Actief: 2006 – heden
Twitter: @junior_cigano

Junior Dos Santos Almeida is al jaren een van de beste Heavyweights in de UFC Heavyweight divisie. De Braziliaan versloeg tot verbazing van iedereen bij zijn debuut de torenhoge favoriet Fabricio Werdum via KO in de eerste ronde. Vervolgens volgden overwinningen tegen Stefan Struve, Mirko CroCop, Gilbert Yvel, Gabriel Gonzaga en Roy Nelson. Dos Santos werd vervolgens gematcht tegen Brock Lesnar voor de #1 contenderspot. Lesnar raakte geblesseerd en werd vervangen door Shane Carwin. Dos Santos won via Unanimous Decision, en mocht voor de titel gaan vechten tegen Cain Velasquez. Dos Santos won via KO in de eerste ronde. Vervolgens werd ook Frank Mir verslagen via TKO. In de daarop volgende gevechten verloor Dos Santos twee keer. Hij verloor de belt tegen Velasquez, won vervolgens van Hunt, waarna Velasquez die inmiddels dus weer kampioen was de belt met succes verdedigde.
Dos Santos werd vervolgens gematcht tegen Stipe Miocic (inmiddels dus de huidige kampioen) en won het gevecht via een zeer close Unanimous Decision. Hierna ging het voor Dos Santos mis in de tweede ronde via TKO tegen Alistair Overeem. In April 2016 leek "Cigano" herboren, en maakte hij indruk in zijn Unanimous Decision win tegen Ben Rothwell. Dos Santos zou het eigenlijk in Halifax opnemen tegen Stefan Struve, maar Struve raakte geblesseerd en de UFC kon geen capabele vervanger vinden voor Struve. Een geluk bij een ongeluk bleek voor Dos Santos aangezien hij vervolgens een titelgevecht kreeg aangeboden tegen de man die hij een paar jaar eerder wist te verslaan : Stipe Miocic. Ditmaal liep het echter anders. Miocic overrompelde Dos Santos vroeg in het gevecht en versloeg de Braziliaan via TKO in de eerste ronde. Dos Santos zou vervolgens in September 2017 vechten tegen Francis Ngannou. Echter werd Dos Santos in verband met een potentiële USADA overtreding van het gevecht gehaald. Inmiddels is de schorsing opgeven en keerde Dos Santos in Juli 2018 terug in de Octagon tegen de Bulgaar Blagoy Ivanov. Dos Santos won na vijf rondes via Unanimous Decision.
Vervolgens nam de Braziliaan het tijdens UFC Adelaide in December 2018 op tegen de ongeslagen Tai Tuivasa tijdens het Main Event. Dos Santos won het gevecht via TKO in de tweede ronde. Ditzelfde herhaalde Dos Santos in Maart 2019. Via TKO in de tweede ronde werd tijdens UFC Wichita de Amerikaan Derrick Lewis verslagen. Beide vechters kregen de Fight of the Night bonus.
UFC RECORD
Res.
Tegenstander
Methode
Ronde
Evenement
Datum
Notities
NB
Francis Ngannou
NB
– (-:–)
UFC on ESPN 3: Minneapolis
29 Jun. 2019
Win
Derrick Lewis
TKO (Punches)
2 (1:58)
UFC FN 146: Wichita
9 Mar. 2019
Win
Tai Tuivasa
TKO (Punches)
2 (2:30)
UFC FN 142: Adelaide
1 Dec. 2018
Win
Blagoy Ivanov
Decision (Unanimous)
5 (5:00)
UFC FN 133: Boise
14 Jul. 2018
Loss
Stipe Miocic
TKO (Punches)
1 (2:22)
UFC 211
13 Mei. 2017
UFC Heavyweight Titlefight
Win
Ben Rothwell
Decision (Unanimous)
5 (5:00)
UFC FN 86: Zagreb
10 Apr. 2016
Loss
Alistair Overeem
TKO (Punches)
2 (4:43)
UFC on FOX 17: Orlando
19 Dec. 2015
Win
Stipe Miocic
Decision (Unanimous)
5 (5:00)
UFC on FOX 13: Phoenix
13 Dec. 2014
Loss
Cain Velasquez
TKO (Slam & Punch)
5 (3:09)
UFC 166
19 Okt. 2013
UFC Heavyweight Titlefight
Win
Mark Hunt
KO (Spinning Hookkick)
3 (4:18)
UFC 160
25 Mei. 2013
Loss
Cain Velasquez
Decision (Unanimous)
5 (5:00)
UFC 155
29 Dec. 2012
UFC Heavyweight Titlefight
Win
Frank Mir
TKO (Punches)
2 (3:04)
UFC 146
26 Mei. 2012
UFC Heavyweight Titlefight
Win
Cain Velasquez
KO (Punches)
1 (1:04)
UFC on FOX 1: Anaheim
12 Nov. 2011
UFC Heavyweight Titlefight
Win
Shane Carwin
Decision (Unanimous)
3 (5:00)
UFC 131
11 Jun. 2011
Win
Roy Nelson
Decision (Unanimous)
3 (5:00)
UFC 117
7 Aug. 2010
Win
Gabriel Gonzaga
KO (Punches)
1 (3:53)
UFC Live 1: Broomfield
21 Mar. 2010
Win
Gilbert Yvel
TKO (Punches)
1 (2:07)
UFC 108
2 Jan. 2010
Win
Mirko "CroCop" Filipovic
Verb.Submission (Eye Injury)
3 (2:00)
UFC 103
19 Sep. 2009
Win
Stefan Struve
TKO (Punches)
1 (0:54)
UFC 95
21 Feb. 2009
Win
Fabricio Werdum
KO (Punches)
1 (1:20)
UFC 90
25 Okt. 2008
UFC Heavyweight Debut