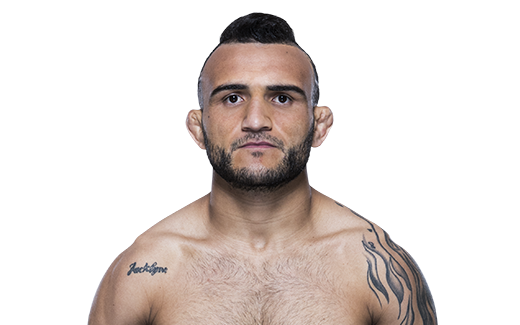 Naam: John Lineker
Bijnaam: Hands of Stone
Record: 31 – 8 – 0 (UFC 12 – 3 – 0)
Geboortedatum: 12-06-1990
Geboorteplaats: Paranaguá, Paraná, Brazilië
Nationaliteit: Braziliaans
Lengte: 1.60m (5ft 3in)
Gewicht: 61kg (135lb)
Divisie: Bantamweight
Vecht uit: Paranaguá, Paraná, Brazilië
Gym: OCS Jiu Jitsu & American Top Team
Actief: 2008 – heden
Twitter: @johnlineker

John Lineker dos Santos de Paula vocht vanaf 2012 tot begin 2015 in de UFC Flyweight divisie. Ondanks dat Lineker een zeer goed record had, en ook in de Top 7 stond van die divisie kreeg hij nooit een titelgevecht aangeboden. Lineker verloor een #1 contender gevecht tegen de Rus Ali Bagautinov, maar dat zal niet eens zo zwaar hebben gewogen. Lineker zelf wel, letterlijk. De Braziliaan miste van zijn acht gevechten in de Flyweight divisie maar liefst viermaal het streefgewicht van maximaal 126 lbs.
De UFC verplichtte Lineker om een divisie omhoog te gaan. En dat verloopt tot nu toe vrij succesvol. De Braziliaan had een winstreak van zes gevechten in de UFC, waarvan vier gevechten in de Bantamweight divisie. Lineker won in 2015 van Francisco Rivera via Guillotine Choke Submission in de eerste ronde. Die ronde was zo fantastisch dat de UFC het gevecht dat iets meer dan twee minuten duurde beloonde met de Fight of the Night bonus. In 2016 won Lineker van Rob Font (Unanimous Decision), Michael McDonald (KO) en een controversiële Split Decision tegen John Dodson. Hierdoor staat Lineker er zelfs nog beter voor dan dat hij er ooit voorstond in de Flyweight divisie.
Een overwinning tegen TJ Dillashaw had Lineker dan ook rechtstreeks kunnen katapulteren richting een titelgevecht….echter kwam die overwinning er niet. Dillashaw was beter en versloeg Lineker via een dominante Unanimous Decision. Dit leverde Dillashaw een titelgevecht op. Lineker keerde vervolgens in Oktober 2017 terug in de Octagon tegen Marlon Vera. In een vrij eenzijdige partij was het Lineker die via Unanimous Decision de overwinning wist te pakken. Lineker zou vervolgens invallen voor Dominick Cruz tegen Jimmie Rivera tijdens UFC 219 in December 2017. Echter moest Lineker een paar dagen voor aanvang van het gevecht verstek laten gaan in verband met een tandontsteking.
Lineker keerde vervolgens terug in de Octagon tijdens UFC 224 in Rio de Janeiro tegen Brian Kelleher. In een zeer attractief en boeiend gevecht wist Lineker uiteindelijk de taaie Kelleher laat in de derde ronde via een harde stoot KO te slaan.
UFC RECORD
Res.
Tegenstander
Methode
Ronde
Evenement
Datum
Notities
NB
Dominick Cruz
NB
– (-:–)
UFC 233
26 Jan. 2019
Win
Brian Kelleher
KO (Punch)
3 (3:43)
UFC 224
12 Mei. 2018
Win
Marlon Vera
Decision (Unanimous)
3 (5:00)
UFC FN 119: São Paulo
28 Okt. 2017
Loss
TJ Dillashaw
Decision (Unanimous)
3 (5:00)
UFC 207
30 Dec. 2016
Win
John Dodson
Decision (Split)
5 (5:00)
UFC FN 96: Portland
1 Okt. 2016
Catchweight Fight (136.5 lbs)
Win
Michael McDonald
KO (Punches)
1 (2:43)
UFC FN 91: Sioux Falls
13 Jul. 2016
Win
Rob Font
Decision (Unanimous)
3 (5:00)
UFC 198
14 Mei. 2016
Win
Francisco Rivera
Submission (Guillotine Choke)
1 (2:08)
UFC 191
5 Sep. 2015
UFC Bantamweight Debut
Win
Ian McCall
Decision (Unanimous)
3 (5:00)
UFC 183
31 Jan. 2015
Catchweight Fight (130 lbs)
Win
Alptekin Özkilic
TKO (Punches)
3 (4:51)
UFC FN 45: Atlantic City
16 Jul. 2014
Loss
Ali Bagautinov
Decision (Unanimous)
3 (5:00)
UFC 169
1 Feb. 2014
Win
Phil Harris
TKO (Punches)
1 (2:51)
UFC FN 30: Manchester
26 Okt. 2013
Catchweight Fight (128 lbs)
Win
José Maria Tomé
TKO (Punches)
2 (1:03)
UFC 163
3 Aug. 2013
Catchweight Fight (129 lbs)
Win
Azamat Gashimov
TKO (Punches)
2 (1:07)
UFC on FX 8: Jaraguá do Sul
18 Mei. 2013
Win
Yasuhiro Urushitani
Decision (Unanimous)
3 (5:00)
UFC on Fuel TV 6: Macau
10 Nov. 2012
Loss
Louis Gaudinot
Tech.Submission (Guillotine Choke)
2 (4:54)
UFC on FOX 3: East Rutherford
5 Mei. 2012
UFC Flyweight Debut