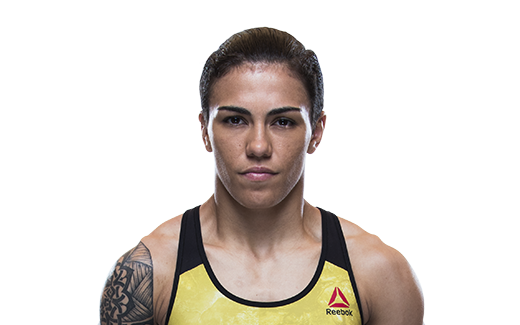 Naam: Jessica Andrade
Bijnaam: Bate Estaca
Record: 18 – 6 – 0 (UFC 9 – 4 – 0)
Geboortedatum: 25-09-1991
Geboorteplaats: Umuarama, Paraná, Brazilië
Nationaliteit: Braziliaans
Lengte: 1.57m (5ft 2in)
Gewicht: 52kg (115lb)
Divisie: Strawweight
Vecht uit: Niteroi, Rio de Janeiro, Brazilië
Gym: Paraná Vale Tudo
Actief: 2011 – heden
Twitter: @jessicammapro

Jessica Andrade vecht sinds 2013 voor de UFC. De Braziliaanse staat bekend om haar goede stand-up game. Andrade is ook goed op de grond, maar prefereert het staande gevecht. Andrade wist in de Women's Bantamweight divisie een record neer te zetten van vier overwinningen en drie verliespartijen. Al jaren lieten critici weten dat Andrade eigenlijk gewoon naar de Women's Strawweight divisie moest gaan omdat ze eigenlijk wat klein is voor de Bantamweight divisie. Andrade deed dit dan ook na haar verlies tegen Raquel Pennington ging ze in 2016 naar de Strawweight divisie. Andrade kreeg meteen een Top 5 vechtster tegenover zich in de naam van voormalig titeluitdaagster Jessica Penne. In een van de beste performances van Andrade liet ze Penne alle hoeken van de Octagon zien en won ze via TKO in de tweede ronde.
Vervolgens stond in September 2016 Muay Thai specialiste Joanne Calderwood tegenover Andrade. Andrade liet opnieuw zien een absolute "force" te zijn in deze gewichtsklasse en finishte de Schotse via een Guillotine Choke Submission laat in de eerste ronde. In haar meest recente partij nam Andrade het op tegen Invicta FC Strawweight Kampioene Angela Hill. In een partij die uiteindelijk werd beloond met een Fight of the Night bonus wist Andrade duidelijk meer te "raken" dan haar Hill. Andrade won het gevecht via Unanimous Decision. Dit leverde haar een titelgevecht op tegen de ongeslagen Poolse Kampioene Joanna Jedrzejczyk. Jedrzejczyk was op alle vlakken beter dan Andrade en domineerde de partij met technisch kickboksen. Andrade verloor na vijf rondes via Unanimous Decision. Andrade keerde vervolgens in September 2017 terug tijdens UFC Saitama tegen landgenote Claudia Gadelha. In een van Andrade's beste prestaties domineerde ze de partij en won ze via Unanimous Decision. Beide vrouwen kregen de Fight of the Night bonus voor dit gevecht. Andrade zou vervolgens gematcht worden tegen Tecia Torres tijdens UFC Orlando in Februari 2018. Andrade was met haar takedowns/slams dominant en won het gevecht via Unanimous Decision.
UFC RECORD
Res.
Tegenstander
Methode
Ronde
Evenement
Datum
Notities
NB
Karolina Kowalkiewicz
NB
– (-:–)
UFC 228
8 Sep. 2018
Win
Tecia Torres
Decision (Unanimous)
3 (5:00)
UFC on FOX 28: Orlando
24 Feb. 2018
Win
Claudia Gadelha
Decision (Unanimous)
3 (5:00)
UFC FN 117: Saitama
23 Sep. 2017
Loss
Joanna Jedrzejczyk
Decision (Unanimous)
5 (5:00)
UFC 211
13 Mei. 2017
UFC Strawweight Titlefight
Win
Angela Hill
Decision (Unanimous)
3 (5:00)
UFC FN 104: Houston
4 Feb. 2017
Win
Joanne Calderwood
Submission (Guillotine Choke)
1 (4:38)
UFC 203
10 Sep. 2016
Win
Jessica Penne
TKO (Punches)
2 (2:56)
UFC 199
4 Jun. 2016
UFC Strawweight Debut
Loss
Raquel Pennington
Submission (RNC)
2 (4:58)
UFC 191
5 Sep. 2015
Win
Sarah Moras
Decision (Unanimous)
3 (5:00)
UFC FN 71: San Diego
15 Jul. 2015
Loss
Marion Reneau
Submission (Triangle Choke)
1 (1:54)
UFC FN 61: Porto Alegre
22 Feb. 2015
Win
Larissa Pacheco
Submission (Guillotine Choke)
3 (5:00)
UFC FN 51: Brasília
13 Sep. 2014
Win
Raquel Pennington
Decision (Split)
3 (5:00)
UFC 171
15 Mar. 2014
Win
Rosi Sexton
Decision (Unanimous)
3 (5:00)
UFC FN 30: Manchester
26 Okt. 2013
Loss
Liz Carmouche
TKO (Punches & Elbows)
2 (3:57)
UFC on FOX 8: Seattle
27 Jul. 2013
UFC Bantamweight Debut