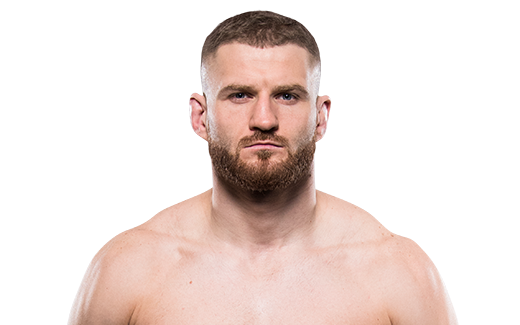 Naam: Jan Blachowicz
Bijnaam: The Prince of Cieszyn
Record: 23 – 7 – 0 (UFC 6 – 4 – 0)
Geboortedatum: 24-02-1983
Geboorteplaats: Cieszyn, Poland
Nationaliteit: Pools
Lengte: 1.88m (6ft 2in)
Gewicht: 93kg (205lb)
Divisie: Light-Heavyweight
Vecht uit: Poznan, Poland
Gym: Thorwdown Training Center
Actief: 2007 – heden
Twitter: @JanBlachowicz

Jan Blachowicz kwam in 2014 met veel hype de UFC binnen. De KSW Kampioen nam het tijdens zijn debuut op tegen het Zweedse powerhouse Ilir Latifi. Blachowicz verraste veel mensen door Latifi voor eigen publiek via TKO vroeg in de eerste ronde te finishen. De Pool mocht een jaar later voor eigen publiek zijn kunsten vertonen tegen de Engelsman Jimi Manuwa. Manuwa was te sterk en won via Unanimous Decision. Eind 2015 werd Blachowicz gematcht met Corey Anderson. Anderson ondervond al snel dat Blachowicz niet comfortabel was op de grond, en controleerde Blachowicz het gehele gevecht. Twee judges scoorden het gevecht 30-25, dit wil zeggen dat men twee 10-8 rondes aan Anderson gaf. Tijdens het evenement in 2016 in Kroatië wist Blachowicz eindelijk weer een overwinning te pakken. In een zeer vermoeiend gevecht was de Pool beter dan thuisvechter Igor Pokrajac en won hij via Unanimous Decision. Tijdens zijn gevecht in September 2016 werd Blachowicz gekoppeld aan Alexander Gustafsson in Hamburg.
Blachowicz had succes met zijn standup, maar ook Gustafsson wist de zwakte van Blachowicz te vinden : De Groundgame. Gustafsson haalde Blachowicz naar de grond en controleerde daar het gevecht om zodoende een Unanimous Decision af te dwingen. In April 2017 vocht Blachowicz tegen Patrick Cummins. In een zeer competitief gevecht was het uiteindelijk Cummins die er met de Majority Decision vandoor ging. Blachowicz keerde vervolgens in Oktober 2017 terug in de Octagon. In zijn geliefde Polen moest Blachowicz zijn UFC contract redden door Devin Clark te verslaan. Blachowicz deed dit op fenomenale wijze door Clark in een soort van Bulldog Choke in de tweede ronde tot aftikken te dwingen. Blachowicz kreeg hiervoor ook nog eens de Performance of the Night bonus. Vervolgens keerde Blachowicz in December 2017 alweer terug. De Pool nam een short notice partij aan tegen de Amerikaan Jared Cannonier. Blachowicz wist het gevecht te winnen via Unanimous Decision.
Blachowicz keerde vervolgens terug tijdens UFC Londen in Maart 2018 tegen Jimi Manuwa. Drie jaar eerder in 2015 versloeg Manuwa de Pool via Unanimous Decision in een zeer saai gevecht. Ditmaal waren de rollen omgedraaid. Blachowicz won in een zeer spectaculair gevecht via Unanimous Decision. Beide mannen wonnen eveneens de Fight of the Night bonus. Blachowicz verwelkomde vervolgens Nikita Krylov terug in de UFC in Moskou. Blachowicz won via D'Arce Choke Submission in de tweede ronde.
UFC RECORD
Res.
Tegenstander
Methode
Ronde
Evenement
Datum
Notities
Win
Nikita Krylov
Submission (D'Arce Choke)
2 (2:41)
UFC FN 136: Moscow
15 Sep. 2018
Win
Jimi Manuwa
Decision (Unanimous)
3 (5:00)
UFC FN 127: London
17 Mar. 2018
Win
Jared Cannonier
Decision (Unanimous)
3 (5:00)
UFC on FOX 26: Winnipeg
16 Dec. 2017
Win
Devin Clark
Submission (RNC)
2 (3:02)
UFC FN 118: Gdańsk
21 Okt. 2017
Loss
Patrick Cummins
Decision (Majority)
3 (5:00)
UFC 210
8 Apr. 2017
Loss
Alexander Gustafsson
Decision (Unanimous)
3 (5:00)
UFC FN 93: Hamburg
3 Sep. 2016
Win
Igor Pokrajac
Decision (Unanimous)
3 (5:00)
UFC FN 86: Zagreb
10 Apr. 2016
Loss
Corey Anderson
Decision (Unanimous)
3 (5:00)
UFC 191
5 Sep. 2015
Loss
Jimi Manuwa
Decision (Unanimous)
3 (5:00)
UFC FN 64: Kraków
11 Apr. 2015
Win
Ilir Latifi
TKO (Bodykick & Punches)
1 (1:58)
UFC FN 53: Stockholm
4 Okt. 2014
UFC Light-Heavyweight Debut