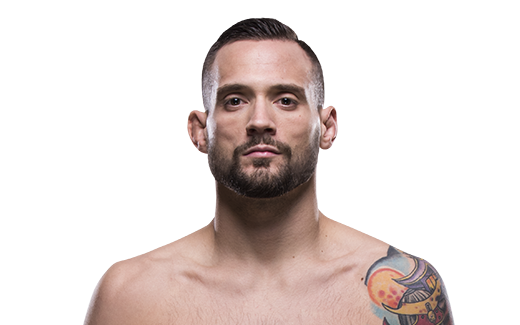 Naam: James Krause
Bijnaam: Thé
Record: 26 – 7 – 0 (UFC 7 – 3 – 0)
Geboortedatum: 04-06-1986
Geboorteplaats: Newport News, Virginia, USA
Nationaliteit: Amerikaans
Lengte: 1.88m (6ft 2in)
Gewicht: 77kg (170lb)
Divisie: Welterweight
Vecht uit: Lee's Summit, Missouri, USA
Gym: Glory MMA & Fitness
Actief: 2007 – heden
Twitter: @TheJamesKrause

James Leo Krause is de enige vechter die aan TUF 25 meedeed die al een UFC contract op zak had. Krause deed in 2012 mee aan TUF 15. Hier verloor Krause echter al in de eliminatie ronde tegen Justin Lawrence vroeg in de eerste ronde via TKO. Ondanks dit gegeven kreeg Krause in 2013 alsnog een kans in de UFC. Krause verraste vriend en vijand door thuisfavoriet Sam Stout te finishen via een Guillotine Choke Submission in de derde ronde. Dit leverde Krause zowel de Performance als Fight of the Night bonus op, een totaalbedrag van $100.000. In de vier gevechten hierna werd alleen voormalig WEC Kampioen Jamie Varner verslagen, maar gingen gevechten tegen Bobby Green, Jorge Masvidal en Valmir Lazaro verloren. Krause wist dat hij het daarop volgende gevecht tegen Daron Cruickshank moest winnen, en deed dat in de eerste ronde via een Rear Naked Choke Submission. Nadat Krause in Februari 2016 ook van Shane Campbell wist te winnen stond zijn winstreak op twee gevechten en was de weg naar boven ingezet. Krause stond vervolgens tweemaal gepland om het op te nemen tegen Ross Pearson. Krause raakte echter beide malen geblesseerd waardoor hij niet kon vechten.
Toen de UFC het Redemption seizoen van TUF aankondigde wilde Krause ondanks dat hij al een contract binnen de organisatie had deelnemen. De UFC stemde in waarna Krause het achtereenvolgens opnam tegen Johnny Nunez, Ramsey Nijem en Jesse Taylor. Helaas werd het laatste gevecht door Krause verloren, waardoor hij de finale misliep. Krause nam het hierdoor op tegen Tom Gallicchio tijdens de Prelims van de TUF Finale. Krause was over drie rondes te sterk en won via Unanimous Decision. Krause keerde vervolgens terug in de Lightweight divisie tijdens UFC St.Louis in Januari 2018 tegen Alex White. Krause won het gevecht via Unanimous Decision. Vervolgens keerde Krause terug in de Welterweight divisie. Tijdens UFC Lincoln stond de Braziliaan Warlley Alves tegenover hem. Krause wist een keiharde knie te landen tegen het hoofd van Alves die daardoor aangeslagen was. Krause finishte vervolgens via TKO in de tweede ronde.
UFC RECORD
Res.
Tegenstander
Methode
Ronde
Evenement
Datum
Notities
Win
Warlley Alves
TKO (Knee & Punches)
2 (2:28)
UFC FN 135: Lincoln
25 Aug. 2018
Terugkeer in Welterweight
Win
Alex White
Decision (Unanimous)
3 (5:00)
UFC FN 124: St.Louis
14 Jan. 2018
UFC Lightweight Fight
Win
Tom Gallicchio
Decision (Unanimous)
3 (5:00)
TUF 25 Finale
7 Jul. 2017
UFC Welterweight Debut
Win
Shane Campbell
Decision (Unanimous)
3 (5:00)
UFC FN 83: Pittsburgh
21 Feb. 2016
Win
Daron Cruickshank
Submission (RNC)
1 (1:27)
UFC on FOX 16: Chicago
25 Jul. 2015
Loss
Valmir Lazaro
Decision (Split)
3 (5:00)
UFC 184
28 Feb 2015
Loss
Jorge Masvidal
Decision (Unanimous)
3 (5:00)
UFC 178
27 Sep. 2014
Win
Jamie Varner
TKO (Ankle Injury)
1 (5:00)
UFC 173
24 Mei. 2014
Loss
Bobby Green
TKO (Bodykick)
2 (4:11)
UFC FN 31: Fort Campbell
6 Nov. 2013
Win
Sam Stout
Submission (Guillotine Choke)
3 (4:47)
UFC 161
15 Jun. 2013
UFC Lightweight Debut