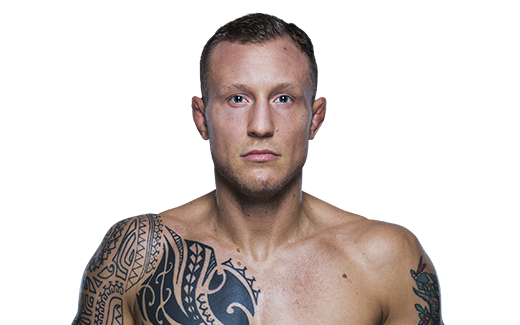 Naam: Jack Hermansson
Bijnaam: The Joker
Record: 19 – 4 – 0 (UFC 6 – 2 – 0)
Geboortedatum: 10-06-1988
Geboorteplaats: Uddevalla, Zweden
Nationaliteit: Zweeds, Noors
Lengte: 1.85m (6ft 1in)
Gewicht: 84kg (185lb)
Divisie: Middleweight
Vecht uit: Oslo, Noorwegen
Gym: Frontline Academy
Actief: 2010 – heden
Twitter: @jackthejokermma

Jack Hermansson is een voormalig Cage Warriors FC Kampioen die in 2016 door de UFC werd gecontracteerd. De Zweedse Noor maakte zijn debuut tijdens UFC Hamburg tegen voormalig BAMMA Kampioen Scott Askham. In een zeer attractief standup gevecht was Hermansson over drie rondes de betere, en won hij zijn debuut via Unanimous Decision. Een paar maanden later in November 2016 stond TUF Brazil 1 winnaar Cezar Ferreira tegenover Hermansson. Ferreira wist Hermansson in de tweede ronde te finishen via Arm-Triangle Choke Submission en brak daarmee de 9 fight winstreak van Hermansson die al sinds 2013 niet meer had verloren. Hermansson kwam echter in Mei 2017 zeer sterk terug. Hermansson versloeg in Zweden de Amerikaan Alex Nicholson via TKO in de eerste ronde. Hermansson pakte echter snel door en vocht in Augustus 2017 in Mexico City tegen de Engelsman Bradley Scott. Via TKO in de eerste ronde wist Hermansson opnieuw een overwinning bij te schrijven. Echter ging het daarna mis voor Hermansson.
In zijn partij twee maanden later tegen Thiago Santos werd Hermansson via TKO in de eerste ronde verslagen. Hermansson keerde vervolgens in Mei 2018 terug in de Octagon tegen de Braziliaan BJJ expert Thales Leites. Leites domineerde (mede door een blessure van Hermansson) de eerste twee rondes. Ook de derde ronde leek dezelfde kant op te gaan, totdat Hermansson zijn tegenstander wist om te draaien en harde ground and pound wist te landen. Hierdoor won Hermansson via TKO in de derde ronde. Hermansson werd vervolgens tijdens UFC Milwaukee gematcht tegen Gerald Meerschaert. Hermansson vocht zeer sterk en won de partij via Guillotine Choke Submission in de eerste ronde. Ditzelfde kunststukje herhaalde hij ook tijdens UFC Philadelphia in Maart 2019. Tegen David Branch werd binnen een minuut gewonnen via Guillotine Choke Submission.
UFC RECORD
Res.
Tegenstander
Methode
Ronde
Evenement
Datum
Notities
NB
Ronaldo "Jacaré" Souza
NB
– (-:–)
UFC on ESPN 3: Fort Lauderdale
27 Apr. 2019
Win
David Branch
Submission (Guillotine Choke)
1 (0:49)
UFC on ESPN 2: Philadelphia
30 Mar. 2019
Win
Gerald Meerschaert
Submission (Guillotine Choke)
1 (4:25)
UFC on FOX 31: Milwaukee
15 Dec. 2018
Win
Thales Leites
TKO (Punches)
3 (2:10)
UFC 224
12 Mei. 2018
Loss
Thiago Santos
TKO (Bodykick & Punches)
1 (4:59)
UFC FN 119: São Paulo
28 Okt. 2017
Win
Bradley Scott
TKO (Punches)
1 (3:50)
UFC FN 114: Mexico City
5 Aug. 2017
Win
Alex Nicholson
TKO (Punches)
1 (2:00)
UFC FN 109: Stockholm
28 Mei. 2017
Loss
Cezar Ferreira
Submission (Arm-Triangle Choke)
2 (2:11)
UFC FN 100: São Paulo
19 Nov. 2016
Win
Scott Askham
Decision (Unanimous)
3 (5:00)
UFC FN 93: Hamburg
3 Sep. 2016
UFC Middleweight Debut