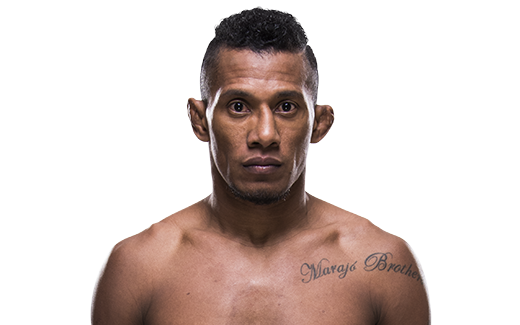 Naam: Iuri Alcântara
Bijnaam: Marajó
Record: 36 – 10 – 0 – 1 (UFC 10 – 7 – 0 – 1)
Geboortedatum: 04-08-1980
Geboorteplaats: Marajó, Pará, Brazilië
Nationaliteit: Braziliaans
Lengte: 1.75m (5ft 9in)
Gewicht: 61kg (135lb)
Divisie: Bantamweight
Vecht uit: Soure, Pará, Brazilië
Gym: Marajó Brothers Team
Actief: 2004 – heden
Twitter: @iurimarajo

Iuri Alcantara kwam door de fusie van de WEC met de UFC in 2011 de organisatie binnen. Alcantara wist zijn eerste twee gevechten tegen Michihiro Omigawa en Felipe Arantes te winnen, maar beet zich stuk op landgenoot Hacran Dias. Hierna volgde een No Contest tegen Pedro Nobre en een KO overwinning tegen Iliarde Santos. Dit leverde Alcantara een gevecht op tegen topcontender Urijah Faber. Alcantara domineerde onverwacht de eerste ronde, maar bleek uiteindelijk niet opgewassen tegen Faber en delfde het onderspit via Unanimous Decision. Vervolgens bleef Alcantara in 2014 in drie gevechten ongeslagen. Onder andere Wilson Reis en Russell Doane werden verslagen.
Begin 2015 verloor Alcantara als grootste favoriet op de card tegen Frankie Saenz via Unanimous Decision. Alcantara herstelde datzelfde jaar door Leandro Issa te verslaan via Unanimous Decision, maar begon het nieuwe jaar (2016) opnieuw matig door ditmaal te verliezen van Jimmie Rivera via Unanimous Decision. Dit leverde de Braziliaan wel de Fight of the Night bonus op. Tijdens zijn gevecht in Londen in Oktober 2016 nam hij het op tegen thuisfavoriet Brad Pickett. Iuri Alcantara leek herboren en zette via Triangle Choke Submission in de eerste ronde waarschijnlijk zijn beste performance in zijn UFC carrière neer. Ditmaal door de UFC beloond met de Performance of the Night bonus. Diezelfde Performance of the Night bonus won Alcantara ook tijdens zijn voorlaatste gevecht voor de UFC. In een van de beste comebacks tot nu toe in 2017 wist Alcantara na 7 minuten volledig gedomineerd te zijn door de ongeslagen Luke Sanders toch nog een konijn uit de hoed te toveren. Alcantara wist een Kneebar Submission aan te zetten bij Sanders die daarop aftikte.
Een overwinning die Alcantara terug bracht in de Top 15 van de divisie. Echter ging het vervolgens in Juni 2017 voor eigen publiek wel mis voor de Braziliaan. Late replacement en UFC debutant Brian Kelleher verraste Alcantara vroeg in de eerste ronde met een Guillotine Choke Submission. Dit was het gevolg van een zeer zwakke takedown van de Braziliaan. Alcantara viel hierdoor voor het eerst sinds jaren buiten de Top 15. In December 2017 vervolgde Alcantara zijn carrière tegen de Mexicaan Alejandro Perez. Wederom wist Alcantara niet te overtuigen waardoor hij ditmaal verloor via Unanimous Decision. Alcantara keerde vervolgens terug tijdens UFC Belem in Februari 2018 tegen Joe Soto. Alcantara wist zijn losing streak te doorbreken door Soto via TKO vroeg in de eerste ronde te finishen. Alcantara kreeg hiervoor de Performance of the Night bonus. Alcantara ging vervolgens tijdens UFC Lincoln goed van start in Augustus 2018 tegen Cory Sandhagen. Alcantara leek Sandhagen klem te hebben in een Armbar. Echter kwam Sandhagen er op miraculeuze wijze uit. De Amerikaan verloeg Alcantara vervolgens met keiharde ground and pound in de tweede ronde.
UFC RECORD
Res.
Tegenstander
Methode
Ronde
Evenement
Datum
Notities
Loss
Cory Sandhagen
TKO (Punches)
2 (1:01)
UFC FN 135: Lincoln
25 Aug. 2018
Win
Joe Soto
TKO (Body Punch, Elbows & Punches)
1 (1:06)
UFC FN 125: Belém
3 Feb. 2018
Loss
Alejandro Perez
Decision (Unanimous)
3 (5:00)
UFC FN 123: Fresno
9 Dec. 2017
Loss
Brian Kelleher
Submission (Guillotine Choke)
1 (1:48)
UFC 212
3 Jun. 2017
Win
Luke Sanders
Submission (Kneebar)
2 (3:13)
UFC 209
4 Mar. 2017
Win
Brad Pickett
Submission (Triangle Choke)
1 (1:56)
UFC 204
8 Okt. 2016
Loss
Jimmie Rivera
Decision (Unanimous)
3 (5:00)
UFC on FOX 18: Newark
30 Jan. 2016
Win
Leandro Issa
Decision (Unanimous)
3 (5:00)
UFC 190
1 Aug. 2015
Loss
Frankie Saenz
Decision (Unanimous)
3 (5:00)
UFC FN 61: Port Alegre
22 Feb. 2015
Win
Russell Doane
Decision (Unanimous)
3 (5:00)
UFC FN 51: Brasília
13 Sep. 2014
Win
Vaughan Lee
KO (Punches)
1 (0:25)
UFC FN 41: Berlin
31 Mei 2014
Win
Wilson Reis
Decision (Split)
3 (5:00)
UFC FN 36: Jaraguá do Sul
15 Feb. 2014
Loss
Urijah Faber
Decision (Unanimous)
3 (5:00)
UFC FN 26: Boston
17 Aug. 2013
Win
Iliarde Santos
KO (Punches)
1 (2:31)
UFC on FX 8: Jaraguá do Sull
18 Mei 2013
NC
Pedro Nobre
No Contest (Punches to the Back of the Head)
1 (2:11)
UFC on FX 7: São Paulo
19 Jan. 2013
UFC Bantamweight Debut
Loss
Hacran Dias
Decision (Unanimous)
3 (5:00)
UFC 147
23 Jun. 2012
Win
Michihiro Omigawa
Decision (Unanimous)
3 (5:00)
UFC 142
14 Jan. 2012
Win
Felipe Arantes
Decision (Unanimous)
3 (5:00)
UFC 134
27 Aug. 2011
UFC Featherweight Debut