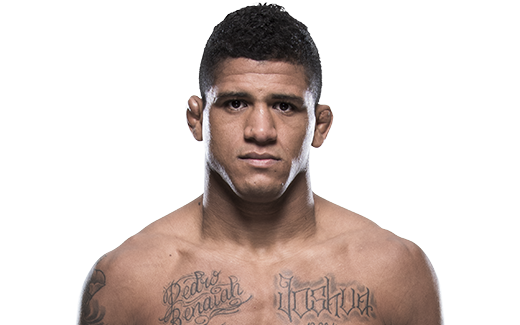 Naam: Gilbert Burns
Bijnaam: Durinho
Record: 15 – 3 – 0 (UFC 7 – 3 – 0)
Geboortedatum: 20-07-1986
Geboorteplaats: Niterói, Rio de Janeiro, Brazilië
Nationaliteit: Braziliaans
Lengte: 1.78m (5ft 10in)
Gewicht: 70kg (155lb)
Divisie: Lightweight
Vecht uit: Boca Raton, Florida, USA
Gym: Hard Knocks 365
Actief: 2012 – heden
Twitter: @GilbertDurinho

Gilbert Alexander Burns wordt door zijn eigen team (Hard Knocks 365) gezien als het grootste BJJ talent dat er rondloopt. Burns kwam met een 8-0 record in 2014 de UFC binnen. De Braziliaan wist zijn debuut voor de organisatie in winst om te zetten via Unanimous Decision tegen Andreas Stahl. Na overwinningen beiden via Armbar Submission tegen Christos Giagos en Alex Oliveira (beiden leverden de Performance of the Night bonus op) stond Burns tegen de sterke Dagestani Rashid Magomedov. Magomedov kende in Brazilië weinig problemen met Burns, en won alle drie de rondes waardoor hij Burns via Unanimous Decision zijn eerste nederlaag van zijn Pro-MMA carrière wist toe te brengen. In Juli 2016 tijdens International Fight Week revancheerde Burns zich voor zijn nederlaag. De Pool Lukasz Sajewski werd in de eerste ronde (opnieuw) via Armbar Submission gefinisht.
In September 2016 stond Burns tegenover landgenoot Michel Prazeres. Prazeres domineerde volgens velen verrassend de partij, en bracht Burns nederlaag nummer twee toe. Burns zou vervolgens begin 2017 terugkeren in de Octagon tegen Paul Felder, echter gooide een blessure roet in het eten. Vervolgens maakte Burns wel zijn opwachting tijdens UFC Pittsburgh tegen de Canadees Jason Saggo. Burns won via een indrukwekkende KO aan het einde van de tweede ronde. Burns zou vervolgens vechten tegen Olivier Aubin-Mercier tijdens UFC on FOX 28 in Orlando, Florida maar werd omwille van gezondheidsredenen van de card gehaald. Burns zou het vervolgens tijdens UFC Glendale in April 2018 gaan opnemen tegen Lando Vannata, echter werd de partij uiteindelijk niet gerealiseerd en werd nieuwkomer Dan Moret als vervanger gematcht. Burns won het gevecht via KO in de tweede ronde.
Burns kon zijn goede streak in Juli 2018 geen vervolg geven. Tijdens UFC 226 werd verloren van de Nieuw-Zeelander Daniel Hooker via KO in de eerste ronde. De UFC deed vervolgens wederom een poging om Burns te koppelen aan Olivier Aubin-Mercier. Dit gevecht zou plaatsvinden in December 2018 in Toronto. Burns vocht erg sterk en nam een overtuigende Unanimous Decision mee naar huis.
UFC RECORD
Res.
Tegenstander
Methode
Ronde
Evenement
Datum
Notities
Win
Olivier Aubin-Mercier
Decision (Unanimous)
3 (5:00)
UFC 231
8 Dec. 2018
Loss
Daniel Hooker
KO (Punches)
1 (2:28)
UFC 226
7 Jul. 2018
Win
Dan Moret
KO (Punch)
2 (0:59)
UFC on FOX 29: Glendale
14 Apr. 2018
Win
Jason Saggo
KO (Punch)
2 (4:55)
UFC FN 116: Pittsburgh
16 Sep. 2017
Loss
Michel Prazeres
Decision (Unanimous)
3 (5:00)
UFC FN 95: Brasília
24 Sep. 2016
Catchweight Fight (158 lbs)
Win
Lukasz Sajewski
Submission (Armbar)
1 (4:57)
UFC FN 90: Las Vegas
7 Jul. 2016
Loss
Rashid Magomedov
Decision (Unanimous)
3 (5:00)
UFC FN 77: São Paulo
7 Nov. 2015
Win
Alex Oliveira
Submission (Armbar)
3 (4:14)
UFC FN 62: Rio de Janeiro
21 Mar. 2015
Win
Christos Giagos
Submission (Armbar)
1 (4:57)
UFC 179
25 Okt. 2014
UFC Lightweight Debut
Win
Andreas Stahl
Decision (Unanimous)
3 (5:00)
UFC on FOX 12: San Jose
26 Jul. 2014
UFC Welterweight Debut