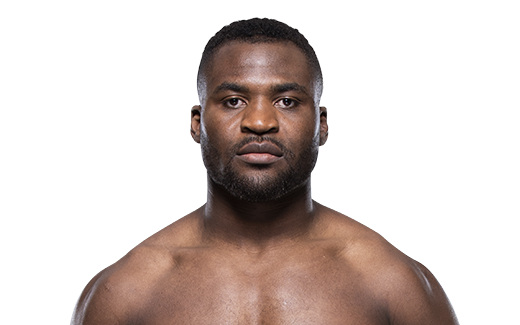 Naam: Francis Ngannou
Bijnaam: The Predator
Record: 12 – 3 – 0 (UFC 7 – 2 – 0)
Geboortedatum: 05-09-1986
Geboorteplaats: Batié, Kameroen
Nationaliteit: Kameroener, Frans
Lengte: 1.93m (6ft 4in)
Gewicht: 120kg (265lb)
Divisie: Heavyweight
Vecht uit: Las Vegas, Nevada, USA
Gym: MMA Factory & Xtreme Couture
Actief: 2013 – heden
Twitter: @Francis_Ngannou

Francis Ngannou kwam in December 2015 de UFC binnen. Hij nam het op tegen Luis Henrique de Oliveira in zijn UFC debuut. Ngannou won via een spectaculaire KO in de tweede ronde waardoor hij mocht spreken van een succesvol debuut. Ngannou zou het vervolgens in April 2016 opnemen tegen Bojan Mihajlovic, maar Mihajlovic raakte geblesseerd. Nieuwkomer Curtis Blaydes viel in en vocht in Zagreb tegen Ngannou. Ngannou won via TKO na het einde van de tweede ronde nadat de dokter het gevecht gestopt omdat Blaydes niet meer kon zien door zwelling bij zijn oog. In Juli 2016 werd het gevecht tegen Mihajlovic opnieuw ingepland. Ngannou had geen problemen met de Serviër en stopte hem via TKO vroeg in de eerste ronde.
Ngannou die inmiddels afwisselend bij de MMA Factory (Parijs) en in Las Vegas bij Xtreme Couture traint nam het vervolgens op tegen Anthony Hamilton. Ngannou liet zien ook over Submissions te beschikken en versloeg Hamilton via een Kimura Submission in de eerste ronde. Dit leverde de Frans-Kameroener de Performance of the Night bonus op. Tijdens zijn partij in Februari 2017 stond voormalig Heavyweight Kampioen Andrei Arlovski tegenover Ngannou. Ngannou had akelig weinig moeite met de legende en versloeg hem via TKO in de eerste ronde. Ngannou zou vervolgens vechten tegen Junior Dos Santos. Echter werd Dos Santos in verband met een potentiële USADA overtreding van het gevecht gehaald en werd er geen vervanger gevonden.
Ngannou kreeg vervolgens in December 2017 zijn gewenste gevecht tegen de Nederlander Alistair Overeem. Ngannou wist Overeem met een zeer harde geplaatste stoot vol op zijn kin te raken. De Nederlander ging zwaar KO. Ngannou won de Performance of the Night bonus, en misschien nog wel belangrijker, de kans om te vechten voor het eremetaal in de Heavyweight divisie. Tijdens UFC 220 stond Ngannou tegenover Heavyweight Kampioen Stipe Miocic. Bij Ngannou was na de eerste ronde zijn conditie op. Miocic profiteerde en versloeg Ngannou zonder al teveel moeite via Unanimous Decision en behield zijn titel.
Ngannou maakte vervolgens zijn opwachting tijdens UFC 226 in Juli 2018 tegen Derrick Lewis. De partij die op papier een absolute knaller zou moeten worden stelde vreselijk teleur. Een van de slechtste Heavyweight partijen uit de historie van de UFC. Lewis deed net iets meer dan Ngannou en pakte de overwinning. Ngannou wist vervolgens in een rematch tegen Curtis Blaydes zijn losing streak te doorbreken. Ngannou won via TKO binnen 45 seconden.
UFC RECORD
Res.
Tegenstander
Methode
Ronde
Evenement
Datum
Notities
Win
Curtis Blaydes
TKO (Punches)
1 (0:45)
UFC FN 141: Beijing
24 Nov. 2018
Loss
Derrick Lewis
Decision (Unanimous)
3 (5:00)
UFC 226
7 Jul. 2018
Loss
Stipe Miocic
Decision (Unanimous)
5 (5:00)
UFC 220
20 Jan. 2018
UFC Heavyweight Titlefight
Win
Alistair Overeem
KO (Punch)
1 (1:42)
UFC 218
2 Dec. 2017
Win
Andrei Arlovski
TKO (Punches)
1 (1:32)
UFC on FOX 23: Denver
28 Jan. 2017
Win
Anthony Hamilton
Submission (Kimura)
1 (1:57)
UFC FN 102: Albany
9 Dec. 2016
Win
Bojan Mihajlovic
TKO (Punches)
1 (1:34)
UFC on FOX 20: Chicago
23 Jul. 2016
Win
Curtis Blaydes
TKO (Doctor Stoppage)
2 (5:00)
UFC FN 86: Zagreb
10 Apr. 2016
Win
Luis Henrique de Oliveira
KO (Punch)
2 (2:53)
UFC on FOX 17: Orlando
19 Dec. 2015
UFC Heavyweight Debut