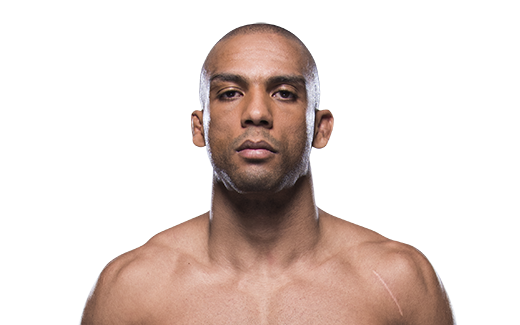 Naam: Edson Barboza
Bijnaam: Junior
Record: 20 – 7 – 0 (UFC 14 – 7 – 0)
Geboortedatum: 21-01-1986
Geboorteplaats: Nova Friburgo, Rio de Janeiro, Brazilië
Nationaliteit: Braziliaans
Lengte: 1.80m (5ft 11in)
Gewicht: 70kg (155lb)
Divisie: Lightweight
Vecht uit: Nova Friburgo, Rio de Janeiro, Brazilië
Gym: American Top Team
Actief: 2009 – heden
Twitter: @EdsonBarbozaJR

Edson Mendes Barboza Junior vecht sinds 2010 voor de UFC. De populaire vechter uit Rio de Janeiro staat bekend om zijn zeer sterke standup game. Barboza won zijn eerste vier gevechten binnen de UFC, waaronder de Highlight-Reel Spinning Backkick KO tegen Terry Etim. Barboza werd gezien als een toekomstig kampioen, maar verloor verrassend in zijn vijfde wedstrijd voor de organisatie tegen oud WEC Kampioen Jamie Varner. Barboza komt vervolgens continu in hetzelfde perspectief terecht : Kortbij een titelgevecht/contendergevecht, maar dan op het laatste moment net niet.
Na zijn verlies tegen inmiddels topcontender Tony Ferguson lijkt Edson Barboza herboren. Zo werd oud Lightweight Kampioen Anthony Pettis in 2016 verslagen, en werd ook oud Strikeforce Lightweight Kampioen Gilbert Melendez verslagen. Barboza vocht vervolgens begin 2017 tegen de taaie Beneil Dariush. Na een matige eerste ronde van de Braziliaan was het vervolgens in de tweede ronde bingo van Barboza. Via een vernietigende Flying Knee wist hij Dariush zwaar KO te trappen en hiermee de Performance of the Night bonus in de wacht te slepen. Barboza werd vervolgens ingepland tegen de ongeslagen Khabib Nurmagomedov in December 2017. Nurmagomedov domineerde de Braziliaan van begin tot eind en won een Unanimous Decision.
Barboza kreeg vervolgens tijdens UFC Atlantic City in April 2018 zijn eerste Main Event aangeboden. Barboza nam het op tegen Kevin Lee. De Braziliaan werd ongeveer het hele gevecht gedomineerd door Lee. Uiteindelijk werd het gevecht in de vijfde ronde op het advies van de dokter gestopt in verband met een grote scheur boven het oog van Barboza. Barboza wist vervolgens zijn losing streak van twee gevechten in December 2018 te doorbreken. In een zeer spectaculair gevecht versloeg Barboza de Nieuw-Zeelander Daniel Hooker via KO na een vernietigende stoot naar het lichaam. Barboza kon deze overwinning in Maart 2019 echter geen goed vervolg geven. Tijdens UFC Philadelphia ging de Braziliaan zwaar KO in de eerste ronde tegen Justin Gaethje.
UFC RECORD
Res.
Tegenstander
Methode
Ronde
Evenement
Datum
Notities
Loss
Justin Gaethje
KO (Punch)
1 (2:30)
UFC on ESPN 2: Philadelphia
30 Mar. 2019
Win
Daniel Hooker
KO (Bodypunch)
3 (2:19)
UFC on FOX 31: Milwaukee
15 Dec. 2018
Loss
Kevin Lee
TKO (Doctor Stoppage)
5 (2:18)
UFC FN 128: Atlantic City
21 Apr. 2018
Catchweight Fight (157 lbs)
Loss
Khabib Nurmagomedov
Decision (Unanimous)
3 (5:00)
UFC 219
30 Dec. 2017
Win
Beneil Dariush
KO (Flying Knee)
2 (3:35)
UFC FN 106: Fortaleza
11 Mar. 2017
Win
Gilbert Melendez
Decision (Unanimous)
3 (5:00)
UFC on FOX 20: Chicago
23 Jul. 2016
Win
Anthony Pettis
Decision (Unanimous)
3 (5:00)
UFC 197
23 Apr. 2016
Loss
Tony Ferguson
Submission (D'Arce Choke)
2 (2:54)
TUF 22 Finale
11 Dec. 2015
Win
Paul Felder
Decision (Unanimous)
3 (5:00)
UFC on FOX 16: Chicago
25 Jul. 2015
Loss
Michael Johnson
Decision (Unanimous)
3 (5:00)
UFC FN 61: Porto Alegre
22 Feb. 2015
Win
Bobby Green
Decision (Unanimous)
3 (5:00)
UFC FN 57: Austin
22 Nov. 2014
Win
Evan Dunham
TKO (Bodykick & Punches)
1 (3:06)
UFC FN 45: Atlantic City
16 Jul. 2014
Loss
Donald Cerrone
Submission (RNC)
1 (3:15)
UFC on FOX 11: Orlando
19 Apr. 2014
Win
Danny Castillo
Decision (Majority)
3 (5:00)
UFC on FOX 9: Sacramento
14 Dec. 2013
Win
Rafaello Oliveira
TKO (Leg Kicks)
2 (1:44)
UFC 162
6 Jul. 2013
Win
Lucas Martins
TKO (Punches)
1 (2:38)
UFC on FX 7: São Paulo
19 Jan. 2013
Loss
Jamie Varner
TKO (Punches)
1 (3:23)
UFC 146
26 Mei. 2012
Win
Terry Etim
KO (Wheel Kick)
3 (2:02)
UFC 142
14 Jan. 2012
Win
Ross Pearson
Decision (Split)
3 (5:00)
UFC 134
27 Aug. 2011
Win
Anthony Njokuani
Decision (Unanimous)
3 (5:00)
UFC 128
19 Mar. 2011
Win
Mike Lullo
TKO (Leg Kicks)
3 (0:26)
UFC 123
20 Nov. 2010
UFC Lightweight Debut