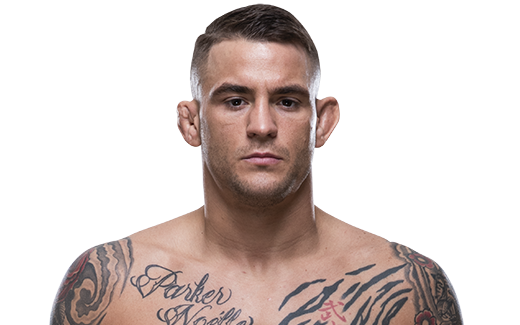 Naam: Dustin Poirier
Bijnaam: The Diamond
Record: 24 – 5 – 0 – 1 (UFC 16 – 4 – 0 – 1)
Geboortedatum: 19-01-1989
Geboorteplaats: Lafayette, Louisiana, USA
Nationaliteit: Amerikaans
Lengte: 1.75m (5ft 9in)
Gewicht: 70kg (155lb)
Divisie: Lightweight
Vecht uit: Coconut Creek, Florida, USA
Gym: American Top Team
Actief: 2009 – heden
Twitter: @DustinPoirier

Dustin Glenn Poirier kwam in 2011 door de fusie van de WEC met de UFC de organisatie binnen. De man uit Lafayette, Louisiana maakte meteen indruk in de Octagon. Zo werd er viermaal achter elkaar gewonnen van onder meer Pablo Garza, Josh Grispi en Max Holloway. Wel dient gezegd te worden dat dit het debuut was van Holloway in de UFC. De winstreak leverde Poirier een #1 contenderfight op met de Zuid-Koreaan Chan Sung Jung. In een gevecht dat door meerdere media outlets werd verkozen tot gevecht van het jaar verloor Poirier via zijn eigen specialiteit de D'Arce Choke Submission in de vierde ronde. Een half jaar later wist Poirier met diezelfde Submission TUF 12 winnaar Jonathan Brookins te verslaan. Vervolgens ging een Unanimous Decision verloren tegen Cub Swanson, maar werd wel gewonnen van Erik Koch, Diego Brandão en Akira Corassani.
De UFC koppelde Poirier vervolgens aan de Ier Conor McGregor. In een van de slechtste gevechten van Poirier versloeg McGregor de man uit Lafayette betrekkelijk eenvoudig in de eerste ronde via TKO. Poirier liet weten dat de weight-cut naar Featherweight te zwaar was en ging omhoog in gewicht naar Lightweight. Daar zagen we de oude Poirier weer terug. In 2015 werden Carlos Diego Ferreira (KO) en Yancy Medeiros (TKO) beiden in de eerste ronde verslagen. In 2016 leek met een Unanimous Decision win op Joseph Duffy en een KO overwinning op Bobby Green de Top 5 steeds dichter in de buurt te komen. Echter werd dit wreed verstoord door Michael Johnson. Johnson wist Poirier in het Main Event van UFC Fight Night 94 in Hidalgo in de eerste ronde KO te slaan. Poirier's 4-fight winstreak in de UFC werd dus voor de tweede keer in zijn carrière gekraakt.
Begin 2017 vocht Poirier in een Fight of the Night performance tegen Jim Miller. Via Majority Decision wist Poirier het gevecht naar zich toe te trekken. Vervolgens vocht Poirier tijdens UFC 211 tegen voormalig UFC Lightweight Kampioen Eddie Alvarez. Poirier wist Alvarez in de eerste ronde meerdere keren aan het wankelen te krijgen, maar kon het gevecht niet beëindigen. Alvarez deed dit in de tweede ronde wel, maar had daar illegale technieken voor nodig. Hierdoor werd het gevecht door scheidsrechter Herb Dean gestopt. De uitkomst was een No Contest. Poirier kreeg vervolgens de kans om het tijdens UFC Norfolk in November 2017 op te nemen tegen voormalig Lightweight Kampioen Anthony Pettis. In een fantastisch gevecht was het uiteindelijk Poirier die via TKO (Rib Blessure) wist te winnen. Een anti-climax, maar wel een fantastisch gevecht dat beloond werd met de Fight of the Night bonus.
Poirier vocht vervolgens tijdens het Main Event van UFC Glendale in April 2018 tegen Justin Gaethje. Poirier won het spektakelstuk via TKO in de vierde ronde, en kreeg daarvoor de Fight of the Night bonus. Vervolgens nam Poirier het tijdens het Main Event van UFC Calgary in Juli 2018 op tegen Eddie Alvarez. De lang verwachte rematch wist Poirier in zijn voordeel te beslechten via TKO in de tweede ronde.
UFC RECORD
Res.
Tegenstander
Methode
Ronde
Evenement
Datum
Notities
NB
Nate Diaz
NB
– (-:–)
UFC 230
3 Nov. 2018
Win
Eddie Alvarez
TKO (Punches)
2 (4:05)
UFC on FOX 30: Calgary
28 Jul. 2018
Win
Justin Gaethje
TKO (Punches)
4 (0:33)
UFC on FOX 29: Glendale
14 Apr. 2018
Win
Anthony Pettis
TKO (Rib Injury)
3 (2:08)
UFC FN 120: Norfolk
11 Nov. 2017
NC
Eddie Alvarez
No Contest (Illegal Knees)
2 (4:12)
UFC 211
13 Mei. 2017
Poirier kon niet meer verder na illegale knietechnieken van Alvarez
Win
Jim Miller
Decision (Majority)
3 (5:00)
UFC 208
11 Feb. 2017
Loss
Michael Johnson
KO (Punches)
1 (1:35)
UFC FN 94: Hidalgo
17 Sep. 2016
Win
Bobby Green
KO (Punches)
1 (2:52)
UFC 199
4 Jun. 2016
Win
Joseph Duffy
Decision (Unanimous)
3 (5:00)
UFC 195
2 Jan. 2016
Win
Yancy Medeiros
TKO (Bodykick & Punches)
1 (2:38)
UFC FN 68: New Orleans
6 Jun. 2015
Catchweight Fight (159.5 lbs)
Win
Carlos Diego Ferreira
KO (Punches)
1 (3:45)
UFC FN 63: Fairfax
4 Apr. 2015
UFC Lightweight Debut
Loss
Conor McGregor
TKO (Punches)
1 (1:46)
UFC 178
27 Sep. 2014
Win
Akira Corassani
TKO (Punches)
2 (0:42)
TUF Nations Finale
16 Apr. 2014
Win
Diego Brandão
KO (Punches)
1 (4:54)
UFC 168
28 Dec. 2013
Catchweight Fight (151.5 lbs)
Win
Erik Koch
Decision (Unanimous)
3 (5:00)
UFC 164
31 Aug. 2013
Loss
Cub Swanson
Decision (Unanimous)
3 (5:00)
UFC on Fuel TV 7: London
16 Feb. 2013
Win
Jonathan Brookins
Submission (D'Arce Choke)
1 (4:15)
TUF 16 Finale
15 Dec. 2012
Loss
Chan Sung Jung
Tech.Submission (D'Arce Choke)
4 (1:07)
UFC on Fuel TV 3: Fairfax
15 Mei. 2012
Win
Max Holloway
Submission (Mounted Triangle Armbar)
1 (3:23)
UFC 143
4 Feb. 2012
Win
Pablo Garza
Submission (D'Arce Choke)
2 (1:32)
UFC on FOX 1: Anaheim
12 Nov. 2011
Win
Jason Young
Decision (Unanimous)
3 (5:00)
UFC 131
11 Jun. 2011
UFC Lightweight Debut
Win
Josh Grispi
Decision (Unanimous)
3 (5:00)
UFC 125
1 Jan. 2011
UFC Featherweight Debut