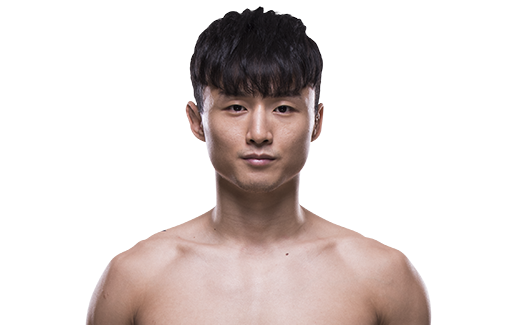 Naam: Doo Ho Choi
Bijnaam: The Korean Superboy
Record: 14 – 3 – 0 (UFC 3 – 2 – 0)
Geboortedatum: 09-09-1986
Geboorteplaats: Gumi, Zuid-Korea
Nationaliteit: Zuid-Koreaans
Lengte: 1.78m (5ft 10in)
Gewicht: 66kg (145lb)
Divisie: Featherweight
Vecht uit: Busan, Zuid-Korea
Gym: Busan Team MAD
Actief: 2009 – heden
Twitter: @KoreanSuperBoy7

Doo Ho Choi ook bekend als de Korean Superboy is tot nu toe een revelatie binnen de UFC. De jonge Zuid-Koreaan kwam over van de Japanse organisatie DEEP en maakte in 2014 zijn UFC debuut. Choi had slecht 18 seconden nodig om zijn tegenstander Juan Puig via TKO te verslaan. Ongeveer een jaar later werd Choi door de UFC in Zuid-Korea op de opener van de Main Card gezet tegen Sam Sicilia. Choi had geen kind aan de TUF veteraan en versloeg Sicilia na iets meer dan anderhalve minuut via KO. Dit leverde Choi de Performance of the Night bonus op. Afgelopen zomer stond Choi voor de derde keer in de Octagon. Ditmaal was BJJ specialist Thiago Tavares de tegenstander.
Een zeer grote uitdaging in je derde UFC gevecht. Tavares leek in het begin de overhand te hebben, maar kon Choi niet op de grond houden. Choi had vervolgens genoeg aan één combinatie aan stoten om ook Tavares via KO uit te schakelen. Ditmaal duurde het gevecht iets langer dan 2,5 minuut. Choi kreeg vervolgens Cub Swanson voorgeschoteld. Hij verloor deze partij in een schitterende pot tijdens UFC 206 in Toronto via Unanimous Decision. Daarna zou hij het op gaan nemen tegen Andre Fili. Echter gooide een blessure roet in het eten en moest Doo Ho Choi gaan werken aan zijn herstel. Choi keerde vervolgens terug tijdens UFC St.Louis in Januari 2018 tegen Jeremy Stephens. Choi verloor via KO in de tweede ronde, en heeft nu voor het eerst in zijn carrière twee partijen achter elkaar verloren.
UFC RECORD
Res.
Tegenstander
Methode
Ronde
Evenement
Datum
Notities
Loss
Jeremy Stephens
TKO (Punches & Elbows)
2 (2:36)
UFC FN 124: St. Louis
14 Jan. 2018
Loss
Cub Swanson
Decision (Unanimous)
3 (5:00)
UFC 206
10 Dec. 2016
Win
Thiago Tavares
KO (Punches)
1 (2:42)
TUF 23 Finale
8 Jul. 2016
Win
Sam Sicilia
KO (Punches)
1 (1:33)
UFC FN 79: Seoul
28 Nov, 2015
Win
Juan Puig
TKO (Punches)
1 (0:18)
UFC FN 57: Austin
22 Nov. 2014
UFC Featherweight Debut