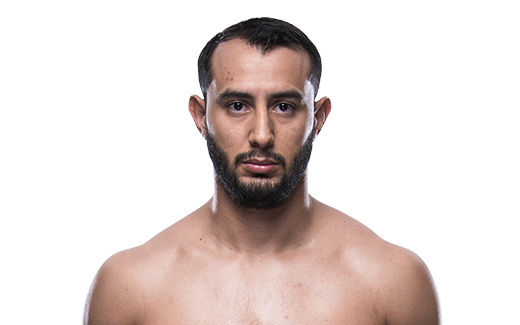 Naam: Dominick Reyes
Bijnaam: The Devastator
Record: 10 – 0 – 0 (UFC 4 – 0 – 0)
Geboortedatum: 26-12-1989
Geboorteplaats: Hesperia, Californië, USA
Nationaliteit: Amerikaans
Lengte: 1.93m (6ft 4in)
Gewicht: 93kg (205lb)
Divisie: Light-Heavyweight
Vecht uit: Victorville, Californië, USA
Gym: Cobra Kai Fitness
Actief: 2014 – heden
Twitter: @DomReyes

Dominick Reyes maakte op short notice in Juni 2017 zijn debuut voor de UFC. Reyes viel in voor de geblesseerde Azamat Murzakanov tegen de Deen Joachim Christensen. Reyes had een perfect debuut en wist Christensen via KO binnen dertig seconden te verslaan en hiermee ook de Performance of the Night bonus binnen te slepen. De man uit Hesperia, Californië wordt getraind door voormalig UFC Lightweight titeluitdager Joe "Daddy" Stevenson. Reyes begon zijn Pro-MMA carrière in 2014 bij de King of the Cage organisatie.
Reyes is een zeer attractieve vechter met KO power. Zo wist hij voordat hij bij de UFC tekende, vier van in totaal zes partijen te beslissen via KO in de eerste ronde. Een partij werd beslist in de eerste ronde via Submission, en slechts eenmaal ging Reyes naar de judges scorecards. Reyes is nog altijd ongeslagen en won zijn laatste vier partijen via KO in de eerste ronde. Hiervan won hij tweemaal via een Headkick KO. Reyes maakte tijdens UFC 218 in December 2018 voor de tweede keer zijn opwachting voor de UFC. Ditmaal was Jeremy Kimball de tegenstander. Kimball maakte het Reyes moelijk in het begin, echter wist Reyes het tij te keren en laat in de eerste ronde het gevecht via Rear Naked Choke Submission te winnen.
Reyes maakte vervolgens zijn opwachting tijdens UFC Santiago in Mei 2018 tegen Jared Cannonier. Reyes behield zijn ongeslagen record door Cannonier in de eerste ronde via TKO te finishen. Reyes zou vervolgens zijn opwachting maken in Oktober 2018 tegen Ovince St.Preux. Reyes vocht erg sterk en leek vlak voor het einde de partij via TKO te beslissen. Daar wilde de scheidsrechter echter niet aan waardoor het gevecht naar de judges ging. Reyes won via Unanimous Decision.
UFC RECORD
Res.
Tegenstander
Methode
Ronde
Evenement
Datum
Notities
Win
Ovince St.Preux
Decision (Unanimous)
3 (5:00)
UFC 229
6 Okt. 2018
Win
Jared Cannonier
TKO (Punches)
1 (2:55)
UFC FN 129: Santiago
19 Mei. 2018
Win
Jeremy Kimball
Submission (RNC)
1 (3:39)
UFC 218
2 Dec. 2017
Win
Joachim Christensen
TKO (Punches)
1 (0:29)
UFC FN 112: Oklahoma
25 Jun. 2017
UFC Light-Heavyweight Debut