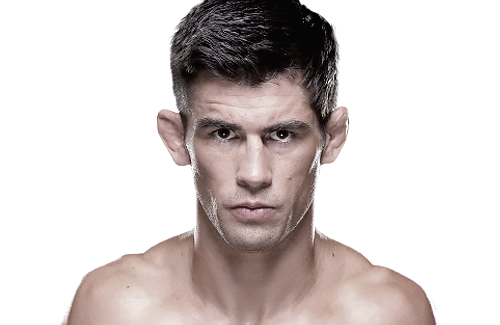 Naam: Dominick Cruz
Bijnaam: The Dominator
Record: 11 – 1 – 0 (UFC 6 – 1 – 0)
Geboortedatum: 03-09-1985
Geboorteplaats: Tucson, Arizona, USA
Nationaliteit: Amerikaans
Lengte: 1.73m (5ft 8in)
Gewicht: 61kg (135lb)
Divisie: Bantamweight
Vecht uit: San Diego, Californië, USA
Gym: Alliance MMA
Actief: 2005 – heden
Twitter: @DominickCruz

Dominick Rojelio Cruz is misschien wel de beste Bantamweight ter wereld. Cruz had een winstreak van 13 gevechten. "The Dominator" verloor tijdens zijn WEC debuut op Featherweight tegen Urijah Faber. Vervolgens won Cruz liefst 13 maal!! Cruz ging vervolgens een gewichtsklasse omlaag, en na overwinningen tegen onder meer Ian McCall en Joseph Benavidez mocht Cruz voor de WEC Bantamweight Titel vechten tegen de destijds kampioen Brian Bowles. Cruz won via TKO aan het einde van de tweede ronde na een blessure van Bowles. Vervolgens versloeg Cruz opnieuw Joseph Benavidez, waarna hij tijdens het laatste WEC evenement afrekende met Scott Jorgensen. Doordat de WEC werd overgenomen door de UFC, werd de WEC Titel veranderd in de UFC titel. In 2011 verdedigde Cruz zijn belt tweemaal. Cruz revancheerde zijn enige verlies tegen Urijah Faber en wist ook de inmiddels onverslaanbaar geachte Demetrious Johnson via Unanimous Decision te verslaan.
Cruz vocht vervolgens bijna drie (!!) jaar niet in verband met aanhoudende blessures. Hij moest zijn belt inleveren. Cruz maakte zijn comeback in 2014 tegen Takeya Mizugaki. Cruz finishte de Japanner na iets meer dan een minuut via TKO. Vervolgens zou Cruz opnieuw anderhalf jaar out zijn met een blessure. Begin 2016 maakte Cruz opnieuw zijn comeback. Dit keer tegen TJ Dillashaw voor de Bantamweight titel. Cruz leek herboren en nog altijd even sterk als voor zijn blessures. Cruz won via Split Decision en pakte dus terug wat volgens velen nog steeds van hem was. De UFC Bantamweight Titel. Cruz verdedigde de titel afgelopen in Mei 2016 tegen wie anders dan Urijah Faber. Cruz was duidelijk de bovenliggende partij en won via Unanimous Decision.
Echter verslikte Cruz zich in "New kid on the Block" Cody Garbrandt. De leerling van Urijah Faber deed wat zijn meester een aantal maanden eerder niet kon. Hij versloeg Cruz op de "Cruz manier" via Unanimous Decision waardoor Cruz voor het eerst écht zijn belt verloor. Cruz zou terugkeren tijdens UFC 219 in December 2017 tegen Jimmie Rivera. Echter brak Cruz zijn arm waardoor het gevecht niet doorging.
UFC RECORD
Res.
Tegenstander
Methode
Ronde
Evenement
Datum
Notities
Loss
Cody Garbrandt
Decision (Unanimous)
5 (5:00)
UFC 207
30 Dec. 2016
UFC Bantamweight Titlefight
Win
Urijah Faber
Decision (Unanimous)
5 (5:00)
UFC 199
4 Jun. 2016
UFC Bantamweight Titlefight
Win
TJ Dillashaw
Decision (Split)
5 (5:00)
UFC FN 81: Boston
17 Jan. 2016
UFC Bantamweight Titlefight
Win
Takeya Mizugaki
KO (Punches)
1 (1:01)
UFC 178
27 Sep. 2014
Win
Demetrious Johnson
Decision (Unanimous)
5 (5:00)
UFC Live 6: Washington D.C.
1 Okt. 2011
UFC Bantamweight Titlefight
Win
Urijah Faber
Decision (Unanimous)
5 (5:00)
UFC 132
2 Jul. 2011
UFC Bantamweight Titlefight/UFC Bantamweight Debut