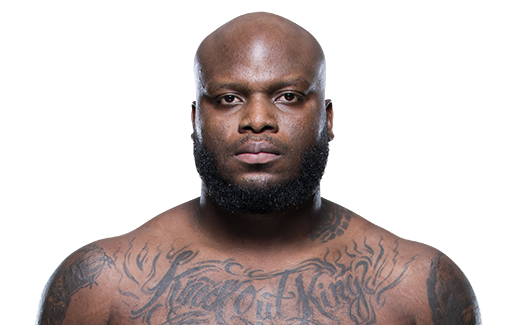 Naam: Derrick Lewis
Bijnaam: The Black Beast
Record: 21 – 6 – 0 – 1 (UFC 12 – 4 – 0 – 0)
Geboortedatum: 08-02-1985
Geboorteplaats: New Orleans, Louisiana, USA
Nationaliteit: Amerikaans
Lengte: 1.91m (6ft 3in)
Gewicht: 120kg (265lb)
Divisie: Heavyweight
Vecht uit: Houston, Texas, USA
Gym: 4oz Fight Club
Actief: 2010 – heden
Twitter: @Thebeast_ufc

Derrick James Lewis kwam in 2014 de UFC binnen en heeft zich inmiddels opgewerkt tot de Top 10 van de UFC Heavyweight divisie. Lewis won onder meer van Viktor Pesta, Damian Grabowski & Gabriel Gonzaga. In Juli 2016 versloeg hij Roy Nelson via een controversiële split decision. Ondanks dit gegeven mocht Derrick Lewis tijdens UFC Albany het Main Event voor zijn rekening nemen tegen Shamil Abdurakhimov. In een werkelijk tenenkrommend slecht gevecht wist Lewis in de vierde ronde (nadat hij de eerste drie rondes verloren had) Abdurakhimov te finishen via TKO. Lewis werd vervolgens gekoppeld aan Travis Browne op de Main Card van UFC 208. Echter zat UFC Fight Night 105 in Canada zonder Main Event waarna het gevecht als Main Event naar de Canada card ging.
Browne won de eerste ronde van Lewis die duidelijk een aangeslagen indruk maakte. Echter liet Browne achterwege Lewis te finishen, en dat deed Lewis niet. Lewis sloeg Browne KO in de tweede ronde en pakte dus opnieuw een overwinning. Echter werd zijn 5-fight winstreak uiteindelijk doorbroken door Mark Hunt. Hunt had een betere conditie dan Lewis en wist de Amerikaan te verslaan via TKO. Lewis zou vervolgens tijdens UFC 216 terugkeren tegen Fabricio Werdum. Echter had Lewis zoveel last van een rugblessure dat hij een aantal uren voor de partij moest afzeggen. Lewis keerde vervolgens terug in Februari 2018 tijdens UFC Austin tegen Marcin Tybura. Lewis won het gevecht via KO laat in de derde ronde en pakte ook de Performance of the Night bonus.
Lewis kreeg vervolgens zijn gewenste partij tijdens UFC 226 in Juli 2018 tegen Francis Ngannou. In een van de meest slechte partijen in de historie van de UFC Heavyweight divisie won Lewis uiteindelijk via Unanimous Decision. Lewis leek vervolgens aan het kortste eind te gaan trekken tijdens UFC 229 tegen Alexander Volkov. Echter wist Lewis 11 seconden voor het einde het gevecht via KO naar zich toe te trekken. Hierdoor mocht Lewis in November 2018 al voor de titel vechten tegen Daniel Cormier. Lewis had niets in te brengen en verloor via Rear Naked Choke Submission in de tweede ronde.
UFC RECORD
Res.
Tegenstander
Methode
Ronde
Evenement
Datum
Notities
Loss
Daniel Cormier
Submission (RNC)
2 (2:14)
UFC 230
3 Nov. 2018
UFC Heavyweight Titlefight
Win
Alexander Volkov
KO (Punches)
3 (4:49)
UFC 229
6 Okt. 2018
Win
Francis Ngannou
Decision (Unanimous)
3 (5:00)
UFC 226
7 Jul. 2018
Win
Marcin Tybura
KO (Punches)
3 (2:48)
UFC FN 126: Austin
18 Feb. 2018
Loss
Mark Hunt
TKO (Retirement)
4 (3:51)
UFC FN 110: Auckland
11 Jun. 2017
Win
Travis Browne
KO (Punches)
2 (3:12)
UFC FN 105: Halifax
19 Feb. 2017
Win
Shamil Abdurakhimov
TKO (Punches)
4 (3:43)
UFC FN 102: Albany
9 Dec. 2016
Win
Roy Nelson
Decision (Split)
3 (5:00)
UFC FN 90: Las Vegas
7 Jul. 2016
Win
Gabriel Gonzaga
KO (Punches)
1 (4:48)
UFC FN 86: Zagreb
10 Apr. 2016
Win
Damian Grabowski
TKO (Punches)
1 (2:17)
UFC FN 82: Las Vegas
6 Feb. 2016
Win
Viktor Pesta
TKO (Punches)
3 (1:15)
UFC 192
3 Okt. 2015
Loss
Shawn Jordan
TKO (Hookkick & Punches)
2 (0:48)
UFC FN 68: New Orleans
6 Jun. 2015
Win
Ruan Potts
TKO (Punches)
2 (3:18)
UFC 184
28 Feb. 2015
Loss
Matt Mitrione
KO (Punches)
1 (0:41)
UFC FN 50: Mashantucket
5 Sep. 2014
Win
Guto Inocente
KO (Punches)
1 (3:30)
TUF 19 Finale
6 Jul. 2014
Win
Jack May
TKO (Punches)
1 (4:23)
UFC on FOX 11: Orlando
19 Apr. 2014
UFC Heavyweight Debut