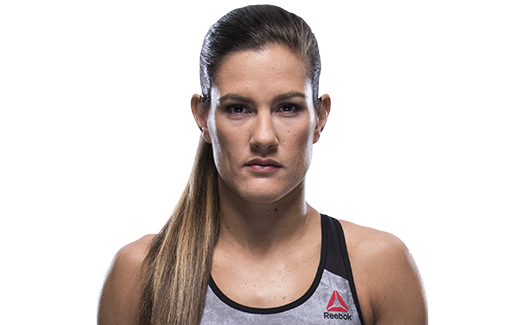 Naam: Cortney Casey-Sanchez
Bijnaam: Cast Iron
Record: 8 – 7 – 0 (UFC 4 – 6 – 0)
Geboortedatum: 05-05-1987
Geboorteplaats: Mesa, Arizona, USA
Nationaliteit: Amerikaans
Lengte: 1.70m (5ft 7in)
Gewicht: 52kg (115lb)
Divisie: Strawweight
Vecht uit: Maui, Hawaii, USA
Gym: The MMA LAB
Actief: 2012 – heden
Twitter: @CastIron_Casey

Cortney Ann Casey-Sanchez kwam in Juli 2015 op short notice de UFC binnen. Bec Rawlings was geblesseerd, waardoor Cortney Casey-Sanchez een belletje kreeg. Ze moest het opnemen in Schotland tegen de thuisfavoriet Joanne Calderwood. In een zeer attractief gevecht verloor Cortney Casey-Sanchez. Echter werd het gevecht door de UFC wel beloond met een Fight of the Night bonus. Ditzelfde gebeurde in Casey's tweede gevecht. Opnieuw verloor Casey op de judges scorecards tegen Seo-Hee Ham, maar opnieuw was er de Fight of the Night bonus. In haar twee gevechten daarna liet Cortney Casey-Sanchez haar lot niet door de judges bezegelen. Zowel Cristina Stanciu (TKO) als Randa Markos (Armbar Submission) werden in de eerste ronde gefinisht. Ditmaal leverden de gevechten geen bonus op, maar wel twee overwinningen op haar record.
Vervolgens mocht Casey-Sanchez het in November 2016 opnemen tegen voormalig titeluitdaagster en #1 contender Claudia Gadelha. Gadelha was duidelijk een maatje te groot voor Casey-Sanchez die via Unanimous Decision verloor. Vervolgens werd Casey-Sanchez gekoppeld aan voormalig WSOF Kampioene Jessica Aguilar. Casey-Sanchez won het gevecht zeer overtuigend via Unanimous Decision. Echter werd er verhoogde testosteron gehaltes in het bloed van Casey-Sanchez gevonden. Omdat dit zo miniem was en niet bewezen kon worden of ze dit opzettelijk had gebruikt werd ze slechts drie maanden geschorst. Casey-Sanchez keerde vervolgens terug tijdens UFC 218 in Detroit tegen Felice Herrig. Via een zeer controversiële Split Decision verloor Casey-Sanchez van Herrig.
Casey-Sanchez werd vervolgens gekoppeld aan Michelle Waterson tijdens UFC Glendale in April 2018. In een zéér close gevecht verloor Casey-Sanchez uiteindelijk via Split Decision. Echter stond ze in Augustus 2018 in Lincoln aan de goede kant van de score. Ditmaal werd via Split Decision gewonnen van Angela Hill. Helaas voor Casey-Sanchez kon ze in haar daarop volgende partij geen overwinning aan haar record toevoegen. Tijdens UFC Phoenix werd verloren via Unanimous Decision van Cynthia Calvillo.
UFC RECORD
Res.
Tegenstander
Methode
Ronde
Evenement
Datum
Notities
Loss
Cynthia Calvillo
Decision (Unanimous)
3 (5:00)
UFC on ESPN 1: Phoenix
17 Feb. 2019
Win
Angela Hill
Decision (Split)
3 (5:00)
UFC FN 135: Lincoln
25 Aug. 2018
Loss
Michelle Waterson
Decision (Split)
3 (5:00)
UFC on FOX 29: Glendale
14 Apr. 2018
Loss
Felice Herrig
Decision (Split)
3 (5:00)
UFC 218
2 Dec. 2017
Win
Jessica Aguilar
Decision (Unanimous)
3 (5:00)
UFC 211
13 Mei. 2017
Loss
Claudia Gadelha
Decision (Unanimous)
3 (5:00)
UFC FN 100: São Paulo
19 Nov. 2016
Win
Randa Markos
Submission (Armbar)
1 (4:34)
UFC 202
20 Aug. 2016
Win
Cristina Stanciu
TKO (Punches)
1 (2:36)
UFC FN 91: Sioux Falls
13 Jul. 2016
Loss
Seo Hee Ham
Decision (Unanimous)
3 (5:00)
UFC FN 79: Seoul
28 Nov. 2015
Loss
Joanne Calderwood
Decision (Unanimous)
3 (5:00)
UFC FN 72: Glasgow
18 Jul. 2015
UFC Strawweight Debut