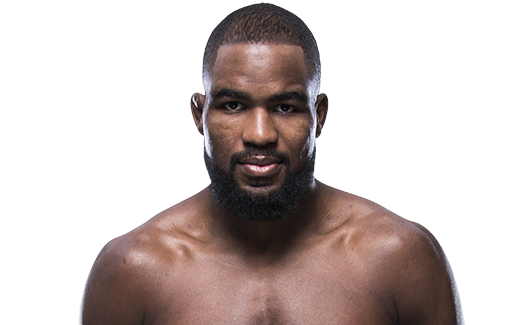 Naam: Corey Anderson
Bijnaam: Overtime
Record: 11 – 4 – 0 (UFC 8 – 4 – 0)
Geboortedatum: 22-09-1989
Geboorteplaats: Rockford, Illinois, USA
Nationaliteit: Amerikaans
Lengte: 1.91m (6ft 3in)
Gewicht: 93kg (205lb)
Divisie: Light-Heavyweight
Vecht uit: Robbinsville, New Jersey, USA
Gym: Ricardo Almeida BJJ & Nick Catone MMA
Actief: 2013 – heden
Twitter: @CoreyA_MMA

Corey Anderson is waarschijnlijk een van de meest ondergewaardeerde vechters in de UFC Light-Heavyweight divisie en dat heeft puur met zijn stijl te maken. Anderson is een echte worstelaar, een echte grinder die er geen moeite mee heeft om zijn tegenstander drie rondes lang te "outgrapplen". Anderson kwam via TUF 19 de UFC binnen. Anderson kwam tot de finale waar hij Matt van Buren tegenover zich had staan. Anderson imponeerde door van Buren na een minuut via TKO te finishen. Vervolgens vocht Anderson eind 2014 tegen Justin Jones. Anderson won een vrij dominante Unanimous Decision. Vervolgens werd Anderson gematcht tegen Gian Villante. Anderson domineerde het gevecht met zijn worstelen, maar Villante wist Anderson vroeg in de derde ronde "aan" te slaan en finishte het gevecht via TKO. Beide mannen hielden er de Fight of the Night bonus aan over. Anderson was zijn ongeslagen record kwijt, maar revancheerde zich vijf maanden later door de op dat moment hoog gerankte Jan Blachowicz met eenvoud te domineren en te verslaan via Unanimous Decision.
Na ook twee maanden later op short notice in Brazilië Fabio Maldonado verslagen te hebben leek Anderson de weg omhoog weer gevonden te hebben. In Mei 2016 mocht Anderson het opnemen in Curitiba, Brazilië tegen de thuisfavoriet en legende Mauricio "Shogun" Rua. Anderson ging twee keer knockdown in de eerste en aan het eind van de tweede ronde, maar wist 4,5 minuut van de tweede ronde te domineren plus ook nog eens duidelijk de derde ronde te pakken. De jury gaf het gevecht via Split Decision echter aan "Shogun". Een zeer controversieel verlies. Anderson won in December 2016 van Sean O'Connell via TKO in de tweede ronde, en wilde in 2017 een gooi doen naar de Top 5 van de divisie. Die hoop werd in zijn eerstvolgende partij meteen gruwelijk de grond ingeboord door de Engelsman Jimi Manuwa. Tijdens het Main Event van UFC Londen versloeg Manuwa de Amerikaan via een "one punch KO".
Anderson zou vervolgens tegen Patrick Cummins vechten tijdens UFC 217 in New York. Het gevecht kwam er echter niet van aangezien Cummins geblesseerd afhaakte. Ovince St.Preux stapte in op short notice. Anderson wist de eerste twee rondes te winnen, maar liep tegen een headkick aan in de derde ronde en ging wederom zwaar KO. De UFC boekte het gevecht tussen Cummins en Anderson vervolgens voor UFC Atlantic City in April 2018. Anderson domineerde de partij zowel staand als op de grond en won via Unanimous Decision. Anderson viet vervolgens in voor Ilir Latifi tijdens het Co-Main Event van UFC Hamburg tegen Glover Teixeira. Anderson won via Unanimous Decision.
UFC RECORD
Res.
Tegenstander
Methode
Ronde
Evenement
Datum
Notities
NB
Ilir Latifi
NB
– (-:–)
UFC 232
29 Dec. 2018
Win
Glover Teixeira
Decision (Unanimous)
3 (5:00)
UFC FN 134: Hamburg
22 Jul. 2018
Win
Patrick Cummins
Decision (Unanimous)
3 (5:00)
UFC FN 128: Atlantic City
21 Apr. 2018
Loss
Ovince St.Preux
KO (Headkick)
3 (1:25)
UFC 217
4 Nov. 2017
Loss
Jimi Manuwa
KO (Punch)
1 (3:05)
UFC FN 107: London
18 Mar. 2017
Win
Sean O'Connell
TKO (Punches)
2 (2:36)
UFC FN 102: Albany
9 Dec. 2016
Loss
Mauricio "Shogun" Rua
Decision (Split)
3 (5:00)
UFC 198
14 Mei 2016
Win
Tom Lawlor
Decision (Unanimous)
3 (5:00)
UFC 196
5 Mar. 2016
Win
Fábio Maldonado
Decision (Unanimous)
3 (5:00)
UFC FN 77: São Paulo
7 Nov. 2015
Win
Jan Blachowicz
Decision (Unanimous)
3 (5:00)
UFC 191
5 Sep. 2015
Loss
Gian Villante
TKO (Punches)
3 (4:18)
UFC on FOX 15: Newark
18 Apr. 2015
Win
Justin Jones
Decision (Unanimous)
3 (5:00)
UFC 181
6 Dec. 2014
Win
Matt Van Buren
TKO (Punches)
1 (1:01)
TUF 19 Finale
6 Jul. 2014
TUF 19 Finale/UFC Light-Heavyweight Debut