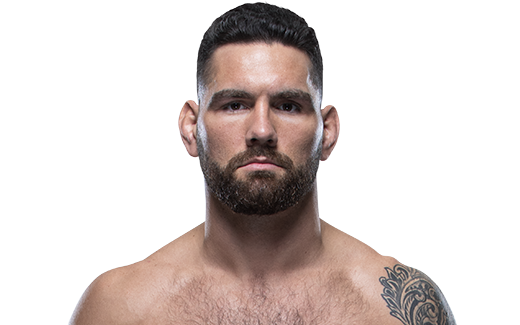 Naam: Chris Weidman
Bijnaam: The All-American
Record: 14 – 4 – 0 (UFC 10 – 4 – 0)
Geboortedatum: 17-06-1984
Geboorteplaats: Baldwin, New York, USA
Nationaliteit: Amerikaans
Lengte: 1.88m (6ft 2in)
Gewicht: 84kg (185lb)
Divisie: Middleweight
Vecht uit: Baldwin, New York, USA
Gym: Serra-Longo Fight Team
Actief: 2009 – heden
Twitter: @ChrisWeidmanUFC

Christopher James Weidman kwam als Ring of Combat Kampioen met een 4-0 record in 2011 de UFC binnen. De Serra-Longo Team vechter debuteerde tegen de Italiaan Alessio Sakara. Weidman won dit gevecht via Unanimous Decision. Drie maanden later won Weidman de Submission of the Night bonus door in de eerste ronde Jesse Bongfeldt via een Standing Guillotine Choke Submission tot afkloppen te dwingen. Weidman sloot 2011 af met een schitterende D'Arce Choke Submission tegen MMA veteraan Tom Lawlor. Ook 2012 begon zeer succesvol voor Weidman. Zo wist hij voormalig titeluitdager Demian Maia via Unanimous Decision te verslaan. Dit leverde de New Yorker halverwege 2012 zijn eerste Main Event gevecht op tegen Mark Munoz. Weidman pakte zijn vijfde overwinning op rij in de UFC door Munoz in de tweede ronde hard KO te slaan.
De UFC zag de potentie in Weidman en matchte hem tegen UFC Middleweight Kampioen Anderson Silva. Weidman wist Silva in de tweede ronde te raken en finishte het gevecht via KO en was de nieuwe UFC Middleweight Kampioen. Ook de rematch een half jaar later werd gewonnen door Weidman. Weidman checkte een lowkick van Anderson Silva die daardoor zijn been brak. Weidman verdedigde vervolgens de belt met succes tegen zowel Lyoto Machida (UD) als Vitor Belfort (TKO) alvorens hij in December 2015 gematcht werd met Luke Rockhold. Rockhold bleek te sterk en versloeg Weidman via TKO in de vierde ronde. Weidman's eerste Pro-MMA verlies en hij was ook gelijk de belt kwijt.
De rematch bleef uit in verband met een blessure van Weidman. Hierdoor mocht Weidman voor de #1 contenderspot vechten in zijn eigen New York in November 2016 tegen Yoel Romero. Weidman leek de eerste twee rondes in de pocket te hebben, maar ging TKO in de derde ronde na een vernietigende knie van Romero. Weidman verloor dus opnieuw. Vervolgens verloor Weidman (opnieuw voor eigen publiek) van de Armeense Nederlander Gegard Mousasi. In een partij met veel controverse kreeg Mousasi uiteindelijk de overwinning toegewezen via TKO. Weidman moest vervolgens proberen om zijn losing streak van drie gevechten te doorbreken tijdens UFC Long Island in Juli 2017 tegen Kelvin Gastelum. Ondanks een knockdown aan het einde van de eerste ronde controleerde Weidman het gevecht, en wist hij in de derde ronde Gastelum te finishen via een Arm-Triangle Choke Submission.
Weidman zou vervolgens pas terugkeren tijdens UFC 230 in New York in November 2018. Weidman stond gepland om het op te nemen in een rematch tegen Luke Rockhold. Rockhold raakte echter geblesseerd waarna de UFC Ronaldo "Jacaré" Souza als nieuwe tegenstander van Weidman inplande. Weidman wist wederom niet te winnen in Madison Square Garden. De New Yorker ging in de derde ronde, na een zeer sterke partij KO tegen Jacaré Souza. Beide mannen wonnen wel de Fight of the Night bonus.
UFC RECORD
Res.
Tegenstander
Methode
Ronde
Evenement
Datum
Notities
Loss
Ronaldo "Jacaré" Souza
KO (Punches)
3 (2:46)
UFC 230
3 Nov. 2018
Win
Kelvin Gastelum
Submission (Arm-Triangle Choke)
3 (3:45)
UFC on FOX 25: Long Island
22 Jul. 2017
Loss
Gegard Mousasi
TKO (Knees)
2 (3:13)
UFC 210
8 Apr. 2017
Loss
Yoel Romero
KO (Flying Knee & Punches)
3 (0:24)
UFC 205
12 Nov. 2016
Loss
Luke Rockhold
TKO (Punches)
4 (3:12)
UFC 194
12 Dec. 2015
UFC Middleweight Titlefight
Win
Vitor Belfort
TKO (Punches)
1 (2:53)
UFC 187
23 Mei. 2015
UFC Middleweight Titlefight
Win
Lyoto Machida
Decision (Unanimous)
5 (5:00)
UFC 175
5 Jul. 2014
UFC Middleweight Titlefight
Win
Anderson Silva
TKO (Leg Injury)
2 (1:16)
UFC 168
28 Dec. 2013
UFC Middleweight Titlefight
Win
Anderson Silva
KO (Punches)
2 (1:18)
UFC 162
6 Jul. 2013
UFC Middleweight Titlefight
Win
Mark Muñoz
KO (Elbow & Punches)
2 (1:37)
UFC on Fuel TV 4: San Jose
11 Jul. 2012
Win
Demian Maia
Decision (Unanimous)
3 (5:00)
UFC on FOX 2: Chicago
28 Jan. 2012
Win
Tom Lawlor
Technical Submission (D'Arce Choke)
1 (2:07)
UFC 139
19 Nov. 2011
Win
Jesse Bongfeldt
Submission (Standing Guillotine Choke)
1 (4:54)
UFC 131
11 Jun. 2011
Win
Alessio Sakara
Decision (Unanimous)
3 (5:00)
UFC Live 3: Louisville
3 Mar. 2011
UFC Middleweight Debut