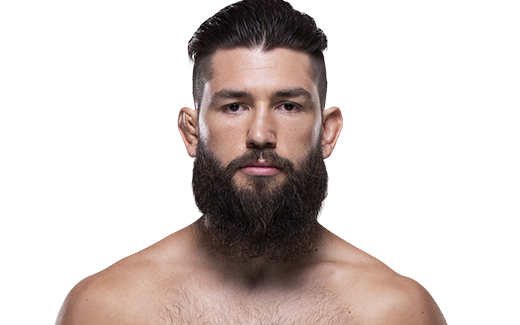 Naam: Bryan Barberena
Bijnaam: Bam Bam
Record: 14 – 5 – 0 (UFC 5 – 3 – 0)
Geboortedatum: 03-05-1989
Geboorteplaats: Montclair, Californië, USA
Nationaliteit: Amerikaans
Lengte: 1.83m (6ft 0in)
Gewicht: 77kg (170lb)
Divisie: Welterweight
Vecht uit: Glendale, Arizona, USA
Gym: The MMA LAB
Actief: 2009 – heden
Twitter: @bryan_barberena

Bryan Barberena is een Amerikaanse vechter met Colombiaanse roots die sinds 2014 voor de UFC vecht. Barberena traint bij John Crouch, de hoofdcoach van The MMA Lab in Glendale, Arizona. Barberena begon in de UFC in de Lightweight divisie. Hij won zijn debuut via TKO in de derde ronde tegen Joe Ellenberger. Vervolgens verloor hij een zeer controversiële Unanimous Decision tegen Chad Laprise in Canada. Het grote publiek maakte in Januari 2016 pas echt kennis met Barberena. Zo versloeg hij de door de UFC gehypte Sage Northcutt in de tweede ronde via Arm-Triangle Choke Submission. Deze performance (inmiddels op Welterweight) leverde Barberena een gevecht op tegen de Braziliaan Warlley Alves. Volgens velen een van de grootste talenten uit Brazilië, en ook nog altijd ongeslagen.
Opnieuw wist Barberena na een mindere eerste ronde orde op zaken te stellen, en won hij in Brazilië van Alves via Unanimous Decision. In December 2016 vocht Barberena tegen Colby Covington. Covington wist het gevecht naar zijn hand te zetten en uiteindelijk via Unanimous Decision de overwinning te pakken. Barberena keerde vervolgens in April 2017 weer terug om het op te nemen tegen Joe Proctor. Proctor was duidelijk niet opgewassen tegen Barberena die het gevecht na iets meer dan anderhalve minuut besliste via TKO. Barberena werd vervolgens ingeroosterd tijdens UFC Rotterdam in September 2017 tegen de Engelsman Leon Edwards. Edwards wist met zijn takedowns de eerste en derde ronde naar zijn hand te zetten en uiteindelijk via Unanimous Decision te winnen.
Barberena moest vervolgens een operatie aan zijn voet ondergaan maar werd ondanks dat hij nog herstellende was door de UFC ingepland voor UFC Utica in Juni 2018 tegen Jake Ellenberger. Het gevecht zou dus uiteindelijk niet doorgaan. Barberena keerde vervolgens alsnog terug tegen Ellenberger tijdens UFC Lincoln. Barberena won via TKO in de eerste ronde.
UFC RECORD
Res.
Tegenstander
Methode
Ronde
Evenement
Datum
Notities
Win
Jake Ellenberger
TKO (Punches)
1 (2:26)
UFC FN 135: Lincoln
25 Aug. 2018
Loss
Leon Edwards
Decision (Unanimous)
3 (5:00)
UFC FN 115: Rotterdam
2 Sep. 2017
Win
Joe Proctor
TKO (Knees & Punches)
1 (3:30)
UFC FN 108: Nashville
22 Apr. 2017
Loss
Colby Covington
Decision (Unanimous)
3 (5:00)
UFC on FOX 22: Sacramento
17 Dec. 2016
Win
Warlley Alves
Decision (Unanimous)
3 (5:00)
UFC 198
14 Mei. 2016
Win
Sage Northcutt
Submission (Arm-Triangle Choke)
2 (3:06)
UFC on FOX 18: Newark
30 Jan. 2016
UFC Welterweight Debut
Loss
Chad Laprise
Decision (Unanimous)
3 (5:00)
UFC 186
25 Apr. 2015
Win
Joe Ellenberger
TKO (Punches)
3 (3:24)
UFC on FOX 13: Phoenix
13 Dec. 2014
UFC Lightweight Debut